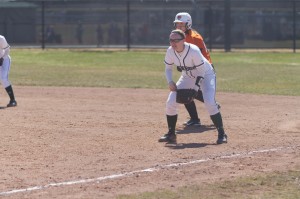 Two members of the Oswego State softball team have stepped up in hopes of turning their team's season around at the midpoint of the season.
Freshman Melanie Klauser and sophomore Ashley Lyman currently lead the squad in hits with 17 and 15 respectively. The Lakers (3-13, 1-9 SUNYAC) are in the midst of a 14-game conference stretch with hopes of improving to make the SUNYAC Tournament at the end of April.
Klauser is a left fielder and second baseman from Whitesboro, N.Y. She is currently batting .362 in 47 at bats. Klauser has recorded one walk, nine runs, two stolen bases and struck out seven times this season. She also has a double and a triple. Klauser credits her cool demeanor for sparking her performance.
"I just try to stay calm and prepare myself for the game," Klauser said. "I try to not get myself stressed and worked up and not think too hard about things because I think that's how I perform the best. When I'm thinking too hard that's when I mess up. I just have to stay relaxed and do my thing."
Lakers head coach Kevin Ahern said that the freshman's play has been beneficial to the team.
"It's been fabulous, obviously Mel as a freshman coming in, and I really wasn't 100 percent sure what to expect," Ahern said. "I knew she was an aggressive kid and that kind of attitude and that's the way she approached the game, but she has come through on the field and it's been fabulous for us."
Lyman, a sophomore shortstop from Lockport, N.Y., has improved in 2015 and is batting .375 in 40 at bats. She has three doubles, one home run, 13 RBIs, four walks and five strikeouts. Ahern said that Lyman "has a great swing" and her "calm" personality helps her on the field.
Lyman is also on the women's ice hockey team, which has her seasons overlapping one another.
"It's pretty tough, to be honest," Lyman said. "To transition back into softball when they've been practicing for a month already without me, but I've been doing this for my whole life basically," Lyman said.
Along with Lyman, Tori Trovato makes the transition from women's ice hockey to softball. Ahern is not too concerned with his players making that switch in the spring.
"I think that hockey players have great hand-eye coordination and I think the transition is not a huge issue for them," Ahern said. "I think both of them, Tori as well, are working on their fielding and that's been working out really well. It's been nice to have Ashley step right in and play such a big role for us."
Before practice on April 14, Ahern discussed with his players how they need to decrease their strikeouts and put the ball in play. Currently, the Lakers have struck out 83 times in 16 games.
"We just need more of a supporting cast," Ahern said. "It's an approach at the plate, yeah we did talk about strikeouts and we have to cut that down, put balls in play and put pressure on defenses or it makes the game very easy against us."
Ahern said that the team is also working on cutting down errors, having better at bats, different batting strategies and their pitch selection.
"As a team right now, it's about getting healthy and getting some good things happening for us," Ahern said. "We need to put together some innings. We talked about trying to jump on teams early and getting the early runs instead of getting runs against us and digging a hole."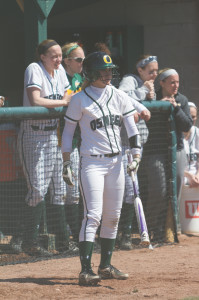 Klauser knows that her teammates have the potential to improve and thinks that her approach to the game may help start that.
"I think that I'm just staying relaxed," Klauser said. "These girls can kill the ball. We've been really tense, we haven't been winning our games lately and I think everyone is getting really stressed about it. For once, I'm doing a good job of staying relaxed and trying to stay calm and go out there and do the best that I can. I feel like because I'm a freshman, people don't expect much from me so I go up there relaxed and do the best that I can, but when people are older they feel more pressure on them to do well and I think that's what I'm doing that they're not is staying relaxed."
Lyman said that underclassmen are stepping up to fill gaps in performance on the team.
"We do have the upperclassmen, they're really good players, but we can't always rely on them," Lyman said. "We need the underclassmen to really step it up and produce."
Ahern hopes that the success at the plate for Lyman and Klauser will help their teammates' bats come alive heading into the home stretch of the season.
"It's a matter of confidence and hitting is contagious," Ahern said. "We need a break. We need some balls, those Texas Leaguers (bloopers), to fall and an error here or there, but we need to put the ball in play for those things to happen."
Lyman has one thing on her mind heading into the final games of the season.
"Winning," Lyman said. "We have to at least win one game of each series to do anything in the SUNYACs."