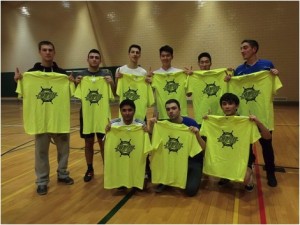 The indoor soccer league came to an end, as the championship games were played April 12.
The night started off with the Co-Rec Championship game, which included Townies Elite and Nikki and the Trackies.
Townies Elite and Nikki and the Trackies both went into the game with undefeated records. Townies Elite got off to a quick start, scoring three goals in a row to take control as Nikki and the Trackies struggled to find their footing. However, near the end of the half Nikki and the Trackies were able to connect with the back of the net and get a goal on the board.
During the second half, Townies Elite scored quick again with two more goals. Nikki and the Trackies were able to score two more goals themselves, but they were never able to catch up to Townies Elite. Townies Elite went home with the championship T-shirt. Anthony Barone was the MVP of Townies Elite, scoring four out of five of its goals.
"Finally winning the soccer tournament was very enjoyable for our team since we've been competing in this league for two years now," Barone said. "All throughout the playoffs, we played a lot of skillful teams, so it feels nice that our efforts paid off. I think the team came together when we needed it most, and we are happy to have our first T-shirts for indoor soccer."
The men's championship game was between NARP Life and Shatta Movemment. NARP Life and Shatta Movemment were both undefeated going into the championship game. NARP Life took the lead early on in the half and continued to score from there on out. Shatta Movemment was able to score one goal during the half, but going into halftime, the score was 3-1.
During the second half, NARP Life scored another two goals, pushing its lead to 5-1. Then, Shatta Movemment got on a hot streak and scored three quick goals and were back in it, 5-4. However, NARP Life did not let them catch up and scored two more goals of their own.
In the end, NARP Life took home the championship T-shirt, winning the game, 7-4.
"We thought it was a great tournament with a lot of tough competition, which made it feel even better to win," said Nick Pittari, captain of NARP Life. "My teammates and I had a good time and we are excited to do it all again next year."
In other Campus Recreation news, the softball tournament began this week and will last through April 24 in a single elimination tournament. Also, the 7 vs. 7 flag football tournament is this weekend with the championship games being held on Sunday, starting at 2 p.m. The handball league is continuing their season and registration is open for Color Oswego and the spring golf tournament.