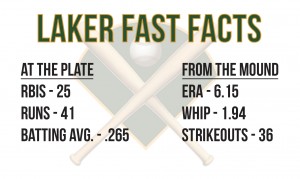 As the spring semester comes to a close, so does the ninth season of club baseball at Oswego State.
The club got its start in the fall of 2006 when several reserve members of the Div. III team teamed up with students on campus to get the organization off the ground. Current club head coach Matt Galletta is the final member of the original team connected with the club.
"We just decided, someone was forming this club, so we were like, 'We want to play,'" Galletta said. "So, we went and joined the team and it turned out to be really awesome.
"We all wanted to play," Galletta said. "We had that hunger. Sitting on the bench all the time, we finally got that opportunity."
Galletta started out as a player during the first season, but soon was directed more toward being an e-board member and coach.
"I kind of fell into a passion," Galletta said. "I didn't ever expect becoming a coach. So it was just a really cool opportunity."
Galletta, an Oswego native, was an assistant coach at the high school for a season after graduation, but returned to the club team.
When he came back, the team was plateauing in terms of wins and losses, but was growing in other ways. Galletta gained valuable experience in operating the club, while keeping it fun.
"Keeping it to the weekends is a big thing," Galleta said. "They get to focus on their schoolwork Monday through Thursday. Then, Friday after all that's done we practice and have a great time."
Senior and club President Vinny Servadio is in his seventh semester with the team.
"It's a lot of fun. You're not practicing every day, so you get days off and it's just on the weekend when we play our games," Servadio said. "You still get to play a lot of baseball and meet a lot of good guys. That's kind of another reason I did it, to make friends."
The team practices at the ballpark at Fort Ontario when the weather cooperates and also plays its home games there. If the weather does not work out, the club also has access to Swetman Gym.
"That's tough," said Justin Sbarra, senior and club vice president. "You've really got to be on it at the beginning of the semester or the end of the previous semester to get gym time. But we've been fortunate enough to get gym time a couple times a week."
However, Galletta claims the weather always seems to work out to allow the team to practice on Friday before playing games on Saturday and Sunday. More games are scheduled in the fall because the weather is milder.
"It's nice in the beginning of the year. You get back to school and start hanging out with the guys again," Servadio said.  "Our winters are so long and we end in May, so there's not a whole lot of time in the spring. It's nice to have that good weather for at least part of the season."
Galletta has spent the last nine years building the organization and retaining interested students.
"My main goal is not wins and losses, believe it or not," Galletta said. "It's creating an atmosphere that makes guys want to come in. Thankfully, it's gone well. [We currently have the] most players on the team ever and players want to be there."
This spring season is Galletta's last with the team as he moves south to hopefully work at a baseball academy in Atlanta, Ga. His father's best friend growing up was the father of New York Yankees' catcher Brian McCann.
The two fathers grew up in Oswego together and stay in touch. Galletta has fallen in love with the Atlanta area during a number of trips to the area. He is finally leaving the team, but has no doubts it will succeed going forward.
"I've set them up, so it's going back to the students running the team," Galletta said. "I'm really excited for them because I think they're going to take that next step without me here. Having a coach is great, but it gives them so much more accountability for themselves."
The team plays at Div. II in the National College Baseball Association in a league with Alfred University, Niagara University, the College at Brockport, SUNY Buffalo and SUNY Geneseo. Oswego State is 1-4 (0-3 District I-West) heading into the spring season.