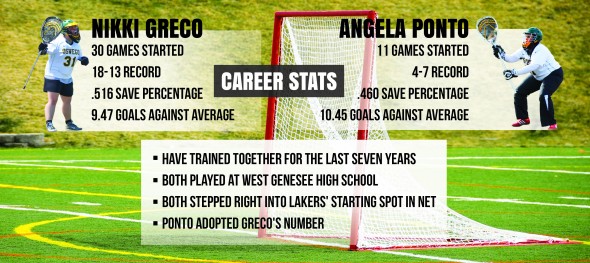 Despite not being a starter on her high school lacrosse team at West Genesee, freshman goalie Angela Ponto finds herself in the starting role for Oswego State this season, with a familiar face coaching her from the sidelines.
Assistant coach Nikki Greco, who was a former All-American goalie for the Lakers, is back coaching the team she once played for under head coach Brandi Lusk. She has continued her strong on and off the field relationship with Ponto.
"I've been coaching her for the past seven years," Greco said. "We do a West Genesee lacrosse camp every summer, and that's how I got to know her. We're very similar in a lot of ways and I feel that is why we connected so fast."
Ponto expressed her pleasure on being able to work with someone who has been a part of her life for quite some time.
"She's been such a role model for me," Ponto said. "It's nice that I still have her along with me on this journey to college."
Ponto has started all 11 games for the Lakers so far this year and has noted the transition in the step up from high school to college, both on and off the field.
"It's definitely more high-paced," Ponto said. "And the shooting is a lot faster now."
Greco has seen the progress Ponto has been making throughout the season.
"I think she's starting to grow into it better and adjusting," Greco noted.
Ponto's record in goal this year is 4-7 and she is saving 46 percent of her shots, giving up just over 10 goals per game.
Greco noted how well Ponto has performed thus far this season despite limited experience starting.
"It's awesome to see how much she's grown as a freshman in college starting for our team, which can be very difficult," Greco said.
Now that April has begun, the stretch of conference games for the Lakers in the SUNYAC begin, these are the games that are the most important in determining the Laker's playoff chances.
"I definitely want to step my game up," Ponto said. "I definitely need to save more goals, and I just want to live up to Nikki and do my best. Hopefully, I can live up to what she wants me to be."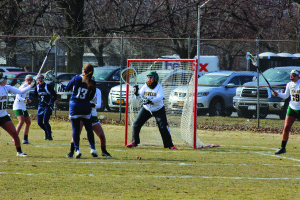 The transition to playing sports not only involves work done on the field, but off the field as well. Ponto noted how much more time she has found herself either playing lacrosse or doing schoolwork, with less time in between like she experienced in high school.
Greco spoke highly of her educational values and her work ethic.
"I think she handled it very well," Greco said. "She's a great student with great grades."
Although the team currently has a losing record, Greco does not want to overreact and is letting the team, and Ponto, grow on the field.
"I think she's still learning, it's always a work in progress," Greco said. "I think she's starting to grow into it better, she's adjusting, and she's only going to go up from here."
Having coached her for seven years, Greco knows as well as anyone how to work with Ponto and get the best out of her. As they start this new journey at a higher-level, they both look forward to the next four years and spending even more time together on the lacrosse field.
Greco summed up her relationship with Ponto in a single sentence: "It's been an awesome journey with her."