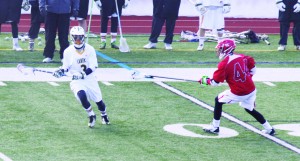 Oswego State has once again started its season off strong, but now comes the run of conference games. This is the most important stretch of the Lakers' schedule and they struggled immensely in recent history.
After beginning the season 3-0, the Lakers dropped three straight game losses, the third one coming in their first conference game of the season against SUNY Oneonta. The Lakers lost to the Red Dragons by a score of 12-7. The defeat increased their streak of conference losses to eight, dating back to April 20, 2013 against those same Red Dragons.
Head coach Drew Bezek said what led to the Lakers' downfall in the loss in March was that they played well in spurts during the game, but then in some spurts lost their composure.
This season has been about progression with Bezek because he is leading an all-new coaching staff, which also means new strategies and sets the Lakers must learn as well.
All of the players agree it has taken some time for them to adjust to the new strategies being implemented. The offense is struggling more than last season with a goals-per-game of 8.64 as opposed to last season's mark of 10.6. While the defense has actually done well allowing only 6.5 gpg compared to last season's average of 9.73.
Bezek believes one can attribute those statistics to the fact that the offense is running different sets they have never worked with before, while the defense is running in a more simplified set, which led to the easier transition.
Khammar said that he sees the progress the offense is making, and the potential it has once it is playing at its best.
"Once we all get on the same page and start running the offense the way that coach wants it ran," Khammar said. "I think we'll be a lot more successful."
Khammar said this back before the Lakers played their game against Elmira College on March 31. Since then they have averaged 16.5 gpg, proving that offense might be arriving.
A factor in this year's offense besides the core group of seniors who have led the way in the past are freshmen Luke Krizman and Tyler Nason. The duo is currently tied for second on the team in goals with eight each.
Krizman and Nason are both attackmen so, naturally, they get a lot of opportunities around the net, but what makes Krizman so impressive is his shot percentage at .727.
Krizman gives all the credit to his teammates for his success. He said they are the ones giving him all those chances around the net, while he is just finishing it. But just being able to work with them on offense is an honor rewarding to him.
One may think it would take some time for a freshman to adjust to the college level, but in Krizman's first career game at Maritime College, he scored two goals. Bezek said he is not surprised by Krizman's impact so early on as he played high school lacrosse at Fayetteville-Manlius, a Syracuse-area school, and a place that has become a well-developed program. The school was runner-up in the New York State Class A State Championship last year.
"The competition level is probably not as drastic as some of the other guys, which has helped him make a good transition," Bezek said.
With pieces coming together for the offense, the defense playing solid and sophomore Wyatt Russo stepping up his game in net. A conference win is very much in reach. Russo, Khammar and Krizman all said the current mood of the team is not if it will win, but when it will win.
Bezek said he agrees the Lakers are nearing where they want to be. He continues to see progression every day, and if they can play at a consistent level throughout an entire game it will lead to more success on the field.
"It's up to how our guys progress," Bezek said. "We have all the potential we need. Now it's just about executing."
However, Bezek said the score is not always the deciding factor and in a season where progression is being emphasized so much that is what he wants to see out of his team the most.
"If things don't go our way, and we progress and we continue to get better in our system. That's the ultimate goal, and the score will take care of itself," Bezek said.
Oswego State's next game is Saturday at the College at Brockport at 1 p.m.