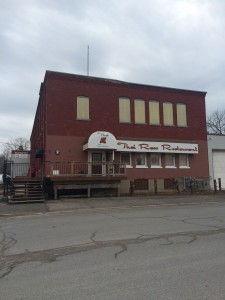 It is hard to say if it is a good or bad thing that Thai Rose is not that well-known to Oswego State students. I can always get a comparatively quiet dinner or lunch there and never have to wait for a table. It is not a big, fancy place with high ceilings. They do not have well-dressed hostesses whose only job is to show you to your table—your waitress will do that. But I promise that it is one of the greatest restaurants I have ever eaten from.
Once you enter the door from the modest exterior, with nothing but a simple red rose on the sign, you can hear Thai music softly playing in the background. If you take a date there, you won't have to yell to keep a conversation going—assuming you actually do want to talk to your dates.
Thai Rose has a special menu you should always try something from or from the newly added menu items on the table. Around Thanksgiving, they had a special pumpkin menu, which did not disappoint. Before spring break they had duck with red curry as a new menu item, which was one of the greatest foods I have ever tried.
I asked for the noodles to be as spicy as they can make them. For any menu item, you can select how spicy you want them to make it—there is regular spicy and Thai spicy. My friend ordered pad Thai. Unless you enjoy spicy food on a regular basis, I highly suggest you try medium spicy first before you try the spiciest.
I would give the pad Thai four stars out of five. It is the best pad Thai I have tried, but it just is not quite there yet. The eggs are spiced up well enough and the noodles do not get mushy even if you are eating it as leftovers. The fact that you can select it to be vegetarian, seafood, or meat is also is a huge advantage.
The best menu item is the duck with red curry. The noodles are soaked in red curry and have un-fried vegetables on top of them, making the whole dish more colorful and savory. The red curry at Thai Rose is indescribable. It is creamy like it is made of milk, yet the spices that it mingles with give it sharp highlights. The spices stimulate the tongue while the creaminess soothes your stomach. The fried tofu that goes on top was OK, but it didn't go with the rest of the texture. On top of everything else is the duck. They clearly boiled the duck for quite a while because all the fat was drained out of it. The fat moisturized the meat deep inside, making it so tender.
One thing to remember when eating at Thai Rose is that portion size is more than generous so you will probably have leftovers. If you are planning to have dessert or an appetizer, I suggest you to be ready to take some of it back home with you.
Don't get your coat or grab your keys to drive there because Thai Rose is on a break until April 15. On April 16, head down to 42 W. Second St. and try the pad Thai or the red duck curry for sure—but not too spicy!