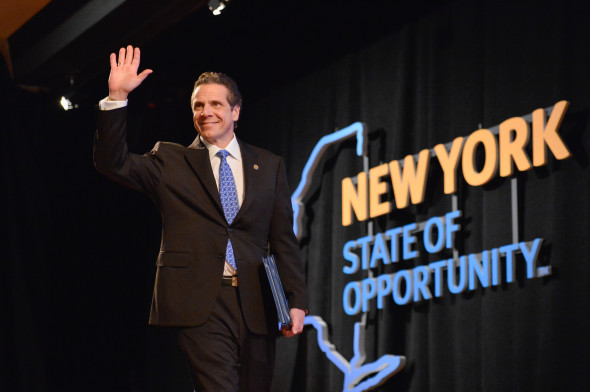 Gov. Andrew Cuomo initiated a new program as part of the state budget to help New York state college graduates pay off their student loans.
The "Get on Your Feet" program will allow those who graduated from a New York college or university and continue to live in New York state the opportunity to pay nothing on their student loans their first two years after graduation.
This program will act as a supplement to the Pay As You Earn (PAYE) income-based loan repayment program for graduates who earn less than $50,000 a year, according to the Governor's office. The PAYE program, enacted in 2012 by President Barack Obama, gives graduates a longer amount of time to pay off their loans, as opposed to the traditional 10-year standard repayment plan.
"Students who participate in this program along with the PAYE program will pay more to repay their student loans over their lifetime than with the traditional repayment option," Oswego State Director of Financial Aid Mark Humbert said. "The state program will make this a better option by paying those first two years after graduation, which are typ
ically the toughest for young professionals."
The amount a participant will benefit from the "Get on Your Feet" program is based on the total amount of loans owed and their adjusted gross income. The program is estimated to assist 7,100 graduates in its first year and more than 24,000 annually by 2019, according to the Governor's office.
"Gov. Cuomo's innovative 'Get On Your Feet' program will give college graduates a much-needed reprieve on making student loan payments in the two years immediately following their graduation, and incentivize them to stay in New York during what is perhaps the most decisive time of their career," said SUNY Chancellor Nancy L. Zimpher. "The program will also complement SUNY's applied learning partnerships with businesses and employers across the state – partnerships that provide our students with workforce experience during college and have a high rate of in-state job placement."
While this program may be an incentive for graduates to remain in New York state, it may not make paying off their student loans any more affordable.
"The 'Get on Your Feet' program will not alleviate the student debt, and in fact, may cause it to increase," Humbert said. "Students may feel they can borrow more because these repayment options exist. There is not much data on this, but it is an emerging concern."
Oswego State senior public justice major Logan Killian believes that the 'Get on Your Feet' program is definitely a step in the right direction and the program would be an incentive for him to stay in New York state for two years after graduation. But due to the high taxes and high cost of living in New York state, he would not be opposed to moving to a different state in two years.
"I think this gives me incentive to stay for at least two years after I graduate, while I still qualify for the program," Killian said. "However, as soon as I am presented with the opportunity for a better paying job in a less expensive and hopefully more free state, that makes up for the amount I would be paying in loans I will leave, unless I can find a job that can satisfactory meet my needs here in New York."
According to Humbert, New York state colleges and universities themselves will not have any role in administering this program beyond just providing information and guidance to students.