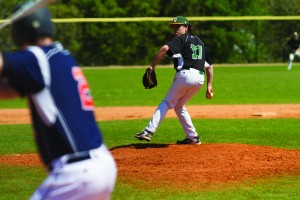 Oswego State (16-5, 9-1) may not know when it will play their next home game, but it will come to play nonetheless.
Despite not having played on their home field this season due to poor weather conditions, the Lakers are poised for a memorable 2015 campaign. The club is in the midst of a nine-game winning streak.
"This team is tough, and we're mentally focused," said head coach Scott Landers. "These players have a great baseball sense."
Landers believes playing away from Oswego is much easier when the team plays well.
"Truthfully, I don't think having home-field advantage is necessarily a big deal if you're winning," Landers said.
In addition to traveling for what are considered to be "home" games, Oswego State players, coaches and staff have been succumbed to the indoor facility, Romney Field House, for the majority of their season thus far.
Laker Hall offers players another viable outlet, as athletes can make use of the batting cages to work on stances, swings and bunting.
However, it's in Romney, where the Lakers are able to field ground balls, throw live batting practice, scrimmage, shield themselves from the elements and do what they do best – prepare for their next opponent.
"It's tough, obviously, with the weather, but we're very thankful to have a place like Romney where we can come and work on some things," Brian Hamilton junior infielder said.  "We're not worried about the weather. We try not to dwell on it that much."
In light of cancellations and postponed contests, Oswego State senior outfielder and team leader Dan Saccocio believes it is just another day to prepare.
"We feel that we have the basic fundamentals implemented in our game, but we're trying to use this time to work on some more advanced concepts," Saccocio said, who leads the Lakers in runs scored (28) and stolen bases (12). "Any pitch can decide a game, so instead of having a specific defense set up for a batter or particular play, we're developing defenses for specific pitches in a pitch count."
Last year, Oswego State finished its season with a 21-13 overall record, earning the third seed in the conference tournament, despite only playing four home games. The team eventually bowed out to second seeded college at Brockport in a tight 3-2 contest.  Perhaps this year will feature more Laker home games.
"It's certainly nice to play in front of a home crowd, but we're used to playing on neutral fields," Saccocio said. "We like to call that field up on over the hill Laker Field, but by the end of the weekend our goal is to call every field Laker Field."