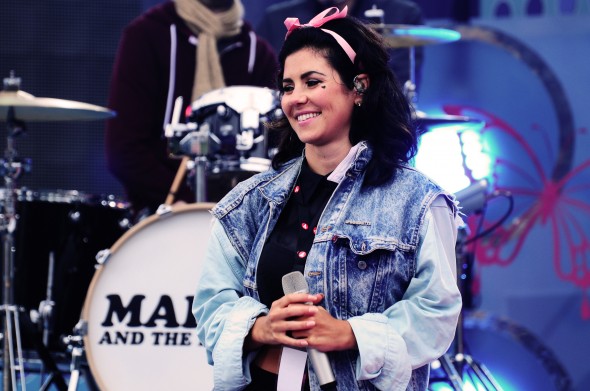 In a society of abundance, originality is something that can be difficult to come by. This is not the case when listening to Marina Diamandas, better known by her stage name Marina and the Diamonds.
Constantly developing and recreating herself, the cartoonish synth-pop artist from Wales has been hailed for her ability to create. With a tinkering vocal range and an uncanny ability to construct songs that are both indie and pop-smashes, Marina's first two albums, the alternative "The Family Jewels," and the synth-heavy "Electra Heart," have been international hits.
Marina's latest album, titled "FROOT," leads the growing artist in a new direction with a style that is a perfect culmination of her previous releases. For Marina who is the sole writer and composer of every track of the record, "FROOT" is a homerun finding of oneself. By far her most mature creation, the construction and interworking the album are more that of a seasoned professional than a young pop star. Never one to shy away from human behavior and society critiques, each track off "FROOT" plays perfectly alongside one another while offering insight on the world we live in.
This idea is never more prevalent than on "Savages." Surely to be the most popular track off "FROOT," "Savages" looks at the construction of society through a fear of men's tendencies. As she sings about the volatile lives of humans, Marina mulls over the hiding of our true behaviors behind societal constructions like marriage. "Savages" will surely ring true for many, and its pop-driven style and hook are sure to leave this truth-telling song stuck in the audience's heads.
While surely a mainstream favorite, "Savages," is not all "FROOT" has to offer. For instance, early releases "Happy" and "Immortal" exist in a vein of stripped-down intimacy. For Marina, the swooping, dream-like vocals and slowly paced instrumentals allow "Happy" and "Immortal" to be gleaming moments of creative prowess. Emotional and compelling, both of these tracks offer the type of atmospheric melodies singer-songwriters should strive for.
For fans of "The Family Jewels" and "Electra Heart," "Better Than That" is the perfect blend of eccentricity and fiery-pop music. Through moments of indie-rock and swirling beats, this track about exes needing to have higher standards is a must. Its somewhat venomous tone is more of a backhanded compliment toward the subject more than a flat out insult about who that subject is with.
On "Solitaire," Marina offers listeners with a truly magnificent piece of art. While easy to miss because of its hazy and solemn structure, the lyrical ingenuity of "Solitaire" is a track that should not be passed over. Complex and dark, "Solitude" exudes symbolic composition.
With "Can't Pin Me Down," Marina's adaptability and inability to be defined becomes visible. Applicable to her own career, Marina's genre-bending, which has upset some fans, will also speak to audiences to fight the idea that people should be at the hands of expectations of others. The song is a freeing and stirring anthem, and perhaps one of Marina's strongest.
Overall, "FROOT," like "Can't Pin Me Down," is an album that flickers through genres. It is a record that does not expect to meet any certain expectation as it is in and of itself, its own, individual entity.
Artful and peculiar, Marina's "Froot" is her most profound release to date. Unafraid and inspiring, "Froot" is, at every moment, changing and adapting just like the artist who created it.