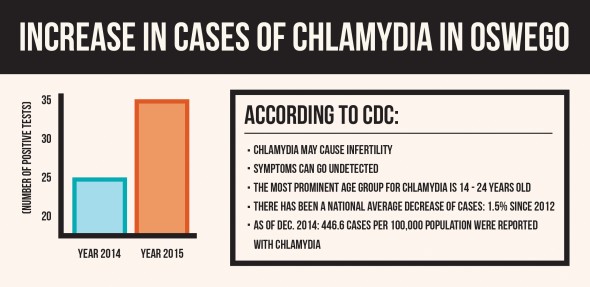 The number of chlamydia cases at Oswego State has increased in the past two years, according to the Mary Walker Health Center.
Last year, 25 people tested positive for chlamydia. This year, there is a total of 35 reported cases.
"It could be related to more chlamydia, it could be that more people are doing testing… I can't differentiate but we have seen in the past few years a definite increase right now," said Mary Walker Director of Student Health Services Liz Burns. "This increase tells us that people are not using condoms and since the symptoms can be undetectable, people are passing it on to their partners."
Junior Gloria Ampofo is not shocked by the increase.
"I'm honestly not surprised," Ampofo said. "I don't think students are as aware of their health risks as they should be."
In order to combat these growing numbers, Mary Walker is hosting an event called "Get Yourself Tested" on April 7, 8 and 9 from 10 a.m. to 3 p.m., offering students free testing for chlamydia and gonorrhea.
According to the Centers for Disease Control and Prevention, chlamydia is a common sexually transmitted disease that can affect both men and women. It can cause serious or permanent damage to a female's reproductive system later on in life, making it difficult or impossible for a female to get pregnant in the future. Symptoms sometimes go undetected. Chlamydia is most prominent in the age group which directly correlates with the average age of the college population.
"Anyone who has had unprotected sex should be tested," Burns said. "That applies to anyone."
When Mary Walker hosted the event last year, there were only 14 people tested. According to Burns, they wanted to get rid of any possible barriers that students might have had in participating. This includes taking away the cost of testing for the event.
The cost of an STD test is $50, normally at the health center it is available for students who pay the $25 health service fee.  In collaboration with the Student Health Advisory Committee, Lifestyles and AIDS Community Resource, Mary Walker is able to cover the usual cost for students, making it free during "Get Yourself Tested."  If a student tests positive, there is no cost in treatment through Mary Walker.
Junior Austin Laveck thinks this event is good considering the increase, especially since they are offering it for free.
"It is good that it is free," Laveck said. "A lot of people don't like to dish out money for something they can't tell that they have or that they don't what to think they have. Although they should consider posting it in more high traffic areas because I don't think a lot of people know about it."
In order to get tested, students will be able to walk in without an appointment, walk up to the front desk and say, "I am here for GYT." According to Burns, they want to make it as easy and confidential as possible. From there the student will be instructed to give a urine test to be screened for chlamydia and gonorrhea. They will be given information and will be called by the health center within seven days if they test positive.
Burns stressed the importance for students to not urinate two hours before they come into Mary Walker if they plan to be tested for the most accurate results.
The health center's expectation for the event is to increase participation. Peer educators from the Lifestyles Center are responsible for promoting the event through Toilet Talk, the red wagon social media and signage.
Health Promotional Coordinator Shelly Sloan said she plans to send peer educators to promote the "Get Yourself Tested" campaign from March 26 to April 1 in hopes of a lot of participants for this year's event.
"This event is important because many STDs go unnoticed due to lack of symptoms," said Sloan.  "People can pass on STDs even if they have no symptoms.  Knowing their status and preventing it from being passed on to others is very important. Treatment is also important."
The health center is fully aware of the increase in chlamydia on campus and is making it their goal to get tested and get treated.
"We have data that says we've had an increase so we want to get more people tested and treated that need it," Burns said. "It will give us more information as to where we go with this next year. Because we have seen an increase, we realize that there is probably more of asymptomatic people out there that we want to get tested and treated so they aren't passing it to their partners."