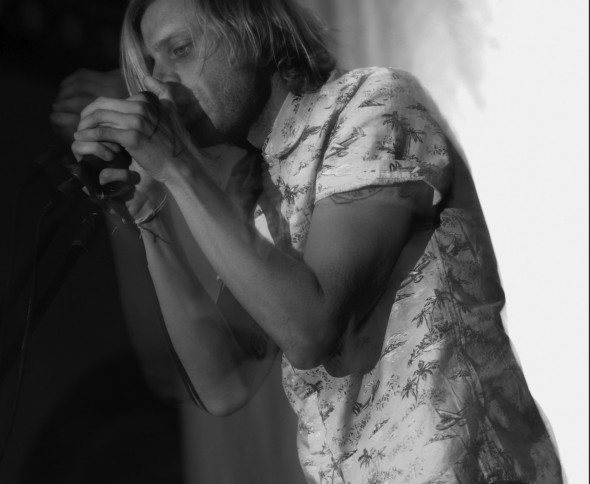 The hit electronic rock band AWOLNATION just released their second studio album, "Run."
Lead vocalist, guitarist and bass guitarist, Aaron Bruno, started the band in 2009 and the band did not release its first studio album for another two years. The band is made up of Aaron Bruno, Kenny Carkeet on keyboards and rhythm guitar, Drew Stewart on lead guitar and Isaac Carpenter on drums. Bruno writes and composes all of the band's music but has admitted to looking to his bandmates, friends, family and other musicians for guidance.
AWOLNATION is best known for their chart-topping song "Sail" that was released off their first studio album, "Megalithic Symphony." The song peaked at number 17 on Billboard's Hot 100, number four on Billboard's Rock charts and number five on Billboard's Alternative Rock charts.
Their latest album, "Run," is the first album featuring Isaac Carpenter on drums. Carpenter replaced former drummer Hayden Scott.
"Run" was released on March 17 and was released through Red Bull Records. Aaron Bruno has been quoted saying this album was quite easy to write and record.
"Much like the first record, I kept my head down and did the best I could, didn't have any extreme expectations for any sort of commercial success," Bruno said in a recent interview with Radio.com. "I just wanted to be proud and give something to listeners that was very sincere and hopefully create an escape. I think I accomplished that with the new record on another level, hopefully."
"Run," the third single off the album and its title track, sets the overall pace for most of the album. The synthetic rhythm that flows throughout the song is very dark and brooding. The lyrics "I am a human being, capable of doing terrible things" show how edgy the remainder of the album is. Toward the end of the song there is a heavy synthesizer solo that is strikingly powerful. Bruno's vocals are very soft and balance the tense instrumentals that create a spooky nightmare-esque track.
"I Am" is the most heartfelt track and has the most meaning to Bruno.
"It started with a real special guitar that was given to me by my dad. I actually kind of adopted it and stole it," Bruno said in a recent interview. "I wrote (the song) real late at night. At least the intro, the first verse. Didn't think much about it, and then months later we listened to my phone recording… and heard that initial idea and thought, OK, this seems cool, let's work on this. It kind of wrote itself and was a pretty easy song to write. That's usually a good sign for me."
Filled with acoustic guitar mixed with synthesizer, "I Am" starts very soft and slow but becomes a very strong and loud song about being proud of who you are.
The shortest song and most peaceful song on the album, "Headrest for My Soul," is the only true ballad on the album. Unlike all the other tracks on the album, "Headrest for My Soul" is very peaceful and dreamlike. A perfect song for just sitting on the grass and cloud gazing. The track showcases the acoustic guitar and Bruno's vocals. The only thing accompanying them is a soft synthesizer in the background. The acoustic guitar is what truly drives the track till the end.
Overall, "Run" is an edgy album filled with both dark, scary songs and light, dreamlike songs. While it is a confusing mix, the album gets the job done and offers great tracks for just about anyone.