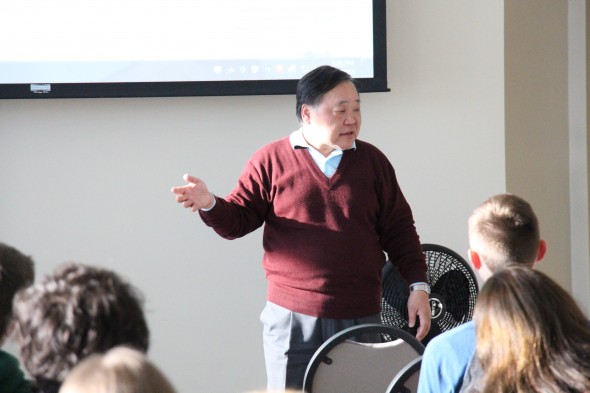 Japanese professor and journalist Michio Katsumata visited Oswego State last week to speak about the history of U.S.-Japanese relations.
Katsumata is currently a professor at Akita International University. He spent about two weeks in the U.S. on a lecture tour to schools and universities across the country. Just prior to Oswego State, his last stop before returning to Japan, he spoke at Alverno College in Milwaukee, Wis. and the University of Kentucky at Lexington. His mission is to spread knowledge of and interest in Japan and possibly of studying at Akita International University or other places in Japan.
"We are partnered with Akita University so their students can go here and we can go there," saidStephen Roscow, an Oswego State professor in political science. "So he goes to give lectures at their partner universities. And when they contacted us, and someone with his expertise, we tried to see if we could get him to give some lectures."
Katsumata discussed the "drama of conflict and alliance" relations Japan and the U.S. have experienced over a 160-year period.
Japan had been an isolated country until 1854, when American Commodore Matthew Perry, on behalf of the U.S. Navy, helped establish the Convention of Kanagawa (Treaty of Peace and Amity). This was done with the Japanese government. This treaty opened up Japanese ports to the U.S. Navy for trade.
"That is the first encounter for Americans in the Japanese government," Katsumata said. "Japan was forced to open doors, to end its closed door policy. It made a dramatic change from the old feudal system. Japanese historians don't like using the word 'revolution' or 'Meiji restoration' because it's not a turnover from an old regime. It's the start of Japan's modernization."
The Meiji Restoration helped restore imperial rule in the 1860s and reverse the country's ambition from isolation to expansion.
Over the next few decades, Japan worked on building up its navy, which as the British had showed the world, helped build an empire.
At the close of the 19th century, Japan emerged onto the world stage when it went to war with China and won.
"This came a mighty surprise for Europeans and America as well," Katsumata said. "Theodore Roosevelt understood that Japan was an interesting country to have good relations."
President Roosevelt became a major player in building a partnership with Japan. During his presidency, Japan engaged in war with Russia.
"At that time, all people in Europe and America believed Russia was this big bear and a tremendous threat to Europe," Katsumata said. "So, European countries and America thought it's nice to support Japan to weaken Russia. But they never expected Japan would win the war."
After a year and a half of conflict, Japan won the war, making it the first time in history that an Asian country had defeated a European power.  Roosevelt served as moderator for the Russo-Japanese peace conference at Portsmouth Naval Shipyard in Kittery, Maine. Japan went on to fight alongside the Allies during World War I.
Katsumata then pointed out that from about 1910 to 1945, "things quickly changed, a complete 180 degrees."
After restricting the wave of Chinese immigration that came to the West Coast in the mid-1800s, the U.S. extended that restriction on Japanese immigrants in 1924.
"The anti-Japanese campaign was especially done by William Randolph Hearst in New York and California," Katsumata said. "They really pushed it. A lot of congress people and corporations preferred trade with China at the time because China had been an attractive place for investment and trade and Japan was not so good as a trade partner."
Anti-Japanese attitudes continued into the Great Depression. Angry people out of work often targeted Asian immigrants as a blame for job loss.
"These types of things would cause these two countries to make a collision course to Pearl Harbor and war," Katsumata said.
After Japan surrendered to the U.S. in 1945, American troops occupied the Japanese Islands until 1952.  Katsumata said a lot of the Japanese public feared the Americans, but soon welcomed their friendly attitudes. Over the next few years, Japan reformed its militaristic society and established they must be a peaceful nation from there on out.
"This reconstruction quickly helped make Japan a power without relying heavily on military power," Katsumata. "They wanted to focus less on the military and more on modernizing, on industrializing."
U.S.-Japanese relations improved more during the Korean and Vietnam Wars, with Japan supporting American interests there. This support helped increase Japan's business production, which carried into the late 1980s.
From the early 1990s to the current day, the relationship between the U.S. and Japan has been relatively strong. During the Gulf War occurred in 1991, Japan contributed $30 million to the U.S.'s ambitions there, which according to Katsumata, was more than 10 percent of what the U.S. spent on the entire war.
Katsumata said citizens in both countries approve of the corporation the two have. He noted that Japanese opinion polls constantly report that roughly 70 percent of Japanese people approve of the relationship the U.S. and Japan have. Eighty percent of Americans feel the same about Japan.
"That relationship is a good thing and it continues up until today," Katsumata said.
Katsumata then addressed questions that students and faculty had regarding his talk.