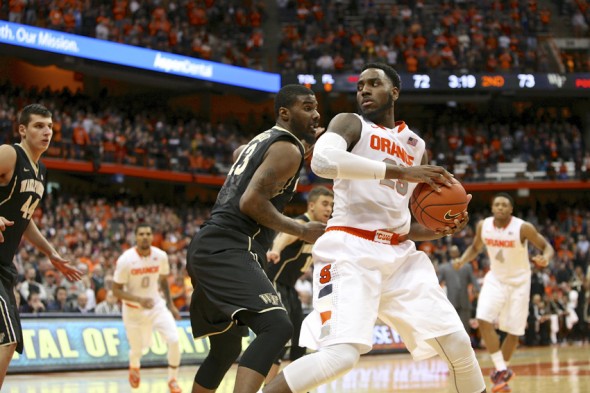 In a season of trials and tribulations facing the Syracuse University men's basketball program, the NCAA came down with a series of punishments regarding violations from previous years within the Orange's athletic programs.
These sanctions have been met with much criticism from those involved with the university and general public opinion.
According to ncaaupdatesyr.com, an official Syracuse University-monitored website detailing the findings of the NCAA, on Feb. 4, the university announced a number of self-imposed penalties stemming from an eight-year investigation conducted with the NCAA involving impermissible benefits to student-athletes, academic integrity matters and drug violations.
The penalties included most notably, a self-imposed postseason ban for the 2014-2015 men's basketball season, including all three of the major tournaments at the end of the regular season: the ACC Men's Basketball Conference Tournament, the NIT and the NCAA Div. I Men's Basketball Tournament.
Also included in the self-imposed punishments were a loss of one scholarship for the 2015-2016 men's basketball team, 24 vacated men's basketball wins from the 2004-2005 and 2011-2012 seasons and 11 football wins from the 2004-2005, 2005-2006 and 2006-2007 seasons.
This evidently wasn't enough to sway the NCAA to lighten SU's punishment, however, as the penalties inflicted on the university are what can only be described as a trimmed-down version of the "death penalty," meaning the program will suffer years of inadequacy due to the lack of resources used to produce a competitive team. Syracuse hasn't quite been given the death penalty, but it's as close to it as it can get.
The NCAA announced on March 6 that its investigation of Syracuse University had been completed, and a number of penalties were announced.
The three most notable infractions included in the 94-page report were the suspension of head coach Jim Boeheim for the first nine conference games of the 2015-2016 season, the reduction of three scholarships for the men's basketball team for each of the next four seasons and the vacation of wins that included ineligible players, which add up to 108 victories. This last implication drops Boeheim from the No. 2 most winningest coach in Div. I men's basketball history down to No. 6. Boeheim previously boasted 966 wins under his tenure, which will now be reduced to just 858.
This is an absolute absurd conclusion to draw from this evidence. Wins should only be taken away if the athletes in question used performance-enhancing drugs during the times in question. If the players were on an even playing field with every other team, wins should not be affected.
The NCAA concluded in their findings that Boeheim failed to control his staff in an organized fashion and provide a work environment that was sufficient. ESPN stated that Boeheim and the school vehemently expressed their disapproval of the NCAA's research, with Boeheim personally being quite critical.
In a prepared statement on the infractions, Boeheim heavily criticized the sanctions of the NCAA. He noted the reasoning behind the penalties were a former employee of the YMCA and the former director of Basketball Operations at SU taking secretitve action behind closed doors to give benefits to athletes.
The former YMCA employee Boeheim references is the supposed booster who gave a combined sum of more than $8,000 to student-athletes on the men's basketball team and football team for volunteering to fulfill credits needed to graduate, according to ESPN.
In the end, only Boeheim will know what he was aware of during this time. However, I find it highly unlikely he was mindful of every occurrence happening under his regime. Even if he did know about any wrongdoings, the matter at hand is trivial at best. The debate on whether student-athletes should be paid is one that will never reach a true resolution that will please everyone.
I believe athletes should receive compensation for how much money they help bring into the school for their performance as student-athletes. These individuals are not allowed to hold jobs while on a team that earns more than $2,000 per year, according to NCAA rules.
Even if they were to hold a job while playing their respective sport, the time it requires to be able to compete at the Div. I level does not dictate holding employment. Meanwhile, the "student" aspect of student-athletes would suffer more than it already had been. Juggling work, school and being as close to a professional athlete as possible isn't an easy task. The amount of money being brought in from sporting events and merchandise is staggering, with college-licensed merchandise being marketed at approximately $4.59 billion in 2013. Syracuse was ranked 33rd in top-earning universities.
Current student-athletes on the men's basketball team were mostly mum when asked about the actions of the players who came before them, however they did provide some opinion on the matter.
Junior sharp shooter for the Orange Trevor Cooney said it was a shame it had to happen because the players simply wanted to "play basketball and get an education," according to The Post-Standard.
Phil D'Abbraccio, sports editor of The Daily Orange, quoted senior center Rakeem Christmas on his Twitter page. Christmas was nonchalant when asked about former players receiving academic assistance.
"It's not that hard, you can do it. I guess people needed help, I don't know," Christmas said.
Things looked bleak for the Orange after the announcement of the postseason ban. Fans and analysts were wondering if Syracuse would still show the will to compete and play as if they were still fighting for a seed in the NCAA tournament.
The Orange did this and then some.
Winning 18 games, while losing only 13, in a difficult conference such as the ACC, is a testament to how hard the Orange worked on and off the court. The Orange surprised many after wins against the likes of No. 12 Louisville and No. 9 Notre Dame.
So, what does the future look like for the Orange? Next season is shaping up to be quite prosperous, believe it or not.
On March 8, Boeheim spoke at a local banquet that was open to the public for the first time since the NCAA laid down their penalties, according to The Post-Standard. Boeheim simply said, "I came here in 1962. I'm not going anywhere."
Although Boeheim will be forced to watch the first nine conference games next season away from the bench, assistant coaches Mike Hopkins and Gerry McNamara, both former players for Boeheim, are more than competent to take his place. Hopkins has been a part of SU's coaching staff as an assistant since 1995, according to his bio on cuse.com, and has been the head coach in-waiting for a number of years now. McNamara became a full-time assistant in 2011 and was a key component during his four years at Syracuse, being a part of the school's only National Championship team in 2003.
Aside from the coaching staff being set for next season, the players need to be ready as well. Christmas will be heading to the NBA after graduation, however he may be the only one the team loses.
Michael Gbinije and Chris McCullough are the only other players in question to leave for the NBA. After posting career numbers in his junior season, rumor has it that Gbinije might apply for the draft. However, a Post-Standard report refutes this saying he is "more than likely" to stay next season.
Gbinije is making a safe call with this decision, as it is never guaranteed he will be picked, being a player who doesn't quite fit the NBA mold. Gbinije had a breakout year, averaging 12.7 points and five rebounds per game, according to his ESPN profile, so if he were to enter the draft at any point, it should be now. He is already 22 years old and coming off the best season of his career. There is also no promise he will replicate or improve upon this next season to build up his draft stock. Although once he commits to the draft, there is no going back.
McCullough has also confirmed he is staying for his sophomore season, according to sports blog College Spun, after whispers from analysts had him going as an NBA lottery selection.
McCullough is making the right call here. He played up to a high standard as a freshman, but did not make as much of an impact as a player such as fellow freshman Jahlil Okafor did for Duke. Also, he experienced a serious knee injury, something that will turn off almost every team in the NBA come draft time.
With two of their best players coming back next season, things are finally leaning in Syracuse's favor. Also, expect other current players from the Orange to have successful seasons as well.
Three-point specialist Trevor Cooney will finish his career strong as a senior. Guard Kaleb Joseph will polish his game in his sophomore year by improving his handles, passing and outside shot. B.J. Johnson in his junior campaign will contribute just as C.J. Fair did in his third year. Junior guard Ron Patterson will give an extra lift to the offense as a sixth man. Forward Tyler Roberson will mold his mid-range shot and post moves as a junior. Lastly, imposing big man DeJuan Coleman will finally see significant minutes, being a redshirt junior, and will make the most out of them.
The 2015-2016 squad will be poised to make a run in the NCAA tournament with this group of players alone.
What isn't factored in, however, is the incoming class of talent SU has up its sleeve. According to NBC Sports, four coveted four-star recruits will honor their commitments to the program despite the penalties bestowed upon the school.
This is a welcome surprise, as these young men could've simply walked away from Syracuse after hearing of the numerous sanctions against the university. This only covers next season, however, as NBC Sports mentioned the loss of scholarships won't take effect until the 2016-2017 season, which will begin the loss of three scholarships for the next four years.
Despite the NCAA's exceedingly harsh punishment of Syracuse's men's basketball program, the future looks much brighter than how it is being perceived. With Boeheim poised to appeal his suspension, according to ESPN, and a slew of fresh players coming in with veteran leadership by their side, expect the Orange to turn some heads next season and well into March.