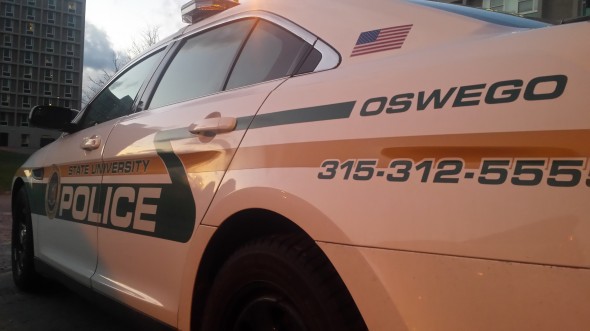 Like any Saturday night at the Oswego State University Police station, this night was very unpredictable. Riding along with Lt. David Miller and Officer Thomas Marrone, there was a better understanding of the day-to-day activity in the University Police department.
"You never know what can happen," Miller said. "Saturday night can be the busiest night with anything from drunken people to you name it. It can be anything, or it can be completely dead and Monday night can be busy."
In the department there are a total of 14 patrol officers, four lieutenants, one investigator, one assistant chief and one chief, as of October 2014. They usually come out of training or local police academies. Patrol officers' responsibilities are to be on the road, inside buildings and to take all of the calls. Lieutenants are shift supervisors who oversee patrol officers, but typically don't respond to calls.  The dispatcher is responsible for helping anyone who comes into the station, keeping tabs on the camera monitors, listening to the radio, answering the phone and dispatching the calls to other departments such as SAVAC, the fire department or other officers when necessary.
On an average day, UP has two 12-hour time shifts a day, 7 a.m. to 7 p.m. and then 7 p.m. to 7 a.m. the next day. For every 14 days, an officer works seven days of them.
Long and unusual hours are part of the job. Before going on a shift, officers go on what they call a "pre-shift briefing." It is roughly 15 minutes, and the officers from the previous shift will give the next group of officers a rundown of what happened during the their shift.
During that time, before going out on the road, the lieutenant will go through training in different topics they are given. The administrative lieutenant is in charge of all the training records for the department, and they are responsible for coming up with a training module for everyone. The training sessions in the beginning of every shift can range from an active shooter incident to how to wear a seat belt properly. Some officers are certified to train others in specific equipment. For example, UP is trained in how to use a tourniquet in order to stop blood flow when someone is shot and how to use narcan, which counteracts a heroin overdose. According to Lt. Miller, training is a constant process.
Starting off a shift, officers patrol all of the area that is considered part of the campus including all of the campus roads including Route 104, Rice Creek Field Station and Fallbrook Recreation Center. It depends on where the individual officer decides to patrol.
According to Lt. Miller, UP is constantly switching up its route because they never want anyone to figure out the pattern in what they do.  They do not want people to be able to figure out where they could be when UP is not.
"We try to be really proactive," Officer Marrone said. "Whenever we can stop something before it happens is always good. You never really know, you can stop someone for speeding and give them a ticket. They could have killed someone next week."
In a typical patrol car, there is a laptop with a reporter system that is an Internet report program for the officers to write all incident reports with. Also featured on the laptop is a database where they document all traffic tickets and accident reports. The police equipment includes a radar scanner in the front panel to detect the speed of a passing car. License plate readers are featured in the back of the police car. It scans all the surrounding license plates and compares them to a database. Any car that was stolen or suspended will flash. Each car also includes safety equipment, a ram to knock down doors, a fire extinguisher and a patrol rifle. All officers communicate on a radio that is connected to each officer and their vehicle.
As a part of their uniform, a UP officer carries a gun, a baton, pepper spray, flashlight and at least two pairs of handcuffs. According to Lt. Miller, the protocol in order to use these accessories is governed through Article 35, which is the use of force, and Standard Operating Procedures. In order for the police to use any of their equipment, the subject has to be resisting. It also depends on the way the subjects are resisting, and the police will act accordingly.
At around 12:37 a.m., the UP responded to "an intoxicated female" in Seneca Hall. The dispatcher sent notice to SAVAC although UP were the first ones to respond. When arriving at the scene, the police asked the female to identify herself and to get any basic, useful information that would help. Overall, the officers were not fazed by the incident and responded calmly.
"There is always new stuff that you wouldn't expect to happen, but I don't want to say anything shocks me," Lt. Miller said. "There is always something new that you haven't seen, but you just go with it."
At 1:09 a.m. Officer Marrone responded to a loud party complaint at Cayuga Hall. As UP responded to the scene they were informed that there was underage drinking and that residents were not letting the resident assistants into the room. When the police came, however,, the residents were instantly more compliant.
According to Lt. Miller, this night in particular was considered slow, but when referring to any incident, UP keeps a mentality to resolve, diffuse any situation and get it over with as quickly as possible.
"We are just normal people. We have a job to do and obviously that affects people in a negative way some of the time," Lt. Miller said. "We are not there trying to make people's lives harder on them, but we just have a job to do and we are going to do it."