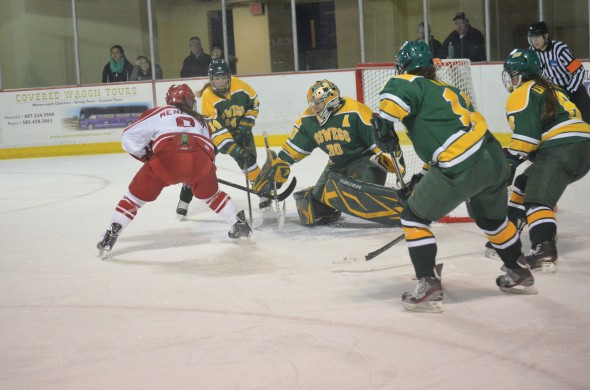 On Saturday, March 7, the Oswego State women's ice hockey team saw its season end at the hands of the SUNY Plattsburgh Cardinals, in a 4-2 loss in the ECAC West semifinals.
But, what could be viewed as an end to the season could also be viewed by others as the continuation of something much greater: the continued development of this hockey program, winners of 19 games this year, into a Div. III force.
The Lakers held the lead twice in Saturday's defeat to the Cardinals, fighting throughout against a nationally ranked team, and what can be said for that game could be said about the Lakers' outlook as a whole: They are right there.
Silencing questions about the graduation of nine seniors, the team introduced 11 new players this season, including nine freshmen, who raised the standard of play with every victory.
Crowding the stat sheets, the new Lakers went on to score 41 of the 71 goals for the team this year.
A season crowded with questions to start quickly became about the present, and no longer about the past. And now, the future.
Diane Dillon, who earned her 100th win as Laker head coach this season, could not help but be surprised by the team's success following such a massive overturn of players.
"This team surpassed my expectations by far," Dillon said. "Graduating nine, bringing in 10, with so many young kids in the lineup, having only one senior, while I hoped we would do well, I never could have expected that we would exceed our win total from the previous season."
The team also possessed the best penalty kill in Div. III women's ice hockey, which was a high point for Dillon.
"Being the top penalty killing team in the country, that was certainly not something I saw coming," Dillon said. "But as the season went on, and we saw what this team was made of, it was well deserved."
Well deserved, but any team consisting of 10 new members needed the right amount of leadership for such success to ensue, and the Lakers were not lacking in that category either.
Wearing the "C" on her jersey for the first time this season, alongside assistant captains junior Lizzy Marks and senior Bridget Smith, junior Tori Trovato embraced the role change presented with her before the start of the season.
"You have to have a different attitude as a captain," Trovato said. "You have to step up in some circumstances that you normally wouldn't. But as far as major changes go, I think for myself and the other captains, we're still the same players we've always been."
As her coach knocked on the wooden desk in front of her to prevent future jinxes, Trovato calmly expressed her confidence in this team going forward.
"We were right on the brink this year," Trovato said. "After three years, I think we're ready now. We are right where we need to be."
Trovato will play in her final season next year, before she walks across the graduation stage with, hopefully, a national ring on her finger and the Laker hockey program will be left in the hands of the talented underclassmen.
Perhaps one of the most talented is Olivia Ellis, the Laker freshman who took the Marano Campus Center Arena by storm with her breakout season. Ellis led the Lakers in points this year with 27, as well as assists with 15, and tied the team lead with 12 goals.
Ellis always saw herself being a successful member of the team, but even she could not have expected the tremendous output she produced in her rookie year.
"I was hoping I would be successful, but I didn't think I would do as well as I did," Ellis said. "It always helps when you have line mates like Rachel [Lenard] and Andrea [Noss] feeding you the puck. We all just built a great relationship from the beginning."
Entering next season, Ellis will have the attention on her, and she acknowledges that this offseason will be important for the development of her game.
"I'm going to hit the gym a lot," Ellis said. "I'm still trying to work on my shooting, and my stick skills off the ice. There are always places to improve."
Ellis can look forward to three more successful years on the ice for Oswego State, but for senior Bridget Smith, this spring will be a different one, as she no longer prepares for a return to the ice next season.
Smith went out on a high note, however, earning tremendous praise and attention for her success in the net for the Lakers and recording the third-highest save percentage in Div. III women's ice hockey this season. The lone senior for the Lakers also earned the honor of being named to the first team All-ECAC West.
Smith acknowledged the pressure that was on her this season, especially as expectations mounted. But she always remained focused on making the most of her opportunities as a Laker.
"It did get stressful at times when people began expecting more out of you," Smith said. "But I always told myself to just have fun with it, to enjoy it and to just take it one shot at a time."
Now that the season is over, Smith could not be more grateful for the attention her play received this year.
"It's an honor, it really is," Smith said. "It's a lot to take in, and we've come so far in the four years that I've been here. It has been so great to be a part of it, and I just wish I could stay longer to see where this team goes."
Smith deserved the spotlight surrounding her this season, but now that her Laker career winds down, only one word was needed to describe her four years on the ice.
"Unbelievable," Smith said. "I wouldn't change it for the world."
The Lakers would not have gotten to this level of success this season without Smith or many of the individual players. But as the coaches and players continue to preach game after game, one does not win without a team, or in this case, a family.
As the curtain closes on another spectacular season for the Oswego State Lakers, the bitterness of a loss still rings throughout. But it will not be long before their skates hit the ice once again, looking to finish what they started.