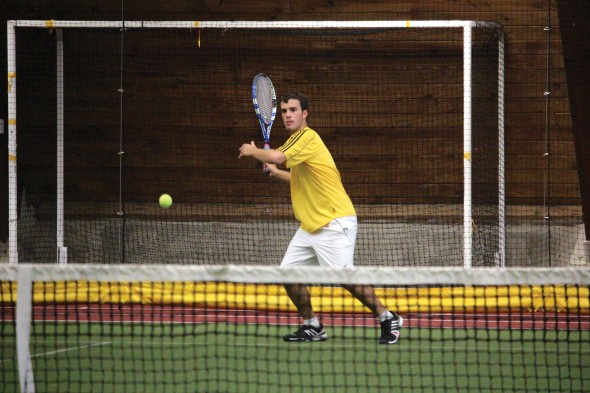 The Oswego State men's tennis team heads into the spring season in pursuit of another historic season. After an 8-5 record last year, the Lakers feel like they can compete among the elite.
Oswego State started its spring season last weekend with a 9-0 win over D'Youville College and a 5-4 loss to Elmira College. The Lakers also went 2-2 in their fall play which, though added to their overall record, is treated as their exhibition season.
The team was eager to get back to competitive play with practices almost every day in February. Co-captain sophomore John Stanford said everyone has taken this extra time to work on what was needed for each of their individual games. They have also accomplished a lot thus far and are moving ahead as a group.
This program has been in the moving forward attitude for quite some time now. After years of struggling, the Lakers put together a successful season last year with a group of up-and-coming freshmen, along with a few seniors leading the way.
With the loss of those seniors who played at the top of the lineup, many would think the team would take a step in the wrong direction. Then along came junior transfer Alex McCarthy who made an impact right when he stepped on the court in Oswego.
Just three weeks after move-in day back in the fall semester, McCarthy was put in the number one singles spot in the Lakers' first match of the season. He won that match 6-2, 6-2 and has not looked back, winning five of his six singles matches, and also winning four matches so far with his partner, freshman Brian Lyudmer.
Head coach Bob Friske said there is no question talent-wise that McCarthy is the best player on the team. In terms of stepping right into that role as the No. 1 player, Friske believed McCarthy handled it very well.
Having the amount of success McCarthy has had already is something the Lakers have not seen from a No. 1 singles player in a very long time. This makes the team much more competitive as it does not give away points at the top of lineup, and causes players to be able to play at positions where they are more comfortable.
"It really gives us a fighting chance to win against teams we never had a chance against before," assistant coach Geoffrey Sawyer said.
Stanford said McCarthy is the type of player whose play improves as the match goes on.
"He's a machine," Stanford said. "Once he gets going, it's hard to stop him."
Along with McCarthy, the Lakers brought in six new players in the fall to a team that only had four returning players from last year. One might worry about the team's experience, but Oswego State then added two players back from previous years in sophomore Ryan Korn and senior Sam Moores.
Korn played in the fall semester of his freshman year and competed at the No. 1 singles spot in each of the three matches he was part of the squad. While Moores played in both his freshman and sophomore years and was part of the squad for parts of his junior year, even playing at the No. 1 singles spot in a match last February.
Having players come back after leaving might seem unusual, but both were welcomed back with open arms as junior Justin D'Antonio said they fill in the cracks in the lineup.
D'Antonio was actually the one who invited Moores to come back and play. Moores was honored by the invitation and accepted it right away as a chance to play the sport he is been playing since he was three, for Oswego State once again, in his final semester as a student. The two have already meshed well together on the court, winning at third doubles against Elmira in a close one, 7-5, 7-6.
The fact that Korn and Moores bring that talent with the experience makes the Lakers even better as Friske said coming into the year they looked very young, but now after the experience the younger players have amounted in the fall and the addition of Korn and Moores, the team looks like a well-rounded, veteran group.
That veteran mentality is key when it comes to confidence and the level of play each player brings.
"Experience always plays a factor, seems like they keep a more level head in matches," Stanford said. "Once everyone has that experience, they seem to just raise their game."
Two veterans who have been playing with that experience for a while now are co-captain sophomore Spencer Thorn and senior Tim Van Hine. The pair also has a special bond as they have been doubles partners since Thorn came to Oswego State last year.
Now that this is going to be Van Hine's fourth and final season, Thorn said it is sad to think they will not be playing together anymore after this season, but that it motivates them to end their career as a pair in a great way.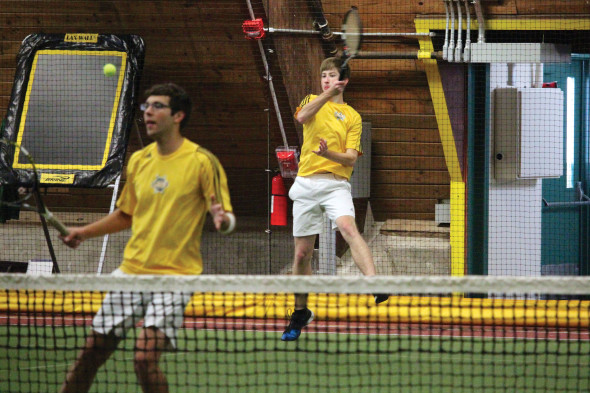 Thorn also said it will be important on how they start their matches, something that they were successful in the D'Youville match, but not so much in the Elmira match.
Sawyer agrees with that statement, as he knows how well the two play together. Their chemistry and Thorn's knowledge of doubles play, which he said is best on the team, has led him to set very high standards for them.
"They mesh beautifully together, they just need to perform better in the start because they play so well coming back," Sawyer said. "So if they can get a better start there, I expect them to be undefeated for the rest of the season."
With all these great players, and only six individual starting spots in both singles, and doubles. It creates a lot of competition among them. The Lakers have been playing countless challenger matches against one another coming into the season to earn these starting spots and it only has them becoming better and better.
"We're trying to beat the other team, but we have to beat each other to get there," D'Antonio said.
One thing all the players can agree on is the impact Sawyer makes on them. A class of 2011 graduate of Oswego State, Sawyer spent all four of his years playing with the tennis program. He then was invited by Friske to be a volunteer assistant coach for the 2012-2013 season. The following season he took on the role as the official assistant coach.
Friske and Sawyer have history together as Friske's first year as head coach was Sawyer's senior year. Friske's invitation to Sawyer to be on his coaching staff has paid off, as he comes with the experience of playing at Oswego State, has helped provide stability with his knowledge and his passion for the game that shows no bounds.
Sawyer remembers how Friske came into a program that struggled with having a consistent coach. But with each other's help, they have brought this program to a point where they consider themselves one of the best that they compete against.
Among the best that they compete against is St. John Fisher College, who is next on the schedule for the Lakers on March 26. The Cardinals have a history of dominating the Lakers as they went six straight years shutting them out 9-0 in each contest every year. That ended last year when the Lakers were able to pull out two wins with Thorn and D'Antonio winning at fifth and sixth singles, respectively.
Thorn believes this history between the Lakers and Cardinals might actually be to the Lakers' favor as the Cardinals could be overlooking them, which could lead them to pulling out the victory.
With each of them, and everyone on this team, having more experience from last year, the Lakers go into the match for the first time in a long time with expectations of a good result.
D'Antonio knows it will be tough to pull out a win, but to be able to make it a good match shows the progression of this program. As was the case against Elmira, where they only lost by a point, the first time they made it that close against the Soaring Eagles since 2009.
"Whether we win or not we want to let them know we are coming up behind them really fast," D'Antonio said.
But if the Lakers are able to pull off the upset, Sawyer believes it could launch the program into new heights.
"A win against them… would be a huge stepping stone for the team," Sawyer said.
It is that kind of goal that has the entire Laker squad all hungry for another impressive season and to prove to their competition that they will no longer be a team that will go down easily. They have all the pieces in place, now it is time to show it on the court.