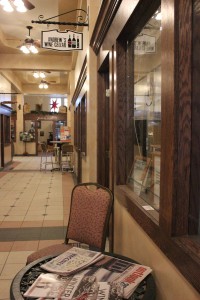 Andrew's Wine Cellar, located at 195 W. First St. in downtown Oswego, is a privately owned shop which boasts a different experience than regular liquor stores. Owned by Andrew Bowman, the shop originally opened in February 2006, as a wine store.
After the demand for different types of alcohol came about, the store started selling more of a variety of liquors, especially bourbon and craft beer, claiming bourbon is like the "new Pokémon:" It's what's trending now.
Bowman, a resident of Oswego, mentions having an interest in wine, which brought about his involvement in the business. He previously worked for a record label for 15 years, but around 2006, downloading music killed the business.
"I really like wine, and you can't download wine," Bowman said.
Yes, the Internet hurt his business in music, but it's helped his business of selling alcohol. The store does the majority of their business on the Internet. Not only does Andrew's Wine Cellar have a store website— Andrewswinecellar.com. The store also has a flash site, where customers can order alcohol for delivery: 90pointwine.com.
Nevertheless, he credits much of his store's success to the booming college town, acknowledging the spike in sales when school is in session. Many students stop in and show an interest in learning about different types of alcohol. Andrew is very knowledgeable on wine and other varieties of alcohol.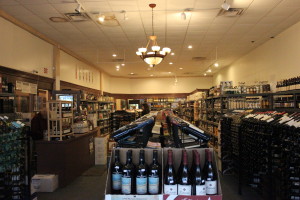 Andrew's Wine Cellar is a personal atmosphere and reflects Andrew's own interests. He bases his selection on personal preference, as he samples the majority of what he purchases.
All different types of customers enter the store, but it's generally more of the adventurous type who want to try different things.
"Other stores may have a regular customer for 10 years who comes in and buys the same thing every week," Bowman said. "With us, we get regular customers who come in looking for something new every week."
He claims there wasn't much backlash when he established his business because he's doing a different thing than everyone else, with totally different inventory. Andrew's Wine Cellar focuses on smaller producers and unusual items. Bowman says he's not interested in competing.
He said the location of his shop, in the Canal Commons, is also good for business.
"Being here is helpful," Bowman said. "Everyone gets along really well here, it's really nice when we need to borrow a ladder, or the coffee shop runs out of ones. We're a community."
Stop by Andrew's Wine Cellar and try something new.