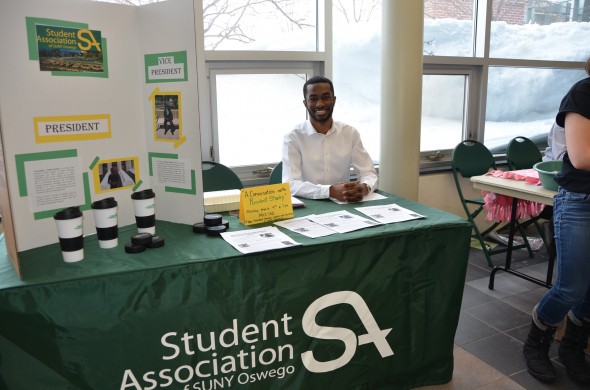 Oswego State students will elect a new Student Association president and vice president to lead the student government organization next year.
Three candidates have entered their names to run for these positions and have put their platforms into the public eye. The vote will be held March 10 and 11.
For the third year in a row, the candidate running for SA president is unopposed. Resident Assistant and current SA Director of Civic Engagement Christopher Collins-McNeil is the only person running for president. Running for office is something Collins-McNeil has thought about for a long time.
"I have thought about it since my arrival to SUNY Oswego in 2012," Collins-McNeil said. "There were a few contributing factors. First and foremost, is the current SA president Tucker Sholtes. Tucker has been an amazing president, delegator, programmer and friend. Under his leadership I have been able to accomplish quite a lot on this campus, work I am immensely proud of. Tucker's drive, hard work and dedication to this organization and the student body has inspired me to lead this organization as president. I was afforded so many opportunities through SA and I want to empower other students to use their voice, passions and positions to advocate on issues that are important to them, just as others did for me."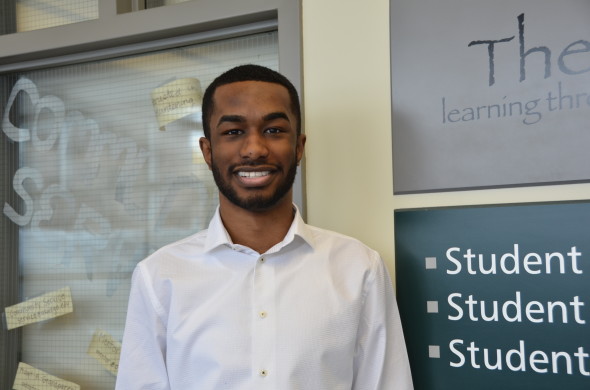 Having served three years in SA, Collins-McNeil is the most tenured student in the organization. He spent a year as an at-large senator and vice-chair of the student involvement committee, and two terms as civic engagement director. As part of his position, Collins-McNeil sits in on the faculty assembly and diversity and inclusion committee. He is also a former president of the Oswego State College Democrats, an anchor on WTOP-10, interned with several political and governmental organizations in Washington, D.C. and New York City and studied abroad in Madrid, Spain last year.
"More importantly than my leadership experience at SUNY Oswego, I am extremely passionate about SA and the immense progress we have made as an organization this past year," Collins-McNeil said. "I am excited to continue to take part in the evolution of SA."
As for what he would like to see happen if he won the presidency, Collins-McNeil said he would want like to see a number of changes made in the organization.
"I would like to se a re-brand of SA on campus so that students, faculty and staff know who we are and what we do, a revitalization of the student senate and potential elections for senators, implement a congress speaker to preside over the student senate, create a formal relationship with the United States Student Association, and foster a professional relationship with Greek letter organizations to lead student activism and campus wide initiatives," Collins-McNeil said. "I would like SUNY Oswego to continue to create 'wow' moments that all students can be proud of our campus community and continue the work that we have started this past year."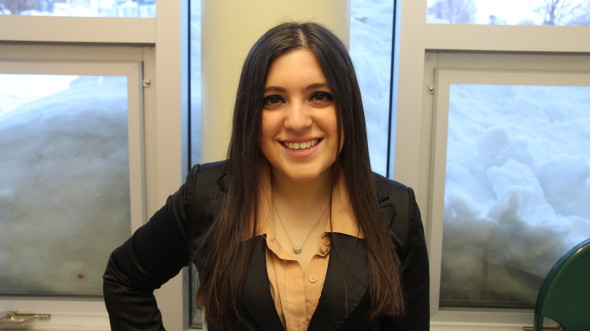 Collins-McNeil called being unopposed in this election "truly disappointing."
"Student apathy is a problem on this campus and it is only further displayed in the lack of student interest and involvement in student governance," Collins-McNeil said. "I want SUNY Oswego students to be passionate about their campus community and realize the power they hold to effectuate large-scale change on our campus."
For the first time since 2012, the race for the vice presidency isn't opposed. Two Oswego State students have announced their candidacy. Like Collins-McNeil, vice presidential candidate Emily Nassir is also a seasoned member of SA.
"I decided to run for vice president because I've been in the senate for two years and I have seen it change in so many different ways," Nassir said. "After all of my involvement, I thought that this was the right way for me to further dedicate myself to senate and to SA as well as help lead it in the right direction through the changes that we've seen."
Nassir has held numerous positions during her time in SA. She has been the vice chair of the student involvement committee, as well as the chair of Oswego State's largest on-campus fundraiser, Miss-A-Meal. At the beginning of this academic year, Nassir also took on the roles of the senate clerk and a representative on the Auxiliary Services Board of Directors. Nassir is a member of the Alpha Epsilon Phi sorority and has held various positions in that organization as well.
"If elected, I will spend my term trying as hard as I can to make the changes that students express they wish to see," Nassir said.  "At the beginning of my term, I would like to send out a survey to the student body and ask what they would like to see. After collecting results I would work with the senate to see what can or cannot be done. Personally, what I would like to work on is the Blue Route system and plowing and parking. As a current member of the university's parking committee, I understand and witness a lot of the behind-the-scenes work that goes into commuter lots and bus systems. I would like to find a way to ensure that buses won't skip routes or run extremely late and cause students to be late to class."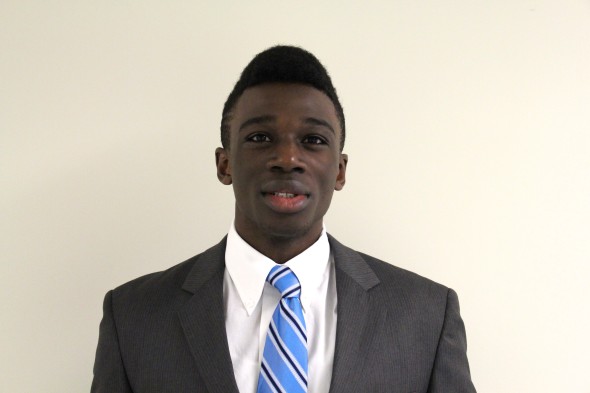 Running against Nassir is Marlon Calliste, another student deeply involved in student clubs and organizations.
"I think I am a viable candidate because I am already a student leader on campus," Calliste said. "My freshman year, I was a senator representing Cayuga and now I am currently the vice president of the Black Student Union. These positions have given me a lot of experience in leadership roles and in working with a lot of people to accomplish specific goals."
During his time as a senator, Calliste helped craft the bill for Oswego State's first Mental Wellness Conference. Additionally, Calliste helped organize the first ever off-campus variety show in celebration of Black History Month.
"My platform is that of increasing student participation and awareness of the Student Association," Calliste said. "In order to do so, I would like to advertise heavily through social media, WTOP, and WNYO. I would also like to form a better connection with clubs; in order to do so, I would have senators meet regularly with club presidents in order to understand the clubs' goals and needs. These are just some of the ideas I have in terms of making SA more known and campus on improving the connection between clubs and SA."
There was some thought that current SA vice president Jillian Kranz might run for a term of her own right. She was promoted to the position at the beginning of the semester following the resignation of Neely Laufer. However, Kranz has decided not to run.
"I did consider running for vice president but after a lot of consideration, I didn't think that I could commit to the job for another full year," Kranz said. "I love Student Association and being a part of it so I see myself continuing as a senator for next year and maybe in the future becoming a director. For right now, I am happy with passing the job to someone else and seeing the great things that they can do with this position."
Students can vote on the election days March 10 and 11 via Laker Life. An email will be sent to the entire student body with the link to the page where they can vote. The winning candidates will be sworn in on April 1.