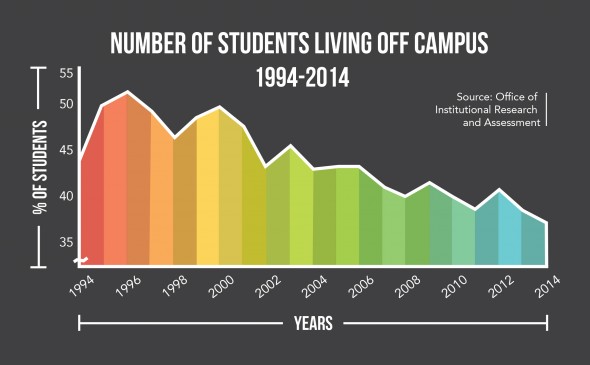 The number of students living off campus has been dropping for the past 20 years, according to data from the Office of Institutional Research and Assessment.
According to the Distribution of Undergraduate Students by Living Arrangement statistics on the college website, 37 percent of Oswego State undergraduate students live off-campus as of fall 2014. In 1996, 52 percent lived off campus.
Residence Life and Housing credits a drop in regional high school graduation rates and a higher figure of incoming freshmen coming from outside Central New York.
The New York State Department of Education reported a slight increase across the margin for New York state high school graduation rates from 74 percent to 74.9 percent. However, the Syracuse school district had 48.8 percent graduation rate, which is only 4.6 percent higher than Rochester. The ranking went respectively in order from Yonkers, New York City, Buffalo, Syracuse and Rochester.
The low graduation rate for Central New York indicated that many Oswego State incoming students were from elsewhere. The Assistant Vice President of Residence Life and Housing Richard Kolenda explained that a higher number of non-local students equated a higher percentage of housing needed to accommodate these students.
"There are more students coming from longer distances," Kolenda said. "They are not living at home. They are living on campus. We're getting more transfer students to live on campus."
The director of Oswego State Admissions, Daniel Griffin, agreed with Kolenda and added that the expansion and renovation of on-campus housing influenced many students who had experience living in the residence halls to continue their on campus lifestyle.
"Fewer local students and more from farther away mean more students needing housing," Griffin said. "Generally, with the campus improvements and the addition of The [Village] townhouses, once students live on campus they tend to want to stay on campus."
One of the tactics that Residence Life and Housing used to increase more residents on campus was catering to a specific group.
"[Residence Life and Housing] changed Lonis and Moreland to single room for seniors and non-traditional students," Kolenda said. "So that brought more older students who didn't want to live in the city to campus."
The Village townhouses construction expansion project started in 2010 and added nearly 300 students to the on campus population. The Village townhouses gave juniors and seniors an opportunity to gain a better sense of independence by living in a designated townhouses area with their chosen housemates. It mimicked the off-campus housing with the benefits of being on campus.
Imani Gary, a senior English major from Brooklyn, has been on campus throughout her college career. She currently resides in the Village and enjoys living witother five housemates.
"I'm not really from the area and I don't have a car," Gary said. "So living on campus was the best option for me. I really like the Village because it's kind of like a more adult feeling than living in the dorms. You have your own room. You have a common area where you can hangout with all your friends. You can cook all your meals."
She also said being on campus was a great decision because it helped her immerse in the college setting.
"When you are on campus and look out your window, you can see Poucher and Marano Center right there," Gary said. "You are like, 'oh I'm still in school and I have to do homework.' It is just a reminder that you attend school."
Living on campus costs more than living off campus, especially an extra $1,000 more for the Village residents. Gary said she had to make some sacrifices with her meal plan.
"It technically is more expensive but I have the smallest meal plan possible," Gary said.  "The prices actually average out. Like if I were living in a dorm and had a full meal plan, it would be the same price as me living in a single with the two-meals-a-week plan."
Bryan Guild is a junior wellness management student from Saratoga, N.Y. He chose to live off campus in town with his three housemates because he enjoyed having more freedom and saving thousands of dollars at the same time.
"You are not cooped up in a dorm room for most of your time. There is more than one room for you to go in," said Guild.  "I'm going to say I save like five grand at least. It's like cutting the cost in half to live off campus compared to on campus."
With the Oswego setting, the weather and several bands of heavy lake-effect snow seemed to be the biggest drawback for many commuters, including Guild.
"Obviously, I can't walk to campus from here," Guild said.  "So I'm going to have to drive several times a day to campus. I got a decent car. It's good in the snow. But still, it's a lot more stressful than if I was living in the dorm."
While many students are weighing pros and cons of on-campus and off living during this room selection period, the Kolenda expected the declining trend of off-campus housing to continue.