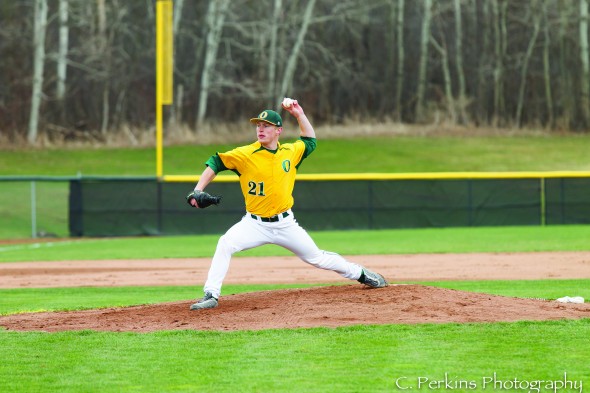 As the snow continues to fall at Oswego State and appearances of green grass are few and far between, something has begun to brew within the depths of Laker Hall.
With a quiet and motivated force, Oswego State baseball team has one goal in mind: winning.
However, it is not only hitting that has generated excitement from this year's baseball team. It is the now-seasoned group of pitchers who plan to bring the heat in this new campaign.
With five senior pitchers, all having developed a level of continuity with each other, there is very little doubt as to where the team leadership will come from this year.
Perhaps no one will be depended upon more, and no one will expect more out of himself, than senior lefthander Brendyn Karinchak.
After finishing last season with a 5-1 record, and posting an earned run average of 1.62, Karinchak is still looking to improve this season.
"Last year, I had a loss," Karinchak said. "This year I want to win every game. Set a goal, a lower ERA for myself, maybe stay under 1.00. Whatever I can do."
Karinchak also realizes that now, as a senior, more eyes are on him, especially from the younger Laker players.
"I think it drives me [the pressure] to do better," Karinchak said. "I try to set an example for the younger guys. Work hard every day, go out there and do my best, and expect the rest of the team to do the same thing."
One of the younger players is freshman righthander Robert Donnelly.
Despite being a freshman, the all-league high school star looks to be a major factor for the Lakers this season. With the five senior pitchers in front of him, Donnelly certainly has the resources to improve his game as well.
"They [the seniors] help me out of a lot," Donnelly said. "Taking tips here and there, from guys that have been in the motion for a while, they make it really easy to learn."
Pat Brown, playing his senior season with the Lakers, has been no stranger to adversity, but his expectations for himself have not waned.
Brown began with the team in the 2011 season as a hitter. He has missed seasons due to injury, but is feeling healthy and ready to make an impact for the Lakers in his senior year.
"The further I get away from surgery, the better I feel," Brown said. "My arm feels really good right now. I had a minor setback, but now I'm all ready to go for the spring."
Having been with the Laker baseball program for five seasons now, Brown has seen changes in the team since he entered years ago.
"I think the overall attitude has changed," Brown said. "The guys that Coach Landers has brought in are all true baseball guys, and they're all ready to come in here and just work harder every single day."
The oldest pitcher on this team however, is not a player at all, it is head coach Scott Landers, a former pitching star for the SUNY Cortland Red Dragons.
Entering his fourth season as coach of the Lakers, Landers insists that the work ethic of this group of players separates them from pitchers in years past.
"Not that my pitchers in the past haven't had good work ethics," said Landers. "But these guys take it above and beyond to where they really want to be the best. They want to compete against other teams, they want to complete against each other. They want to be the best staff in the country."
The players expect to be flawless once they take the field, and so does their coach.
"I demand perfection, they demand perfection," Landers said.
It will take near perfection for the Lakers to top the program-high 27 wins the team achieved two seasons ago, but the Lakers expect nothing less of themselves.
The theme of perfection and hard work and a stellar group of character pitchers on the mound for the Lakers this season will be crucial to making their lofty goals come true.