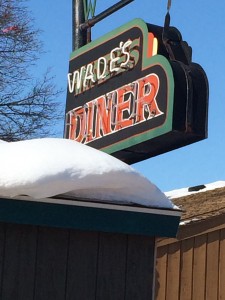 One random patron's statement I overheard perfectly sums up my dining experience at Wade's Diner: "I'll eat out in the parking lot if I have to."
With the line practically out the door minutes after arriving at 10:30 a.m. at Wade's, which operates Monday through Friday from 6 a.m. until 12 p.m. and 7 a.m. until 1 p.m. on Sundays to serve customers breakfast only, it's no wonder why my friends and I waited for 10 minutes to be seated. Eating at Wade's is an experience for your taste buds to savor.
Seating was tight in a dining area roughly the length and width of a single mobile home, but that didn't stop the cooks at Wade's from delivering food of equal size and flavors 15 minutes after we ordered.
"The dining hall can't make pancakes like this," said Carson Metcalf, senior meteorology major. His stack of three pancakes was larger than the size of his hands. "Where else are you going to get a good breakfast for four this size for under $40?"
"This is what home fries taste like when done right," said Andrew Tilley, junior zoology major.
One family traveled all the way from Albany to eat at Wade's packed diner.
Why would anyone drive over three hours to eat at this small diner tucked away on East ninth street? Because the limited space does not mean a limited taste.
"I needed to download an emoji app to completely convey how I feel about this," said Mike Walruth, senior meteorology major.
When you go experience Wade's Diner for yourself, notice the lack of orders being written down or receipts handed to you. For my visit, the wait staff at Wade's memorized every table's order to save trees and to ensure that your wait time is cut down so that you can enjoy your breakfast fifteen minutes after ordering.
Be sure to either grab boxes or take pictures of your meal because the only leftovers you'll have otherwise are the memories you make that one morning hour at Wade's Diner.