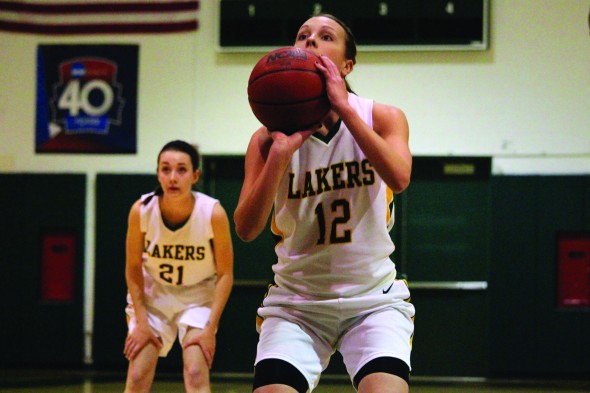 The Oswego State women's basketball team came into this season not knowing what to expect with a young team.
But they did have one common goal in mind, and that was improving off last season.
Coming into the 2014-2015 season, the Lakers lost three seniors, including leading scorer Jen Robbins. The Lakers did, however, recruit five freshmen: Lindsay Johnson, Alisha Jacobs, Zana Dillard, Courtney Ameele and Rachael Windhausen.
Along with the new younger players, the Lakers also returned their second leading scorer Heather Hebert, who averaged 11 points and seven rebounds per game last year.
The Lakers came into the season after finishing 6-19 last season with a 2-16 SUNYAC conference record.
The season started off with the annual Max Ziel women's basketball tournament, where the Lakers took one out of two games, including an 88-51 drubbing over visiting Bay Path College.
The Lakers placed third overall in the tournament while Hebert was named to the All-Tournament team.
The Lakers would lose two straight before opening up SUNYAC play against SUNY Fredonia. Jacobs led the team in a 71-58 win with 23 points including four from behind the arc.
In this first SUNYAC game, three of Oswego's star five freshmen had double digit scoring, setting the tone for their season. Jacobs scored 23, Windhausen chipped in 12 of her own and Johnson finished with 10 points.
Seeing these players in double digit scoring was a common theme throughout the season which head coach Tracy Bruno said was a major contributing factor for how well the team did this season.
"The new players coming in were comfortable right away," Bruno said. "They never really approached things like freshmen, in terms of confidence level and being willing to take shots and step up and be put into those positions. I think that Rachael (Windhausen), Alisha (Jacobs) and Courtney (Ameele) really hit the ground running, and Lindsay (Johnson) and Zana (Dillard) came on toward the end of the season as well."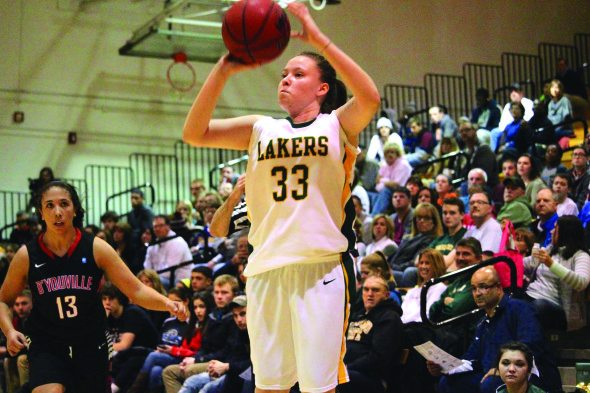 Later on in the season the Lakers showed their toughness, winning three out of four games against SUNY Fredonia, a 93-75 victory over SUNY Potsdam and a very impressive 23-point blowout win over SUNY New Paltz. SUNY New Paltz finished third in the SUNYAC conference regular season.
In that SUNY Potsdam game, the Lakers proved how dangerous of a team they can be with four players finishing in double-digit scoring including Jacobs who had 28 and Mary Mazzella who finished with 26 points. Hebert also posted a double-double with 13 points and 15 rebounds.
The Lakers would have a very tough schedule to end the season, with games against three of the top five teams in the SUNYAC. The Lakers would lose all three in close games.
Overall the Lakers improved from last year, finishing 8-17 overall and 6-12 in the conference. They narrowly missed out on the SUNYAC tournament, finishing three games behind sixth seeded Buffalo State. Oswego State's returning leading scorer from last year, Hebert, was happy with the team's improvement and how hard the team played this year.
"I think that we improved from last year, got some more wins under a belt and I think that we are in a good spot for next year," Hebert said.
Bruno was also very happy with the team's performance for the overall season.
"With a young team we were really concerned with working everyday. We stepped on the floor to improve, and I think without question that we did that," Bruno said. "In terms of comparing last year and this year, only a couple more wins, but those wins were significant that they were in conference. For us to be in the SUNYAC playoff hunt down the stretch with a couple games to go, I was very pleased, especially for us to continue to fight and push each other in practice."
Bruno contributed the team's ability to push each other, to the captains and the two seniors, and was happy they continued to fight and push each other throughout the whole season. She also said a lot of positive things came out of this year.
The Lakers would finish third overall in the SUNYAC in overall scoring offense averaging 65.8 points per game. The Lakers also finished second in 3-point shooting defense, allowing on average 27 percent.
Jacobs finished 11th in the SUNYAC in scoring, averaging 13.0 points per game. Jacobs also finished third in 3-point percentage, averaging 34 percent on the year. Hebert also finished in the top 20 in SUNYAC scoring, averaging 11.7 points per game. Hebert also finished the season in fifth in rebounding in the SUNYAC, averaging  8.4 per game.
Sophomore Mazzella finished eighth in the SUNYAC in assists, averaging 2.7 per game. While Windhausen finished 5th in blocks, averaging 1.6 on the year
Next season the Lakers will return the majority of its roster, while losing two seniors, Emily Birchall and Lexi Gillard, and the coaches are recruiting to fill the void of the two seniors, but Bruno said returning the bulk of the roster is exciting and important to the team chemistry.
"Toward the end of the year, one of the things you started to see was us a little bit more comfortable playing together, having a little bit better sense where each of us likes the ball and where each of us were going to be defensively, along with what our strengths and weaknesses were," Bruno said.
Jacobs also believes that returning the majority of the roster is only going to help the team going into next season.
"I feel like we molded way more toward the end of season and I feel like we know a lot better now how each other plays," Bruno said. "So I feel like next season will be very good."
With a lot of positives coming out of the season, the Lakers are eager to return next season, and continue where they left off.