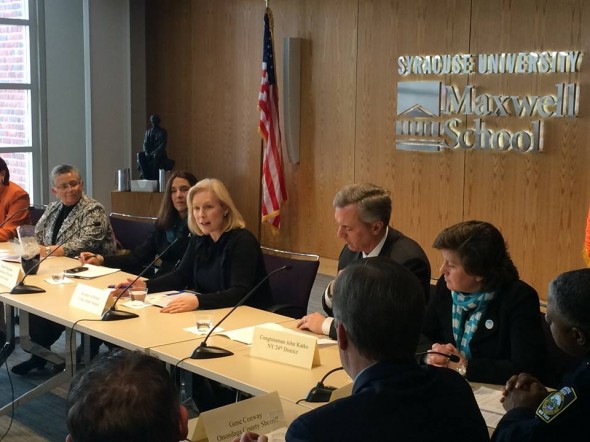 Sen. Kirsten Gillibrand and Rep. John Katko led a roundtable discussion at Syracuse University last Monday on organizing efforts to combat sexual violence on college campuses.
Students and officials from the university, as well as other Central New York area colleges and Syracuse Mayor Stephanie Miner, attended the discussion, along with sexual assault victims, advocates and law enforcement.
Sexual assault has been a major conversation both nationwide and statewide over the last few months. According to the U.S. Department of Education, college campuses in New York reported 388 forcible sex offenses and over 5,000 offenses nationwide in 2013.  In December, Gov. Andrew Cuomo initiated the "Yes Means Yes" policy to all SUNY schools, which drew a new legal line on consent. Last week, Cuomo announced the new "Enough is Enough" policy, the governor's push for passage of similar legislation that would cover all colleges in New York.
Gillibrand has been an advocate for sexual assault prevention measures for some time. Last week, she reintroduced her bipartisan bill, the Campus Accountability and Safety Act, to Congress.
The legislation would secure how colleges and universities address and report incidents of sexual assault that occur, incorporate feedback from key stakeholders to strengthen how student surveys are conducted and strengthens newly required training standards. The provisions safeguard both survivors and accused students. It extends the amount of time survivors have to file a case with the U.S. Department of Education and sets new notification requirements for both survivors and accused students involved in the campus disciplinary process.
"Right now, some colleges and universities are more inclined to expel a student for cheating on an exam than for committing sexual assault," Gillibrand said. "We know this problem is pervasive and too often swept under the rug. This bipartisan bill is a new path forward to protect students by flipping the incentives and holding schools accountable. I am grateful to the survivors and advocates whose work inspired this legislation. Our work isn't done, and now we need to work together to spotlight this problem, raise awareness and organize around getting this bill passed so we can make our colleges safer and more transparent."
Gillibrand has been sweeping the state to tell students and college administrators alike about the bill. She spoke at the University of Buffalo and the University of Rochester last Monday.
Rep. Katko represents New York's 24th district, which covers Onondaga, Cayuga, Wayne and southwestern Oswego counties. Katko was a federal prosecutor for 20 years before being elected to Congress in 2014. Katko, a Republican, said he supports the Democrat senator's bill because he believes it will help sexual assault victims and improve search produces for sexual assault perpetrators.
"College students today are at a greater risk of becoming victims of sexual assault than their non-college peers," Katko said. "This must end now. I'm proud to stand by Sen. Gillibrand to support her strong, bipartisan proposal to keep students safe from sexual violence on college campuses. This legislation would require greater transparency and accountability and establish proactive best practices for colleges to address this unacceptable trend."
Gillibrand reintroduced the Campus Accountability and Safety Act last Thursday, which was backed by six Democrat and six Republican senators. The bill will have to pass through committee before it reaches the Senate floor.