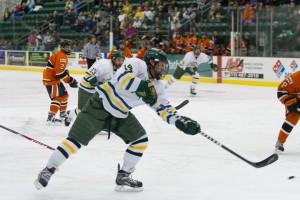 Junior Brandon Adams potted two goals in his first start in two weeks to lead No. 4 Oswego State past Buffalo State in the SUNYAC semifinals on Saturday night at the Marano Campus Center Arena.
The Lakers also returned their top defensive pair of senior captain Bobby Gertsakis and sophomore Stephen Johnson after both missed the final weekend of the regular season due to injury. With Gertsakis and Johnson back, Oswego State shutout the Bengals, 2-0, holding them to just 21 shots on goal.
"It was a tough weekend, obviously, last weekend to miss White Out and Senior Night," Gertsakis said. "But, you know what, I had to let things heal. Get back out there today and all you want to do is just be good for your teammates."
The Lakers fell to the No. 2 seed in the SUNYAC Championships after going winless on the final weekend of the regular season at home against No. 8 SUNY Plattsburgh and SUNY Potsdam. However, they still find themselves in their fourth straight conference final seeking their third straight title, and automatic NCAA bid along with it. Head coach Ed Gosek respects Cardinals' head coach Bob Emery and his team and looks forward to heading back to the North Country for what he believes will be a good title tilt.
"They're a very good team," Gosek said. "We didn't take care of business. He's got enough experience. He knows he's just got to keep himself in a position to win it and they did that. It's a credit to them. We didn't take care of business and that's the reality of it. Going back up there, it's a championship atmosphere up there, no different than if it was here. No different than last year when it was in Geneseo. It's great for our league. I'm sure they'll bring their best and hopefully we'll bring out best effort. If last weekend's any indication, it'll be a hell of a hockey game."
Even though Oswego State was held scoreless through the final period and only outshot Buffalo State in the frame by one, 13-12. The Lakers had a few near misses, including a shot that the goal judge initially lit the lamp on before the referee waved the goal off.
The second period was controlled by the Lakers from start to finish. They held the Bengals without a shot on goal through the opening 13:51 of play. Buffalo State finished the frame with just five shots on goal, while Oswego State put 15 shots on DeLaVergne's cage. The Bengals' sophomore finished with 41 saves.
Adams delivered the game's second goal early in the period to provide the only scoring of the period. He carried the puck down the right halfboards, into the left circle and fired a one-timer into the top corner on the far side of the net.
Adams was back in the lineup on Saturday after being held out in the Lakers' final three regular season games.
"It's always fun to get out there and play the game," Adams said. "I missed a couple games and it really forces you to sit back, re-look at things and realize what the game means to you, and I was able to get that opportunity and sit back and re-evaluate what's going on. I came back with real fire this week and was able to keep that fire going tonight."
After a shortened one minute man advantage early in the frame  for Oswego State, each side earned one more power play chance apiece in a frame marked by its chippiness.
With the return of their top defensive pair, the Lakers got out to a fast start against the Bengals. Chances came early and often through the opening 20 minutes, including an apparent goal off the first rush of the game that was later waved off. The Lakers outshot the Bengals in the frame, 15-4.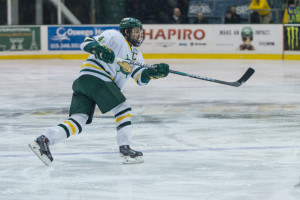 "We've got good defensemen," Gertsakis said. "I thought Riv played a really good game. Goose and Wills are playing real well. Johnny and myself played real well, Federow as well too. We've got a good group. Sometimes, you get the odd shot blocker. But, defensively, I feel like we're taking big steps here."
It was Adams who broke through with the game's opening score at 5:43 of the period. After Mike Wills found Chris Waterstreet to break the puck out of the defensive zone, it was Waterstreet that dished the puck to Adams. The Illinois-native had his initial shot stopped by DeLaVergne before he picked up his own rebound and buried the second chance.
Play was sured up in the defensive zone as well with Gertsakis and Johnson back in the lineup. Buffalo State was held without a shot attempt through the first two minutes of action as the Lakers set a tone early on of clogging the slot and picking up the opposing skaters at the blue line.
"Our forwards worked hard and got back. We were underneath. We weren't on top of them in our own end," Gosek said. "We fronted a lot of pucks. We blocked a lot of shots. We had good energy in those areas and that part's a huge positive. That part was very good."
Oswego State gave the visitors five man advantage opportunities throughout the game, but killed off them all. The shorthanded units were on an 18 straight penalties killed streak before allowing a first period power play goal to SUNY Potsdam's Dylan Vander Esch in last Saturday's regular season finale.
"I'm pretty proud of the effort from all the guys," Adams said. "We dug down and did exactly what we needed to do with winning battles, getting the puck out and eating up pucks on the block."
Saturday night's win, along with SUNY Plattsburgh's 7-5 victory over the College at Brockport sets up a third matchup of the season between the Lakers and their rivals. Round three will be on March 8 in Plattsburgh at 7 p.m.