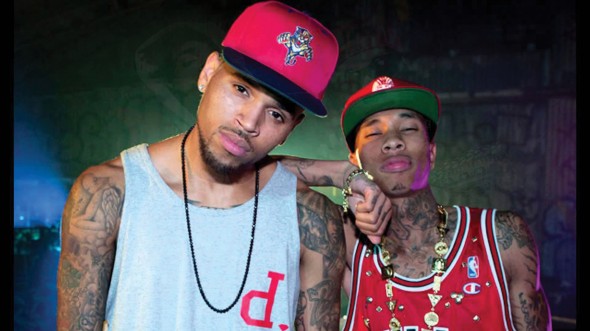 Following the success of the first installment of the "Fan of a Fan" series, Tyga and Chris Brown return nearly five years later to bring us the sequel, "Fan of a Fan: The Album."
The new LP boasts some prominent features, along with notable producers. Brown and Tyga enlisted the likes of 50 Cent, Ty Dolla $ign, Schoolboy Q, Pusha T, T.I. and Wale, among others.
"Fan of a Fan: The Album" is the culmination of two artists having fun in the studio, while still keeping it serious on a song or two.
Brown's singing and rapping on the album are nearly top notch. He continues to kill every hook he jumps on with his vocal ability, while his rapping continues to improve with clever wordplay and better rhyming than ever before. Because the album seems to be focused more on making music to sing along to, rather than having any deep meaning to it, Brown spews misogynistic lyrics on almost every track. This is to be expected on a track involving Chris Brown, along with much of the rap industry.
The majority of the album's problems reside in Brown's partner in crime, Tyga. The 25-year-old rapper brings almost nothing to complement Brown and is basically the only thing holding the album back. Tyga's monotone voice, grouped with his uninspired wit and lackluster attempt to rhyme words that don't rhyme make him difficult to listen to. One line from Tyga in "Ayo" says, "you losin' money, I win mills Dr. J, she's gonna follow my lead, Simon Says," in which he essentially didn't even try.
"D.G.I.F.U.," featuring Pusha T, is more on the serious side. Brown goes as far as to quote Eminem from the song "Forgot About Dre," where he utters "Nowadays everybody want to talk like they got something to say, but nothing comes out when they move their lips." Brown begins his verse with this, possibly referencing his ongoing beef with Drake.
Many songs on the album feature an up-tempo beat from producers such as Nic Nac, who constructed the beat to Chris Brown's hit song "Loyal." DJ Mustard, who has been a staple in the hip-hop industry for a number of years now, and has a strikingly similar style to Nic Nac, also produced a couple songs. He has worked with Brown in the past as well as on "Show Me" by Kid Ink and Brown, along with several more of Brown's notable features.
Nic Nac produced the album's first two singles, "Ayo," which was released in January and "B**ches N Marijuana," released almost exactly a month later. Like all of Nic Nac's songs, "Ayo" begins with a slow build up, leading to a heavily bass inspired club beat. The songs are pretty much about what you would expect from a Chris Brown/Tyga collaboration; smoking weed and getting girls.
Because of the similarity in production style on many of the songs, some are bound to sound the same. For example, "B**ches N Marijuana" and "She Goin' Up" are right next to each other on the track list and sound almost identical.
A number of songs break this trend a bit by adding in a slower rhythm. Songs such as "Girl You Loud," produced by Drumma Boy, another frequent collaborator with Brown, is a prime example. This song, along with "Lights Out," focuses on Brown's vocals on the hooks, as well as his verses. It wouldn't be a Chris Brown album without some seductive-sounding vocals.
Since releasing his long-awaited solo album "X," where he unleashed a number of dynamic sounding tracks, Brown appears to be sticking to what consistently makes him hits on "Fan of a Fan: The Album," which is slaying the song's hook and showing off his vocal skills on his verses, with some rap thrown into the mix.
Meanwhile, Tyga's impact is so minimal, the album feels more like a release from Chris Brown with a lot of features from Tyga.
Breezy proves once again that he is basically incapable of giving a poor performance on a song, while Tyga reinforces what his value to the music industry is: negligible.