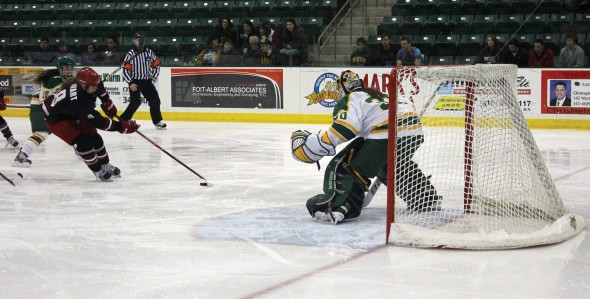 The Oswego State women's ice hockey team has earned the third seed in the ECAC West Championships. It is to take on the No. 6 seed SUNY Cortland Red Dragons on Saturday, Feb. 28 in the Marano Campus Center Arena at 3 p.m.
One reason for the Lakers' success this season has been the play of four-year senior goalie Bridget Smith. Smith began her career in Hamburg, N.Y. She went to a private school 20 minutes away in Buffalo called Nichols School. After high school she played one year in Toronto for the Mississauga Chiefs Intermediate AA team.
"I think I started skating when I was four," Smith said. "I remembered the first time I played in goal I skated off the ice and told my coach I would never play again. I hated it. I think we lost 8-0."
Smith has been on top of the Div. III national statistic leader boards this season. She is second in the nation with a .947 save percentage and posting six shutouts this season has her tied for the second spot in that column as well. Her 12-4-1 record gives her a .735 winning percentage, which is 10th in the nation and her goal against average of 1.6 puts her in the top 15.
"She has been an anchor for us this year," head coach Diane Dillon said. "She has been better every year in the way she attacks. Her commitment to fitness and her workouts has raised the bar for this program every year. Even in some of the games where we haven't scored until the third period, she keeps us in it and the team believes in her."
Smith is back to full-time starting duty this year, accumulating over 65 percent of the playing time over the other two goaltenders. Smith has not seen this much ice time since her sophomore season where she only mustered a 10-8-1 record. Last season, all three goalies, including their current team captain Tori Trovato, and now graduated Catherine Cote, all split ice time equally.
"Cote graduating opened up a hole," Dillon said. "I think we split things last year because Tori and Bridget were going head-to-head. Bridget really committed to her off-season workouts, and she came back in the best shape I have ever seen her. She worked the hardest and now that is really paying off for her."
Smith not only excels on the ice, but she also excels in the classroom. Smith is a chemistry major and an honors program student as well. During her sophomore season, she was named to the ECAC West All-Academic and SUNYAC All-Academic teams.
"I don't know what's next for me. I know I want to get into coaching at some point, but I guess we will just have to wait and see," Smith said.
Smith and the team are involved with a Big Sister Little Sister program as well. They reach out to youth hockey in the Oswego area to inspire girls to stick with hockey, so they can hope to play college hockey.
"We are each paired with one or two of the girls from a team, and it is kind of like a mentor program for them. We will go bowling and host pizza parties as well as helping out at their tournaments. It reminds us of when we first started to play," Smith said.
Smith has also planned to do a 4K for Cancer this summer. It is a 70-day bike trip from Baltimore, Md. to San Diego, Calif.
"It is for the Ulman Cancer Fund," Smith said. "There are about 120 kids from 18-25 that are going to participate. Each person sets up their own fundraising page. We stop along the way and give out scholarships, and visit with cancer patients. It's a way to raise awareness and a way to give back to kids our age who have cancer."
Part of the Lakers' school-best 18-6-1 overall regular season record has come from their stellar conference play this season. The Lakers are 12-5-1 in ECAC West play this year. Of Smith's 12 wins this season, nine of them have come during conference play. Her goals against average and save percentage have her in the top five of the conference and her .947 save percentage marks her as the top goalie in the ECAC West this year.
"It's nice to have a goalie you can trust," Jayme McCreary, junior defenseman said. "She can see everything and is vocal letting us know where to be."
The Lakers are a younger team than they were last year. They graduated nine seniors last year. Of the 24 players on the current roster, 19 are below the junior class ranking. Smith is the only senior on the team this year, and was voted assistant captain along with junior Lizzy Marks.
"She has been a role model for me when she is on the ice, and she always yells at me to let me know where I'm supposed to be when I started playing defense again," Kendall Applebaum, sophomore defenseman, said.
This Saturday when the Lakers face the Red Dragons will be the Lakers and, new member to the 100 overall win list, Dillon's fifth straight trip to the ECAC West Championship tournament. Last year, they were downed by current No. 1 Elmira who swept them this past weekend on the road.
"We have to deal with Cortland first," Dillon said. "We are not taking anything for granted. In a one-game format anything can happen, so we have to take it every single shift. If we get past Cortland we will have tougher competition and be up against Plattsburgh, but we will worry about that when we get there."