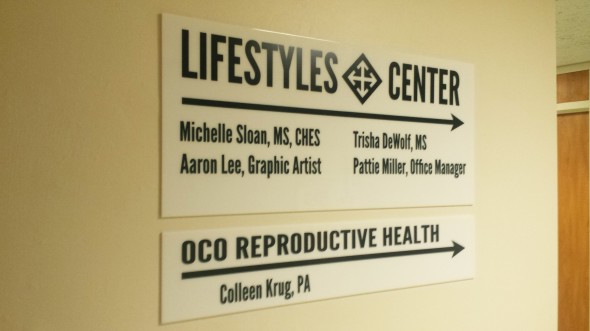 Drug arrests on Oswego State's campus have risen in recent years, but various on-campus organizations are increasing efforts and working together to reduce student drug use.
The Lifestyles Center, Residence Life and Housing and University Police are committed to keeping the campus as drug-free as they can, despite statewide and national drug trends. Project Now and the U.S. Department of Education recently ranked Oswego State No. 2 in the nation for campus drug arrests per capita.
Trisha DeWolf, Alcohol and Other Drugs program coordinator for The Lifestyles Center, credited the high amount of drug arrests at Oswego State not to its own drug culture, but to the presence of a police force dedicated solely to its campus.
"People have to remember that SUNY Oswego is lucky enough to have its own University Police," DeWolf said. "A lot of private schools do not have that, and so the town or the village that they're in is policing the campus as well, so they can't do as good of a job as someone actually dedicated, or a force dedicated, to the campus can do."
The college's recent No. 2 ranking did not shock Chief John Rossi of UP. He said the number of drug arrests made by UP has only seen a relative increase since 2010, and the campus was already ranked No. 3 in the country last year.
According to the 2014 Annual Security & Fire Safety Report released by Oswego State, the amount of drug arrests on campus fluctuated from 104 to 116 and back down to 108 in 2011, 2012 and 2013 respectively. The numbers of UP drug investigations from 2007, 2008 and 2009 were 46, 55 and 57 respectively, according to UP's 2013 criminal investigation statistics. But Rossi said this does not necessarily imply the campus has become a solitary hotbed for drug use and dealing in the past several years.
"[Drug arrests] are pretty concurrent to the national trends on campuses throughout the country," Rossi said. "When drug use increases in society, it also increases on college campuses."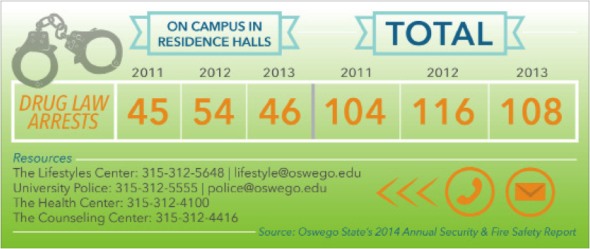 Rossi cannot personally gauge how much of an impact prevention efforts on campus are making but did say students seem to be overall unwelcoming of drugs on campus.
"A majority of these arrests are complaints from people inside the residence halls… or it comes from residence hall staff, who are notified by other students," Rossi said. "So it seems to be the students really are not in favor of this because we do get so many complaints."
In order to better address such complaints and the drug arrest problem, UP is teaming up with the Oswego County Drug Task Force, which has already made several high-profile arrests involving heroin, methamphetamine and cocaine this year.
"Obviously the drugs are coming from somewhere," Rossi said. "We have stepped up efforts with the Oswego County Drug Task Force to work with their investigators. If we could keep the stuff off the campus, it would result in a definite reduction of incidents."
These police efforts may make a difference for the future, but in the meantime, The Lifestyles Center and Residence Life and Housing are doing their best to help students make positive choices about drug use through education and prevention programming.
"Obviously we like to prevent these things, but if a student does get in trouble or has questions or thinks they might have a problem, we have a really great collaborative team that can give them resources," DeWolf said.
Residence Life and Housing mandates the running of programs about drug use by its resident assistants every semester to keep students informed about the dangers. RAs are also educated on drug prevention resources on and off-campus so they can inform their residents.
"We are great resources to our residents," JoAnn DeLauter, a resident assistant in Oneida Hall, said. "If a resident comes to us and wants to have knowledge about where they can get help or something like that, we can say Mary Walker Health Center has a really great program. I know they are really hyping up their cessation program with tobacco now that the new policy is in place. There are counselors to work with withdrawal patients that are located a little bit off-campus, and some are from campus. There's a 'Let's Talk' program that is in residence halls—I think one is in Johnson and one's in Oneida—that meets every Wednesday, so you can discuss problems."
Ultimately though, these on-campus resources can only do so much to change the drug environment on campus. DeWolf, Rossi and DeLauter all agree that, in the end, it comes down to the choices of the students.
"Everybody knows it's against the law and they shouldn't be doing it, but they do it anyway," Rossi said. "We make some arrests that occur from people that have been caught before, and they sometimes end up being caught two or three different times. Obviously whatever intervention we try to do with them doesn't work, and it's just a personal choice to violate the law."
DeLauter said she believes Residence Life and Housing does a good job at educating students about drugs and alcohol, but it is students' responsibility to not get into trouble with them, whether that is in their personal lives or with the law.
"There is a point where it's up to the person, that individual's decision," DeLauter said. "Outside help, while it can make a difference, cannot make the decision for them. We can only provide them with the right information so they make the right decision."
DeWolf agreed, stressing that students should be educating themselves on drugs and alcohol at The Lifestyles Center or other on-campus resources long before it becomes a problem.
"We'd like to see students just come in [to The Lifestyles Center] and know where we're located, know where they can ask questions in confidence," DeWolf said. "We want them to feel like this is a place where they can get their questions answered and it can be confidential, that they're going to be not ridiculed or they're not going to get in trouble. We don't wanna just see students when something bad has happened.
"There's lots of people on campus that know where to go to get drug and alcohol information or help, not just The Lifestyles Center, but counseling, University Police, the Health Center," DeWolf continued. "We all work as a very collaborative team."