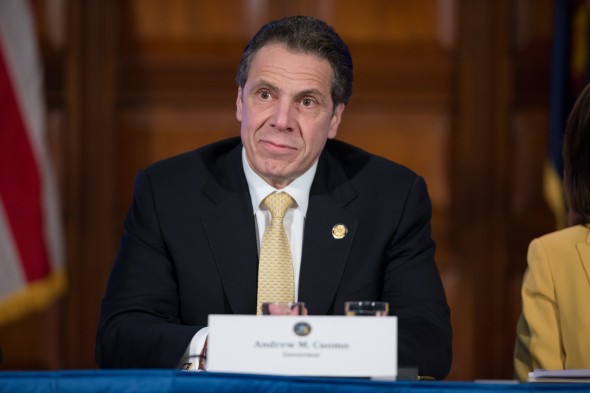 Gov. Andrew Cuomo announced a new campaign to combat sexual assault on col- lege campuses in New York state in a cabi- net meeting on Wednesday.
The "Enough is Enough" campaign will push for the passage of legislation that takes on college sexual assaults. A statewide tour, lead by Lt. Gov. Kathy Hochul, will stop at college campuses in the SUNY system to meet with students, faculty and administrators.
"Why would you allow young women to be abused on campuses?" Cuomo asked. "Why? Why wouldn't you do everything you can to protect them?"
SUNY adopted a sexual assault prevention and response policy for its 64 campuses on Dec. 1, 2014 after Cuomo proposed the initiative in early October 2014. The policy implemented a Sexual Violence Victim/Survivor Bill of Rights and plans to educate all first-year and transfer students on the sexual assault policy. In addition, a uniform definition of consent was established, an amnesty policy to encourage reporting, comprehensive training for campus police officers and college administrators, a public awareness campaign, uniform confidentiality and reporting protocols as well as uniform campus climate assessments were established.
SUNY Chancellor Nancy Zimpher was at the cabinet meeting to speak about the progress of the initiatives already in place. Zimpher said all SUNY police officers and public safety officials have been trained on the new policies.
"Since December our college councils and community college boards of trustees have been adopting the necessary change to campus codes of conduct, which will take effect in the fall semester," Zimpher said. "In our councils and boards they have an obligation to pass these codes, so imagine that we've worked with each and every one of them to get that job done."
Zimpher said most campuses have published the updated information on their websites already and each campus will finalize their implementation of the policies at the end of March.
New York State Police Superintendent Joseph D'Amico announced a hotline dedicated to reporting sexual assaults on all campuses in New York. That 24-hour hotline went live at 11 a.m. Wednesday and can be reached at 1-844-845-7269.
"The New York State Police, along with our partners in law enforcement take these crimes very seriously, and we're committed to protecting and safeguarding all New Yorkers including the students who study on our state's campuses," D'Amico said. "We're concerned about all campus crime, including sexual assault. By enhancing our partnerships, we work to find justice for these victims."
In early January, a list of colleges and universities that were under investigation from the federal government for their handling of sexual assaults was released by U.S. Department of Educations Office of Civic Rights. Currently, 13 New York campuses are under investigation. Christine Quinn, special adviser to the governor, said most of these schools under investigation are private colleges and universities.
"As we've heard both what we've done at SUNY and what is happening with the state police is unprecedented progress, but the truth is that the vast majority of students in New York go to private colleges and universities, which is why we have to take the progress of SUNY and bring it to our private colleges and universities," Quinn said. "There's a sad fact and one we're not proud of, but New York has more schools being investigated for sexual assault than any other state in the nation. That's unacceptable and the majority of those schools are private institutions."
The U.S. Department of Justice released a report in December 2014 on female college-aged victims of rape and sexual assault from 1995 to 2013. That report found that only 20 percent of rapes and sexual assaults were reported by students. According to the report, 83 percent of students did not receive assistance from a victim services agency.
Cuomo would like to extend the SUNY policy so that it is state law and can be implemented on all of New York's college campuses, as he proposed in his Opportunity Agenda.
"This is a call to action for everyone who believes students should be protected by their college or university and New York should be a leader in the fight against sexual violence on college campuses," Cuomo said.
According to Oswego State's 2014 Annual Security and Fire Safety Report, here were four forcible sexual offenses reported in 2013, six in 2012 and five in 2011. Most recently, Oswego State University Police arrested a student for rape on Feb. 13 and a separate rape was reported the next day.
Oswego State already has resources for victims of sexual assault with the Counseling Services Center located in the Mary Walker Health Center. They can be reached at (315) 312-4416. Victims of sexual assault can report a crime to University Police at (315) 312-5555. The "Enough is Enough" campaign can be found online at www.ny.gov/EnoughisEnough.