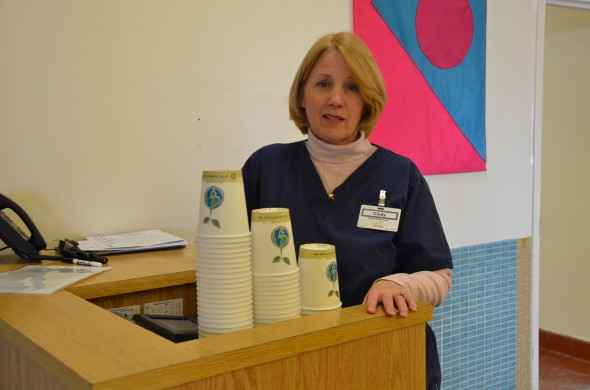 Cindy Davis is one of the most popular employees at Cooper Dining Hall.
Perhaps it's the way she interacts with students at Cooper Dining Hall or the constant smile she has on her face to remind students that no matter how stressed they are with their classes, they can always turn to her for positive reinforcement.
Davis has been a Cooper Dining Hall cashier for the past four years and is known around campus for learning every student's name that comes through on a regular basis.
"Obviously, I have to look at the student's ID card for the first few times," Davis said. "Students really love the fact that I can remember their names and that I take time out of my day to ask how they're doing."
Davis, who is in charge of swiping ID cards, could just do her job without making connections with students. However, her battle with stage IV lymphoma nearly nine years ago has changed her perspective on life.
"Having cancer really makes you appreciate every day more," Davis said. "I'm not going to sweat the small stuff anymore."
Davis went on to explain how she does not stress out about the little things like waking up early or the treacherous Oswego snowstorms anymore. Instead, Davis brings a positive aura and focuses on the bigger picture.
"It's all about being positive and happy and just knowing when I come in for work, I get to see students and interact with them," Davis said. "It really makes my day if I can put a smile on their face."
And while her positive energy draws students in on a daily basis, she also has an effect on her co-workers.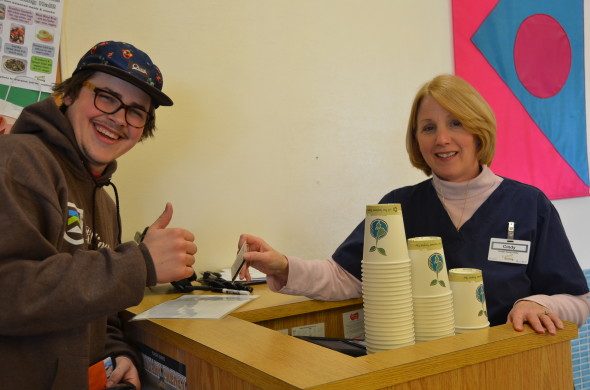 Benjamin Samboy, a senior linguistics major at Oswego State, has worked with Davis for the past three years at Cooper Dining Hall and believes her to be a hard-working, positive individual that students get along with.
"If I had to describe Cindy in one word, it would be 'awesome,'" Samboy said. "Some co-workers you have to warm up to a conversation – especially if it's early – but Cindy jumps right in and is really pleasant to be around."
Since Cooper Dining Hall is located in between Funnelle and Hart halls, Davis tries her best to make international students feel welcome at Oswego State, as a majority of them live in Hart.
"I just love making students feel at home, especially the international students because they're so far away from their families and friends," Davis said.
Davis explained how in the beginning of the semester she would attempt to talk to the Asian international students, but they would hardly communicate with her. She started handing out chopsticks for one of the sushi nights at Cooper and the students began talking to Davis more.
"It's the little things she does, her conversations, that show us that she actually cares," Samboy said.
Some international students even consider her to be their mother away from home.
Gabriel Lauffer, a Brazilian international student studying physics at Oswego State, believes no one is like Davis when it comes to interaction.
"She helped me find a rosary necklace for my girlfriend," Lauffer said. "She searched where I could get the gift, and that's something a mother does."
To thank Davis for her efforts and work, some Brazilian students got together and bought Davis a cake to celebrate her birthday back in November.
While Davis enjoys her time at work, she loves spending time with her husband, three kids and five dogs. Davis is exceptionally passionate about her exercise regiment she just started this year.
Despite being busy and always on-the-go, the Oswego native gets involved with her community and the college she works for. Davis can be found at college hockey games, soccer games and walk-a-thons to fundraise for good causes on campus.
Davis has gained popularity amongst students over the years due to her positive energy she brings and shares with Oswego State students.
"In 10 to 15 years, I see myself right here in Cooper, and I'm completely OK with that," Davis said. "I love everything about my job."