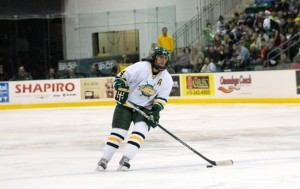 It is White Out Weekend in Oswego. The men's ice hockey team is atop the national rankings for the first time since the fall of 2012. The No. 1 Lakers also jumped No. 9 SUNY Plattsburgh to take over first place in the SUNYAC after sweeping their Rochester-area road trip last weekend. Friday night, the two sides take to the same sheet of ice in a game that will most likely decide the conference regular season title.
A series dominated by the Cardinals for much of its 35-year history, the rivalry has tilted in favor of Oswego State in recent years. The Lakers are 10-3-2 against their rivals over the last six seasons, including a three-game winning streak that is on going. In fact, the streak is in three straight games in Plattsburgh.
The Lakers are currently on a seven-game winning streak with each win coming over a conference opponent. During that stretch, the second line of freshman Mitchell Herlihey, sophomore Shawn Hulshof and senior Mike Montagna have re-surfaced as the team's highest producing line. The trio has tallied 16 goals and 25 assists for a total of 41 points. They have had at least point among them in each game during the streak. Before last Saturday night against SUNY Geneseo, they had scored at least one goal in the first six games of the stretch.
With senior captain Bobby Gertsakis out of the lineup on Friday, as well as sophomore Stephen Johnson, the Lakers lack experience and depth on the blue line. The offensive production of Herlihey, Montagna and Hulshof along with the rest of Oswego State's high-powered attack, which is No. 1 in Div. III, will be crucial.
The Lakers average 4.86 goals per game and have the second-best power play in Div. III at 32.93 percent efficiency, but against the Cardinals their usual advantage is neutralized. SUNY Plattsburgh is also in the top 10 nationally for scoring offense, potting 4.22 goals per game. It is also top five in scoring defense allowing less than two goals per game. To add to its prowess on the backend, SUNY Plattsburgh has a starting goalie, Brady Rouleau, currently riding a three-game shutout streak.
As mentioned, the Cardinals have a potent offense of their own. Known for their unselfish style of play in the offensive zone, they have 16 players with 10 points or more. They are led by a trio of seniors, Connor Toomey (seven goals-17 assists-24 points), Michael Cassidy (11-11-22) and Mark Constantine (eight-11-19). Cassidy has scored nine of his 11 goals in SUNYAC play, while Toomey has posted 12 of his 17 assists in conference competition.
A major storyline of Friday's game is the lack of depth at the goalie position for each team. Each team is starting its standout sophomores, but both teams are without their consistent, trustworthy junior back ups. This means both teams are left with just their inexperienced freshman backstops to substitute in if the situation arises. Oswego State freshman Mackenzie Sawyer and SUNY Plattsburgh's Ryan Hubbard have played a combined 145:24 this season.
The Cardinals' starter, Rouleau, struggled against the Lakers when the two sides met in the North Country at the end of the fall semester. He allowed two goals on 12 shots in just over a period of play before being replaced by junior Spencer Finney. Finney allowed one goal on 22 shots the rest of the way as the Lakers came out on top, 3-1. SUNY Plattsburgh head coach Bob Emery is without Finney as an option on Friday because the junior is considered unlikely to play against this season due to injury.
This all being said, the matchups of the Lakers and Cardinals tend to be ones where all must expect the unexpected. Statistics and past games mean little when these two perennial SUNY powerhouses take the ice.
Coaches changing sides, bagels, tennis balls, national championship matchups, battles for conference titles and now White Outs, the SUNY Plattsburgh/Oswego State rivalry has it all. On Friday night, the two storied programs add a new chapter to the saga.
By the numbers
1-The Lakers and Cardinals are separated by just a single point atop the SUNYAC standings heading into Friday's clash. The battle for first may very well be decided in Oswego on Friday, also determining home-ice throughout the conference playoffs.
1.39-Sophomore Matt Zawadzki enters Friday night's contest with a career 1.39 GAA against the Cardinals. He has allowed five goals in three starts and one substitution appearance.
8-With senior captain Bobby Gertsakis out of the lineup on Friday, it will be No. 8 freshman Alex D'Oliveira stepping up. D'Oliveira is making just his fourth career start.
14-Current Lakers' head coach Ed Gosek has 14 career victories against Emery. His total is the highest of the three Oswego State head coaches during Emery's 25-year tenure with the Cardinals.
Scoring/Special Teams Breakdown
Offense
Oswego State: 4.86 goals per game (1st in Division III)
SUNY Plattsburgh: 4.22 goals per game (8th in Division III)
Defense
Oswego State: 2.09 goals per game (T-9th in Division III)
SUNY Plattsburgh: 1.91 goals per game (T-5th in Division III)
Power Play
Oswego State: 32.93 percent [27-of-82] (2nd in Division III)
SUNY Plattsburgh: 18.52 percent [20-of-108] (32nd in Division III)
Penalty Kill
Oswego State: 83.30 percent [60-of-72] (29th in Division III)
SUNY Plattsburgh: 83.10 percent [74 of 89] (T-32nd in Division III)
Goalie Matchup
Oswego State: Matt Zawadzki (10-1-1/2.11 GAA/.923 save percentage)
SUNY Plattsburgh: Brady Rouleau (9-5-0/1.99 GAA/.917 save percentage)
Player to Watch: Oswego State sophomore Chris Raguseo
Prediction: 5-3 Oswego State