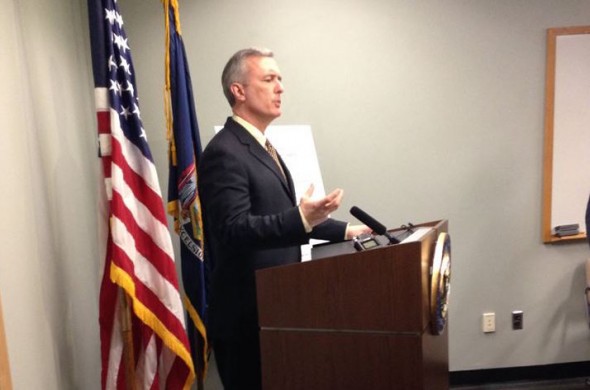 Rep. John Katko outlined a conversation about the heroin epidemic in Central New York and around the nation as one of his priorities during his inaugural term in Congress.
Six weeks into his new term representing New York's 24th congressional district, Katko, R-Camillus, said at a press conference last Tuesday that heroin is a problem that needs to be discussed.
"This is in the news a lot lately," Katko said. "Not only do I want to initiate a conversation on it and bring it more into the light that it's not just an urban issue, it's a suburban and rural issue, but come up with solutions as to how we can make it better, address the issue."
Katko already has held a listening session on heroin and public safety in the town of DeWitt on Feb. 12.
According to the Centers for Disease Control and Prevention, nearly 4,400 people died last year from heroin use – double that of 2011. In 2014, there were more than 118,000 admissions into New York state certified treatment programs for heroin and prescription opioid abuse – a 17.8 percent increase from 2009.
Heroin arrests have been a concern for Katko's constituents, who reside in Onondaga, Cayuga, Wayne and southwestern Oswego counties. In the last few weeks, there have been a number of arrests in Oswego County alone. The same day of Katko's press conference, investigators arrested an Oswego County man in possession of 148 bags of heroin worth $2,960, according to the Syracuse Post-Standard. On Feb. 12, Oswego City Police and the Oswego County Drug Force searched a Fulton apartment, as part of a drug investigation, and found a young couple packaging heroin in front of an 18-month-old girl.
"The heroin problem in this country has skyrocketed," said Chief Assistant District Attorney Mark Moody. "Heroin has always been a cyclic thing because it's so deadly. It kills off a lot of its customer base. The last round of heroin arrests started to take off due to higher government regulations on things like prescription pain killers."
In the last year, the Centers for Medicare and Medicaid Services and Drug Enforcement Agency were given new powers to prevent prescription fraud.
Moody also said law enforcement in the area and across the country has been particularly cracking down on heroin users as well.
"I think in particular with heroin, there has been a focus for law enforcement," Moody said. "A long time ago, cocaine was a big problem. Now, cocaine is still a problem but has fallen off and been kind of surpassed by heroin. Heroin is more addictive. It is much more powerful and it doesn't take as much to get high."
In terms of Katko making a strategy to help the heroin problem in the Central New York area, Moody suggested more resources from the federal government would help combat it. These resources would include money, tools to help crack down on heroin arrests and manpower. The Oswego County Drug Force does what it can in the local area but Moody said federal investigators on a federal payroll would make it easier.
"Right now, for the task force, we have six or seven people county-wide. If we could get some help and double the people, we could double the impact," Moody said.
Moody added that Katko and the rest of Congress could probably help best by dealing with the crisis on an international scale.
"The trade in central Asia of opiate has increased recently," Moody said.
Opium poppy is used to make heroin.
According to a 2012 assessment by the United Nations Office on Drugs and Crime, the volume of opiate trade between Afghanistan and other countries in western and central Asia has risen continuously since 2004, with the exception of a small slump in 2009. The total volume of Afghan imports and exports within the region have more than tripled between 2004 and 2010.
The war on heroin is reaching beyond the 24th district. It has grown to become a statewide issue and Gov. Andrew Cuomo announced the same day of Katko's press conference the next phase in the state's #CombatHeroin and Prescription Drug Abuse awareness campaign.
The campaign includes messages on billboards, posters, online advertisements, social media and commercials that will be aired across the state over a four-week period.
"Our efforts to fight heroin and prescription drug abuse are raising awareness and helping to save lives in communities across New York," the governor said. "Heroin addiction can often start with other forms of drug use – and with this next phase of the Combat Heroin campaign, we are working to break this cycle of abuse before it starts."
Katko said on Tuesday that he will report regularly on the progress of the heroin issue and other issues he addressed last Tuesday as the conversations on them continue.