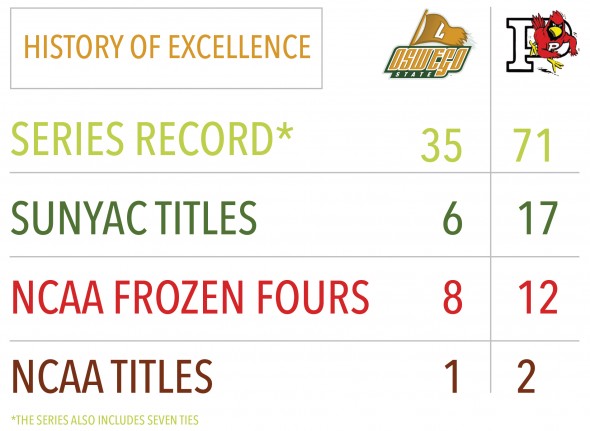 Thirty-five seasons ago, a concern about Oswego State's commitment to its men's ice hockey program pushed Herb Hammond to leave the shores of Lake Ontario for the North Country. His decision has ignited one of the most storied rivalries in Div. III sports.
In 1964, George Crowe started the men's ice hockey program at Oswego State at the club level. Within two years, he moved the program to Div. III and then passed the reins over to Hammond before the 1968-1969 season. It was another seven seasons before John Corker started the men's ice hockey program at SUNY Plattsburgh.
Corker was at the helm of the Cardinals for just one season before Lou Frigon took over as head coach. Although the Lakers had been around for nearly a decade before SUNY Plattsburgh formed its team, Frigon led his team to two SUNYAC regular season titles before Oswego State even secured its first. In fact, Frigon took SUNY Plattsburgh from 9-14 during his first season to a combined record of 44-7 during the next two, when the team won the conference each year.
The Lakers and Cardinals did not battle during SUNY Plattsburgh's inaugural season of 1975-1976, but they played three times the next season as Oswego State took all three games. SUNY Plattsburgh responded, winning the next four straight over the next two seasons.
According to current Laker head coach Ed Gosek, the rivalry between the two sides began to form in the last two seasons with Frigon coaching SUNY Plattsburgh and Hammond coaching Oswego State. However, Hammond's departure from Oswego, and where he chose to land, is where Gosek marks the rivalry's true beginning.
"It seemed to get more intense when coach Hammond left here to go to Plattsburgh when he wasn't happy with our administration here," Gosek said. "At that time, he felt there was no plan in place to fix up Romney or do any type of renovations. He really didn't know at the time if the commitment was for the program.  You can't blame him for leaving, but people thought he probably could have gone anywhere else. When he went to Plattsburgh, it just added fuel to the fire."
During Hammond's three seasons as head coach of the Cardinals, he went 5-3 against the Lakers and his successor Don Unger. The two teams split their postseason matchups with SUNY Plattsburgh winning the 1981 ECAC title and Oswego State winning the ECAC title in 1983. That being said, Hammond ended up enjoying national success in Plattsburgh, which he never had in Oswego.
The Cardinals went to back-to-back NCAA Frozen Fours in their first two seasons under Hammond. They were defeated in the national championship each time. With Oswego State, he won only a single SUNYAC regular season title in his final season of 1979-1980.
When Hammond arrived at SUNY Plattsburgh, he hired former Montreal Canadien and Stanley Cup champion Jacques Lemaire as his assistant coach. Lemaire's Montreal connection, on top of the university's proximity to the Canadian city, helped the duo recruit very well in the area.
"The early on rivalry, they were starting to get it going," Gosek said. "They were making a commitment to the program. It was right at that time where Herbie going there and the field house [Stafford] was built before for international world ice hockey exhibitions. So, they had a nice new arena, the proximity to Montreal, they had a lot of kids from Montreal at that point. Then, Herbie bringing in Jacques Lemaire as an assistant, which helped them recruit in and around Montreal-area. So, I'd say, that's what really had them taking off, and they haven't really been down since."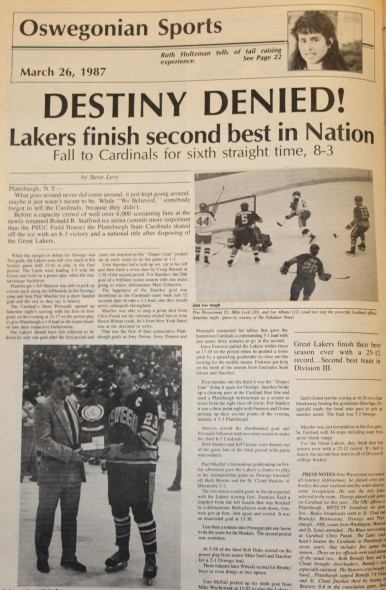 Around that time, Gosek also went with his brother to see the Lakers and Cardinals faceoff in Plattsburgh. He remembered a lot of talent on each side and a lot of scoring.
"They were skilled," Gosek said. "It was not a physical game, you could say they were battled, but it was freewheeling. You wouldn't want to be a goalie. I don't think it was until [Tony Strack] was there that they changed and were more responsible defensively. But it was run-and-gun hockey and that's why the fans liked it. There were three or four goals every period. From a fan's standpoint, it was fun to watch. There wasn't a lot of commitment to defense or D-zone coverage, boring trapping or anything else. Plattsburgh was a fast, skilled team. Oswego was a fast, skilled team."
After the 1982-1983 season, Hammond left SUNY Plattsburgh to take the head coaching job at Div. I Brown University, where he would finish his head coaching carrer before becoming an NHL scout.
The following season, Doug Kacharvich became head coach and led the Cardinals to their first sub-.500 season in seven years. Steve Hoar swiftly replaced him. Steve Levy, former men's ice hockey writer for The Oswegonian and play-by-play commentator for campus radio, was also a student at Oswego State at the time.
"That's our North Carolina and Duke," Levy said. "That's our Michigan and Ohio State football game. It's the biggest rivalry we had in Oswego. I think they'd [Plattsburgh] say that it was as well. I think other teams around the SUNYAC would say it was the best too. We both had the best of the best."
Levy traveled with the team on its bus in those days and recalled the experiences of games both at Romney Field House in Oswego and Ronald B. Stafford Ice Arena in Plattsburgh.
"It was ferocious on the ice," Levy said. "It was ferocious in the stands too. When you go to these games you see a smattering of opponent fans in [Romney]. I don't remember ever seeing a Cardinal fan in Romney Field House. I remember seeing some Oswego fans in Plattsburgh, but it was rare. Romney was so different. I remember their arena felt like an NHL arena by comparison. It's probably what the Marano Campus Center feels like to opposing teams now."
Levy spent his four years watching Laker home games in Romney Field House and always believed it was an upper hand like no other.
"Romney was unbelievable home-ice advantage," Levy said. "Both teams' locker rooms were in the same corner so they came on the ice in the same exact spot. So the officials and the cops in the corner trying to keep the fans from going crazy, they really try to keep the teams separate but invariably someone would say something to someone and there'd be a hack and a lack when the teams were coming off the ice or on the ice to start a period or when a game was over."
Levy has been to the new arena on campus several times, but still believes Romney was a very unique place all its own.
"It was just different at Romney," Levy said. "No one sat down in Romney. It was always freezing in there. The fans were right on top. We had a student section called The Zoo, led by one of my suitemates Marty Madore. They were right above the Plattsburgh side of the penalty box and they would just give those guys the business every time they had to serve a minor or major penalty."
The advantage only did so much for Oswego State throughout Levy's time on campus. The team went 2-11 against its rival, picking up both wins at home. At Stafford, the Lakers were 0-9 during the stretch. The winless streak in Plattsburgh included a loss in the 1987 National Championship, a title the Cardinals were later stripped of for NCAA violations.
Stafford is a historically tough place for Oswego State to win. The Lakers are currently 15-39-5 in the Cardinals' building. During Unger's tenure at Oswego State, the fans in Plattsburgh started a tradition of throwing tennis balls on the ice after their team scored its first goal of the game. Their reasoning was to heckle Unger and his team because he was also Oswego State's tennis coach.
In retaliation, the fans at Romney started a similar tradition of throwing bagels on the ice after their team scored its first goal. Their reasoning was they were "feeding the birds." Interestingly enough, Gosek said dining hall staff handed out bagels to the students at the doors of the field house.
Over time, it took far too long to clear the tennis balls and bagels off the respective playing surfaces. Some fans were starting to throw bagels at Romney after every Laker goal. So referees started calling a two-minute minor penalty on the team whose fans had caused the delay.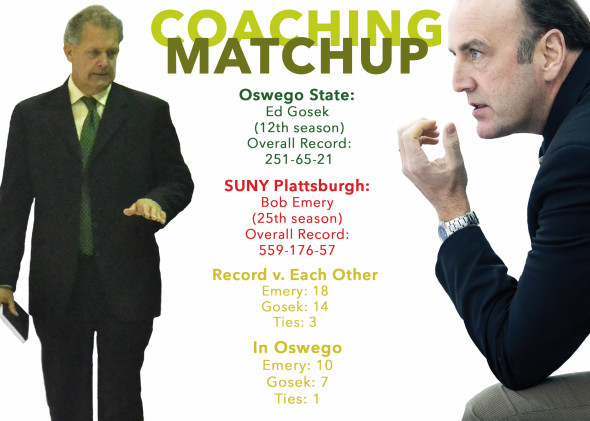 Andrew Rozak, who played for Oswego State from 2001-2005, experienced a few instances where the penalties on the Romney crowd impacted his team. The traditions began deciding games.
"The first time the bagels or tennis balls are thrown, it's a warning," Rozak said. "The second time it's a penalty for the home team. I know we ran into a couple of penalties because of bagels being thrown on the ice and that can turn the tide of a game very quickly in a close game."
Gosek, Rozak's head coach for his junior and senior seasons, recalled an instance during the final season at Romney where a bagel throw decided the SUNYAC title. The magnitude of such a loss pushed the class of 2007 to begin a new tradition when it moved from Romney across Route 104 to the then-Campus Center Arena.
In the 2006 SUNYAC Championship played in Oswego. Oswego State pulled within one goal of SUNY Plattsburgh with 11:22 to play in the third. A fan decided to throw a single bagel on the ice and the referees saw it. The Cardinals were given a power play, which they capitalized on. Then they added an empty net goal to seal the win.
"You pour your heart out all season and you want to win a league championship and then it's taken away from you by some drunk college kid who comes to two games a year when you play Plattsburgh," Gosek said. "He thinks it's funny to throw bagels on the ice and it gives away any opportunity you had. I'm not saying we would've won the game, but we were back in it. Our players clearly wanted it to end. It's all fun and games, but when it started to affect the outcome of the game, it had to go."
The next season, Oswego State started its annual White Out game in its new building. The bagel toss ceased, as did the tennis ball toss at SUNY Plattsburgh. During the first White Out Weekend, Gosek had an incident that, like the 2006 bagel incident, he will not soon forget.
He was going home after the team's morning skate on the day of the game against the Cardinals. Oswego was experiencing a snowstorm that ended up burying the area in 10 feet of snow over an eight-day period. Gosek decided to follow a snowplow on campus as he made his way to Washington Boulevard. Since there was no road in front of the Campus Center at the time, he had to go down along Lakeside, past President Deborah Stanley's house and up the hill near the Mackin Complex. The plow stopped by Rich Hall and started backing up and lifted up its wing, but did not appear to see Gosek. The wing of the plow went straight through the windshield of Gosek's Toyota Corolla forcing the head coach to lie down with his head in the passenger's seat. The plow driver and the responding University Police officer thought Gosek was dead when they could not see him. The Lakers went on to lose the inaugural White Out game, 4-1, and Gosek's wife, Mary, reminded him he still had his head and body. That was all that mattered in the end. Stories like these are what have made White Out already a historic part of the rivalry.
In White Out games, Gosek is 5-5-1 against Emery. The tradition, which Gosek credits to his players, also had his fingerprints and those of administration and then-athletic director Tim Hale.
"We got together as a group: myself, Hale, some people from the administration, Mike Flaherty and our players came up with the idea to have a game with white towels and white T-shirts," Gosek said. "It always seemed to be snowing every year when they came, so let's call it White Out Weekend."
Rozak, although he never got to play in a White Out game, is currently the head coach of Oswego High School's boys' ice hockey team and frequently returns to campus for the new annual tradition.
"I've been there for the White Out game on quite a few occasions since the Campus Center opened," Rozak said. "Everyone's dressed in white and you've got the white towels going and everything. It involves everyone in the crowd from the little kids to the student section, so I think it's great."
Gosek has had the most success of any Laker head coach against SUNY Plattsburgh head-to-head, as well as competing for postseason titles. Over the past 25 seasons, SUNY Plattsburgh has had one head coach, Bob Emery, while Oswego State has had three: Gosek, Unger and George Roll.
Emery is the 14th-winningest coach in NCAA history at 559 wins and holds 47-24-7 record in his career against Oswego State. Gosek holds 14 of the Lakers' 24 wins over Emery-coached Cardinal teams. Also, before Gosek, Oswego State had won five SUNYAC regular season titles, three SUNYAC tournament titles and been to two NCAA tournament finals. SUNY Plattsburgh had nearly the same resume after its first 10 seasons.
Since Gosek has taken over, the Lakers have had seven SUNYAC regular season titles, three SUNYAC tournament titles, three trips to the NCAA tournament finals and a national championship in 2007.
Roll and Unger had their share of success over their 22 seasons combined as Laker head coach, including leading one team each to the national championship. But they struggled to win against SUNY Plattsburgh, especially when it was coached by Emery.
Battles between Unger and Hammond, national championship matchups, conference championship matchups, White Outs, bagels and tennis balls: the Oswego State and SUNY Plattsburgh rivalry has it all. The Cardinals had the advantage for much of the first two decades, but the Gosek era has turned the tide over the past 12 seasons.
The two teams meet once again on Friday night. It is time to turn the book to chapter 114 and see what happens next.