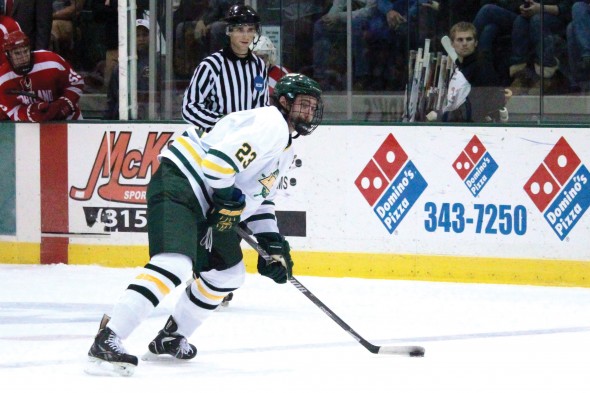 Oswego State's White Out game against SUNY Plattsburgh for men's ice hockey can be one of the most memorable for players.
For this year's matchup, six freshmen and two transfers will experience the No. 1 Lakers vs. No. 9 Cardinals rivalry for the first time. On the other hand, six seniors will experience it for the last time. Sean Federow and Mitchell Herlihey will play in their first game while captain Bobby Gertsakis and assistant captain Nick Rivait are facing their final White Out game in the Marano Campus Center Arena.
"It looks like it's going to be an electric game," said Federow, a Niagara Falls, Ontario native. The sophomore transferred from American International College to join the Lakers this season, but the rivalry is nothing new to him. Art Federow, Sean's father, played defense for the Lakers from 1978 until 1982.
"We've never made it back for White Out," Federow said." I've seen a few playoff games and those are pretty awesome, but I've heard this is the game that all the students look forward to, this is the game that all the players love to play in, so I'm excited to be part of my first one."
Federow has one goal and three assists in 17 games this season and is looking to capitalize on playing in front of an energized crowd.
"I'm excited to play in front of the big crowd, all the alumni coming back," Federow said. "I know my dad and all his buddies will be back here. Hopefully we can get a big win, it's a big game. We're playing for first place so it's bigger than just a White Out, we're playing for our season and our home-ice advantage here."
Herlihey is a freshman forward from Ottawa, Ontario. He has played in 19 games this season and is sixth on the team in points with 22.
"I'm excited for it," Herlihey said. "Last year I was able to visit White Out, so I kind of have an idea for the atmosphere, what it's like, but it's going to be completely different on the ice."
Herlihey said the upperclassmen on the team have not been hyping up the rivalry game as it approaches.
"I think all year they talk about how cool of a weekend it is and how it's a little different than a regular game," Herlihey said. "I don't think they're bringing it up too much because at the end of the day it's just another hockey game."
Herlihey joins senior Mike Montagna and sophomore Shawn Hulshof on the same line for the Lakers. The second line has been on a hot streak since the end of January, going on a six-game goal streak until Feb. 14, something Herlihey credits to the hard work of his teammates.
"We're all heads up hockey players, we're not selfish," Herlihey said. "I think it was just a matter of time before we started clicking and I think the best thing about us is we work hard every night and we've been real good in our defensive zones, so we're trying to keep that up."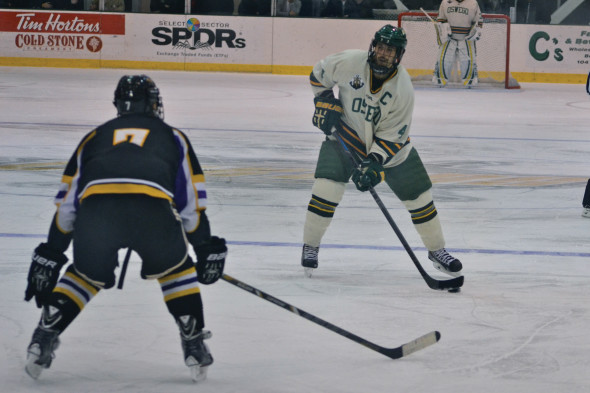 Rivait notched a point against the Cardinals on Dec. 5, 2014 with an assist. He has had an assist in the last four games he's played against SUNY Plattsburgh, a streak that dates back to last year's White Out game.
"I know it's always real easy for me to get up against Plattsburgh," Rivait said. "From the first time I got in the lineup to play against them I've grown a little bit of a hatred for them. I get excited, I get up and ready to play and I think the adrenaline starts pumping and I just have fun out there and play my game."
Rivait said being at the top of the conference, and the country, is a result of the team's hard work.
"Last year we worked hard," Rivait said. "We had that new class that came in and we all molded together last year, and we had a pretty good year. This year we set our targets a little higher and we wanted to finish first in the SUNYAC, and we just finally got up there, so we have two games left to make sure we stay there. We look at it as a challenge and we're up for it. We can't wait."
As a veteran on the team, Rivait said he wants to make sure his teammates are focusing on playing the game and not letting outside noise about the team distract them.
"I just say, again, we focus on playing our game," Rivait said. "We work all year on how we want to play the game, how we want to play as a team and we try not to look into what the media or what everyone else is talking about. We just come together as a team, we get to the ice, we work on what we gotta work on and we continue to get better as the year goes."
Gertsakis heads into his final White Out game with 21 points, 18 of them being assists. One of his three goals this season came in the last matchup between these sides.
"It is bittersweet that it's going to be our last one, but at the same time we're still in the now this year that at the end of the season we still want home-ice advantage in the playoffs so it's a big game and we don't want to look past it," Gertsakis said.
Gertsakis said that being No. 1 going into this game is not important, as SUNY Plattsburgh was in the same spot last year, but rather where the team ranks at the end of the regular season is what is most important.
"The poll that we want to see at the end of the year is us No. 1 then," Gertsakis said. "Right now it's changed between four or five teams so far. We don't really take that into mind as much. We can only control what we can control, that's the mentality going around."
As far as keeping his team's heads on the game, Gertsakis said the hype is nothing new to the Lakers.
"Critics always peg this program as it's either they ate it at the top or they don't have a shot," Gertsakis said. "We've had the experience of being at the top and a lot of these guys do too in their juniors days and they realize sometimes they're pegged to be No. 1 and you get all this so called pressure on you, but, you know what, on weekends like this you want to enjoy it. We've just been preaching to enjoy everything and it's that much more exciting if you get a win off of it."
The focus for this team is not on the importance of White Out in a historical context, but rather how the rivalry game plays into the home stretch of the season.
"That part of the game is huge," Herlihey said. "If we win these games this weekend we have home ice throughout the playoffs, and with our fans and the way we play here, it's a huge advantage, but again we just got to approach it as another hockey game. We're playing well and we just got to keep in our groove."