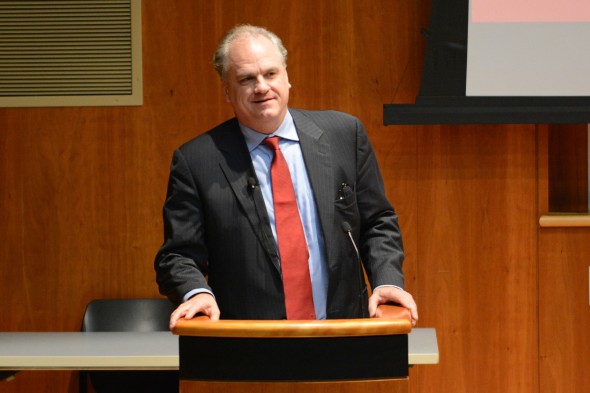 To celebrate Black History Month, Pulitzer Prize-winning author Douglas Blackmon came to Oswego State, Feb. 12 to discuss his book and how it relates to today's racial issues.
Blackmon's book, "Slavery by Another Name," examines how African-American enslavement continued past the Civil War and into the 20th century.
"We live in this time when so many things are so much better than they once were in so many ways," Blackmon said. "Anyone who thinks the opposite is wrong, but anyone who would suggest that everything is as it should be is clearly mistaken just as much."
Blackmon said the U.S. continues to grapple with racial injustices and how people relate to each other, acknowledging the events and protests in Ferguson, Mo. and New York City in the last few months. These events are reminders of the issues still being faced throughout the country.
"We are obviously not in a post-racial time," Blackmon said.
Blackmon's speech about his book "Slavery by Another Name: The Re-Enslavement of Black Americans from the Civil War to World War II," was a part of Oswego State's "Race, Place, Being" campus series.
The series is a collection of semester-long events incorporating guest speakers, performances, film screenings and other activities about topics regarding race and identity throughout the world. Its purpose is to engage the campus in today's social issues.
Justin Brantley, senior and director of multicultural affairs of the Oswego State Student Association, attended the event to meet and learn from Blackmon.
"[Blackmon] shed a lot of light on things you wouldn't read in history books," Brantley said.
The author discussed topics from slavery to the new historical film "Selma" about the 1965 voting marches in Alabama.
Students, faculty and staff filled the audience. Sophomore Imani Cruz, Blackmon's student escort for the evening, thought the event was beneficial no matter what background an audience member had.
"People of all color should take the mistakes of our past and bring them into the future, see what we did wrong and make our future better," Cruz said.
Blackmon challenged the audience to think about society and asked what kind of country they want to live in.
"Pick the future you want to live in," Blackmon said, encouraging the audience to confront today's issues.
Blackmon thinks the U.S. has a long way to go before becoming a post-racial nation. He said he understands these issues will not just go away.
"We'll be able to stop talking about [these issues] when all of us are light brown and that day will come, but not for a long time," Blackmon said.