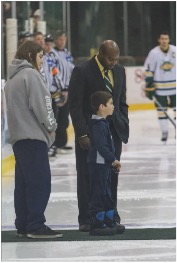 Julian Ross, a 9-year-old Oswego boy who has been battling stage IV Neuroblastoma for more than three years, has been receiving support both locally and nationwide during his struggle.
Ross, who returned home at the beginning of February, has generated an overwhelming response from the Oswego community. Dozens of people lined up outside his house to welcome him home. His many visitors have ranged from family, to neighbors, to even strangers. However, each one has something in common: They are inspired by Julian.
On Friday Feb. 6, the Oswego State men's ice hockey team honored Julian before the game with a video on the scoreboard. Captain Bobby Gertsakis, assistant captains Nick Rivait and Denton King represented the team with a video message.  In the message Gertsakis said, "We play every game with you in mind. We hope to play with a portion of the courage and fighting you've shown over the past four years." Ross was not able to attend the game. However, his brother Brayden dropped the ceremonial puck. Ross received a signed jersey and signed photo of the team.
Ross has also received support nationwide. Pat Monahan from the band Train sent a personalized video message. The Philadelphia Flyers sent a signed jersey, Ross' favorite Philadelphia Flyer player, Jakub Vorachek, sent cookies and the voice cast of "Spongebob" sent a personalized audio message. In the message the cast stated, "We're your biggest fan."
One thing that Ross wanted was to see the movie "The Spongebob Movie: Sponge Out of Water." Unfortunately, Ross would not be able to go to a public theater to see it, so other options were explored. The Lollipop Theater Network brought the movie to Ross on Feb. 13. The Lollipop Theater Network is an organization that brings movies and movie magic to children who are too ill to go to theaters.
Ross' battle and journey should be important to every single person who hears about it. He has battled through so much and gone through things that no child should. It is very important that Ross receives support both locally and nationwide. When going through tough times, it is always nice to have support. His battle and journey serves as an inspiration. It's the small things that mean so much.
I attended the men's ice hockey game on Feb. 6 when Ross was honored. After the video message played, the atmosphere in the arena changed. Every single person in the arena was affected in some way. The amount of applause and cheering that Ross received was comparable to the noise level during White Out Weekend. For a moment we were not just Oswego State students or simply members of the community, we were, and continue to be, Julian Ross supporters.
Ross' story and how the community is supporting him is one of the reasons why I'm proud to attend Oswego State and proud to be a part of the Oswego community.