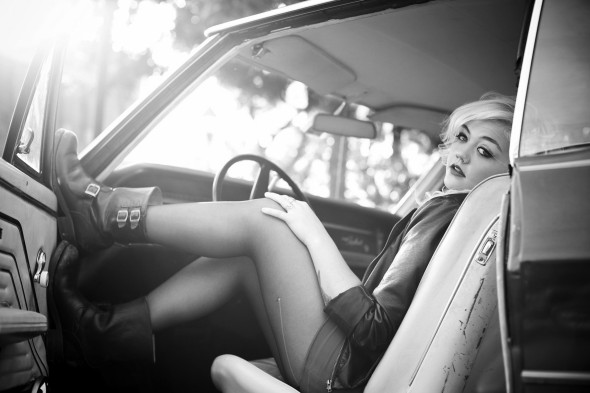 Raw and untamed are two words that could describe blues-rock artist, Elle King. Born Tanner Elle Schneider, daughter of comedian Rob Schneider, King's name is still rather unknown. With only an EP out and a "Playing for Keeps" single that is also the theme of "Mob Wives: Chicago," King is an up and coming artist bursting with talent. Through her raspy vocals and talents for creating fiery and contemporary arrangements, King will undoubtedly appeal to all ages across the spectrum.
Her musical potential, which will hopefully one day make her a household name, is fully on display on her debut album, "Love Stuff." Stunningly arranged and multidimensional, "Love Stuff" turns folksy rock music into a romping good time. With inflections of a variety of genres including country and pop, the young artist is seemingly able to adapt herself to the slowest ballads and the most rambunctious anthems.
The first single off the record is "Ex's & Oh's." By far the album's most unruly and unkempt track, "Ex's & Oh's" is a victorious ode to being a free spirit for all. Ripping into her "Ex's," King's lyrics take an almost humorous approach, filled with cheeky moments that are both earnest and fierce.
"Ain't Gonna Drown" is the album's most brooding song. Through steady beats and haunting vocals, "Ain't Gonna Drown" is both grim and sleek. Its moments of New Orleans-esque revelries and atmospheric pressures will draw in listeners like no other track on the album. It is a feat King should be proud of.
Happiness can be found on the deceivingly titled track "Kocaine Karolina." Guitars strumming and an almost sweet sound coming from deep within Elle King's normally throttling voice presents something that will make listeners feel like they are sitting on the beaches of Hawaii.
"America's Sweetheart," allows King the space to delve into pop-country tunes through its rustic, yet sweeping construction. Like a Phillip Phillips track that has been slowly burned and frayed at the edges, "America's Sweetheart," shows that modern pop music does not have to be so glossy. Filled with catchy hooks, this is one of the album's best songs.
On "Jackson," King gives listeners a track filled with nostalgia. Like something out of the Deep South, "Jackson" is unwashed and fierce. Through climaxing instrumentals and growling melodies, King shines like no other current member of the music landscape. Like a tumbleweed, "Jackson" continues to grow as the song progresses, and for King, this is one of her finest moments.
In a subgenre that seems to be on its last legs, an artist like King could serve as its revival and savior. "Love Stuff" is as rugged and raw as it is aspiring. King's musical journey maybe just beginning, but her debut album presents itself to be the work of someone with staying power and replay ability in the industry. It's an impressive full-length debut, and for King, the ability to make listeners reminisce of times when two lyrics and intense synthesizers didn't warrant an entire song, is where her true talents lie.