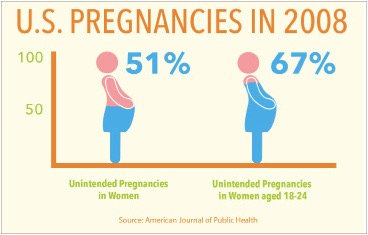 Unintended pregnancies are a rising problem with college-aged students.
According to a study released by the American Journal of Public Health, 51 percent of U.S. pregnancies in 2008 were unintended. Of those pregnancies in women ages 18 to 24, 67 percent of them were unintended.
Ashlee Stupp is an Oswego State alumna who became pregnant in college.
"I was scared, but happy," Stupp said. "I felt determined to make the best of it regardless of what changes would take place. I really did not have many negative reactions or anyone urging me to consider other options, which certainly made it easier.
"I continued working full time and going to school full time," Stupp said. "I got married that December and I took that spring semester off to have the baby. My son was born in April. My husband and I agreed that it would be best for me not to work, but to continue going to school full time. I had good babysitters to watch my son for reasonable pay while I took all my classes."
Casey Merrill, a junior american studies student at Oswego State, said that on campus, there is not enough education about pregnancy or support for pregnant students. Merrill said she had a friend who had an abortion, which showed her how upsetting and scary these situations can be.
"I don't feel like it's a public thing," Merill said. "People don't really talk about it a lot. People who are going through it are probably really scared and don't know who to talk to. You're meant to feel ashamed if it happens."
Although the issue of pregnancy isn't commonly addressed at Oswego State, 80 percent of females in college are sexually active and not trying to become pregnant, according to the National Center for Biotechnology Information.
A lot of students have known someone or have been personally affected themselves by an unplanned pregnancy. Zachary Logue, a junior business administration major, had a friend who had an abortion in college.
"Everyone makes mistakes in life," he said. "The great thing about America is that everyone has their own choice what they want to do."
Logue said he hasn't seen much information about pregnancy around Oswego State's campus.
"That's kind of a crappy thing because if a girl gets pregnant on campus, maybe you should have a support system for her instead of making her deal with it on her own," Logue said.
Many women who become pregnant unexpectedly feel that obtaining an abortion is their only option while in college. According to the Guttmacher Institute, 40 percent of women who have abortions are college-aged.
"I think it's good that there is an option," said Oswego State junior Tisaru Perera. "But if you got pregnant, there's no looking back. You shouldn't think about yourself now, it's all about the baby. If you know that you're pregnant, you should give up everything. It's going to be a tough life, but you have to deal with it."
Although there is a lot of information available on campus about "safe sex," many students believe it just won't happen to them.
"I've had pregnancy scares at least three times. Afterward, I always think that I should use protection next time, but I don't," said junior Snowitta Anaston.
Female students aren't the only ones affected by pregnancy in college.
"To a lot of guys it's funny," said James Trimm, a sophomore meteorology student. "They talk to their friends and say, 'I almost knocked up this one girl.'"
Trimm added that the topic is taboo among college students and his peers don't really know how to handle it.
There are programs available in Oswego to help college students who become pregnant. The Pregnancy Care Center of Oswego aims to "promote a culture of life in our community." It offers free pregnancy tests, parenting classes, education and support and necessary items such as diapers and baby clothes, according to director Jill Pelkey.
"We do get a number of girls here from the college," Pelkey said. "The girls come in, get a cup of tea, and take a pregnancy test. They talk about their results and options with a counselor."
The Pregnancy Care Center wants to reach out to women facing a tough decision.
"We're here to help, and you're never alone," Pelkey said. "We're here to offer as much support and love and anything else that you need."
Liz Burns, director of Student Health Services at Mary Walker Health Center, said the health center on campus offers free pregnancy tests and they typically give out one to three tests per month.
"The student could be seen during walk-ins 8:30-10:30 or make an appointment," Burns said. "The nurse practitioner would go over the result and ask the student what their plan is. Students concerned about pregnancy can always come to the health center and we will do testing and assist them according to their choice."
Child care is also available at a very affordable rate for college students. The Children's Center of Oswego was founded in 1970 and offers child care and a preschool program. This day care is available to children of faculty, students and community members. Kathleen Lee, the director of the program, said that students who are parents seem to do very well with balancing children and college responsibilities. Lee said many students bring their children to the day care center as it is inexpensive and very convenient.
Students should be aware of their legal rights when they become pregnant as well. Title IX allows them to continue with their classes and extracurricular activities and to be provided with "reasonable adjustments," which are necessary because of the pregnancy. Title IX also protects students from harassment related to their pregnancy. This includes jokes or sexual comments, names, rumors and gestures.
"We would assist a student with requesting extensions on assignments, making up missed work, etc," Lisa Evaneski, the associate dean of students and Title IX Coordinator for Oswego State, said. "The guidance we received from our General Counsel's office clarifies 'whenever the class work is of a type that it can be completed at a later date—such as papers, quizzes, tests, and even presentations—that option must be made available to the student.'"
Still, some students would like to see this issue addressed more and the resources they have more accessible.
"I'm surprised by how much this isn't brought up in college, because it totally happens," Trimm said. "It's all about being a human being."