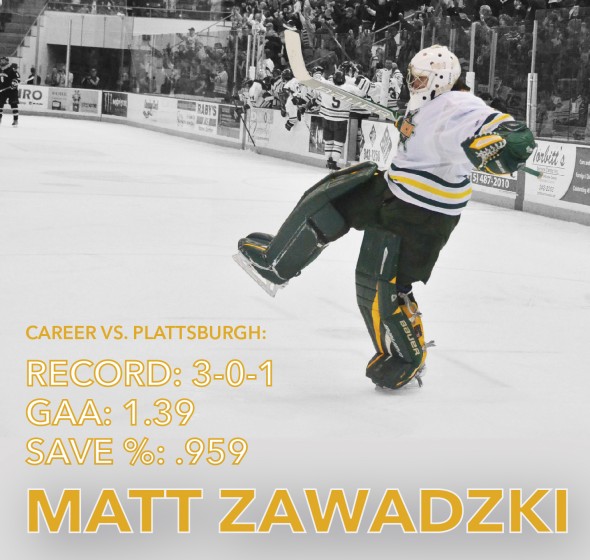 On Dec. 6, 2013, men's ice hockey sophomore goaltender Matt Zawadzki, in only his fourth career start and third time playing in the then-Campus Center Arena, put up an impressive performance against the No. 1-ranked SUNY Plattsburgh Cardinals in front of a White Out crowd.
Now coming into his second White Out game, things are different for Zawadzki and this Laker team. Zawadzki has built up the reputation as one of the best goalies in the SUNYAC conference, and perhaps in the nation, after leading the team to the Frozen Four in his first year, and now to the Lakers being atop the conference standings entering this weekend as well as being ranked No. 1 in the USCHO poll.
The only thing between the Lakers and home ice advantage through the SUNYAC playoffs is the Cardinals, who are currently one point behind with two games remaining.
Zawadzki, who is presumed to be in between the pipes, will be facing the Cardinals for the fifth time in his career. Overall he has a 3-0-1 record with a .959 save percentage, and a 1.39 goals against average.
It is hard to understand why Zawadzki seems to put up his best when Oswego State and SUNY Plattsburgh face off. But with the games being so important for both teams, it seems to be more of a fact that the Laker goalie just enjoys playing in the crucial ones.
"I love to play in the big games," Zawadzki said. "I'm fortunate enough that coach has picked me for those big games, fortunate enough I have a good team in front of me that helps me out.
When Zawadzki first played the Cardinals, getting the nod did not come easy. He battled for the starting job with then-sophomore Justin Gilbert, the only returning goalie from the previous year, but after some impressive games, he stepped into the spotlight and shone, making 35 saves, the second most he has made as a Laker, including some incredible ones that kept the Cardinals at bay, in a 3-3 tie.
Graduate assistant coach Kyle Laughlin, who is in his second year working with the team and this year works hands-on with the goalies, said how being put into that situation as a freshman is not easy, but as he has seen Zawadzki grow as a goaltender in the last two years, he has seen him bring on this special mentality.
"Any champion wants to embrace the moment of pressure, there's a lot of pressure in every game, but there's a lot in the Plattsburgh game too," Laughlin said. "So when you can embrace that, and not only just weather it, but thrive on it, I think that's when you develop the champion mentality and that's when some special things can happen."
Those special things continued to occur as the season rolled on, especially toward the end where Zawadzki came in off the bench in the final regular season game at Plattsburgh and delivered a 22-save shutout over 30 minutes of play. Zawadzki and the Lakers then went on to win five more games in a row in the playoffs, including another win over Plattsburgh in the SUNYAC semifinal, that took them to their fifth-straight Frozen Four.
It is those past results Zawadzki said that brings confidence to himself and that transfers over  to the rest of the team's play because of how well he plays.  Whether it is the offense and top goal scorer sophomore Shawn Hulshof or the defense, with top defensemen pair in sophomore Chris Raguseo and senior Mike Wills, they all agree how he steps up, whether it is one of his many acrobatic saves or holding it down when it counts. His impact is huge.
"When it comes to crunch and we're not doing what we can on the ice, he just comes up huge for us," Wills said.
"He makes the saves when he needs to make them. We love having him back there supporting us, and we want to raise our game to ultimately help him out," Raguseo said.
Another reason about the continued success into this year, as said by many of the players, has been the chemistry developing. With a big freshman class, and some transfers that came over last year, much of this team has been working together for almost two seasons now and things are starting to really click.
"We've all grown to have great chemistry and having them in front of me keeps me calm and helps my confidence, and helps me play my best. When I'm playing my best that's giving them confidence," Zawadzki said. "It's a great chemistry, and we really are molding well as a team, and I think it will show Friday night."
Now coming into this matchup, as stated, the Lakers are No. 1 in the nation, with this being the first time since Nov. 26, 2012. This is also the first time all season the Lakers are in first place in the conference, leading to the possibility that this will be the first time Oswego State is not considered the underdog going into the rivalry matchup in the last two years.
The Lakers are not dwelling too much on this accolade and are more focused on the task at hand.
"We worked all season as far as we did to become No. 1 so we want to stay there," Hulshof said. "We're not going to take these guys lightly at all."
"This time we're expected to win. There's no ifs, ands or buts. [The] guys are ready. We want to draw first blood, score a couple and just put the crowd in it first," Wills said.
From the other side of the perspective, the Cardinals are coming into this game on a three-game winning streak with transfer sophomore goaltender Brady Rouleau pitching three straight shutouts. But when Rouleau took on the Lakers in December, he allowed two goals and was pulled from the crease after just over 22 minutes of play.
With the great track record Zawadzki has had against SUNY Plattsburgh, Cardinals senior Mark Constantine said when going up against a goaltender that has been hot like Zawadzki has, it is going to be difficult. But he believes their "team play" mentality can rise to the occasion.
"All four lines are dangerous for us, it's not one guy or one line that does it all but all four lines can go out there and play the same amount of time and get the same thing done," Constantine said.
Constantine and Cardinals head coach Bob Emery both agree that one thing that won't be a problem is getting excited for the game, with having a roster full of players that have played in many Laker-Cardinals matchups.
Constantine, who has played in 10 Laker-Cardinal matchups, the most of anyone on either side of these current teams, has tallied two goals and three assists against the Lakers. Players like him will definitely keep the Lakers aware while the Cardinals are on the attack.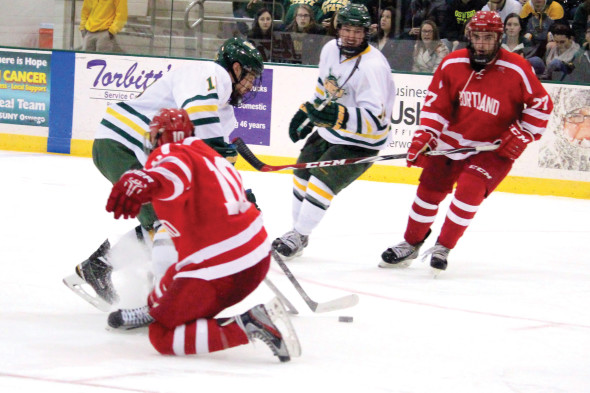 "It's almost like a chess game. Any given night anyone can put the puck into the back of the net, whether you're in the right position or not. With us, we just need to play simple and shut them down," Wills said.
While on the other side, Oswego State is full of young players with a total of 16 appearing in their first White Out game last year, Many of the players, including Zawadzki, know that though they have gone up to Plattsburgh and beaten them three times in a row, they still have a chip on their shoulders, as they look to secure their first home victory against the Cardinals.
A key factor in the game will be the penalty kill for the Lakers, as of the five goals Zawadzki has allowed the Cardinals, three have come on the man advantage. However, Zawadzki has total faith in the guys around him when they are put in that situation.
"I think our penalty kill has been tops in the country the last few weeks. We keep that going then we should be able to handle their power play pretty well," Zawadzki said.
Calling the penalty kill unit top in the country is not too far off as the Lakers have killed off their last 11 penalties.
Emery believes having to take down this penalty kill unit, which has been highly efficient as of late, will be important as goals will be hard to come by.
"No matter who you're playing against, you have to take advantage of your opportunities," Emery said. "A game like this is going to be a lot of goals that are going to be scored by mistakes or mental mistakes."
Wills and Raguseo, who both play on the penalty kill, believe their forecheck and the ability to block shots will be the key factor in not letting the Cardinals score on those opportunities.
With all of the many factors that will go into this game, the atmosphere and experience are some things that could trump all. For the players who played in their first White Out game last year, it is one thing to hear about the rivalry and history of Oswego State versus SUNY Plattsburgh, but it is another thing to actually be on the ice for it.
Wills knows this all too well as he recalled his first experience of the rivalry in the game last year in Oswego, where he scored his first-ever collegiate goal. Now he sees his defensemen pair linemate in Raguseo, playing in his first game and he's excited to see him be a part of something that is bigger than them.
When asked about how he will prepare for this game, Raguseo talked about getting ready for a big game as this, you have to go back on past experiences.
"You just remember back your first game in the Campus Center and you just channel that energy, you just have a good mindset that these people are here to watch you play your best, and in a game like this, that's what everyone is going to bring, and that's going to make for a great game," Raguseo said.
The past experience that Zawadzki and the rest of the team have will be key in remembering not to let the moment become too big for them. But if history repeats itself, Zawadzki will be as good as he always is, if not better, when the puck drops Friday night.