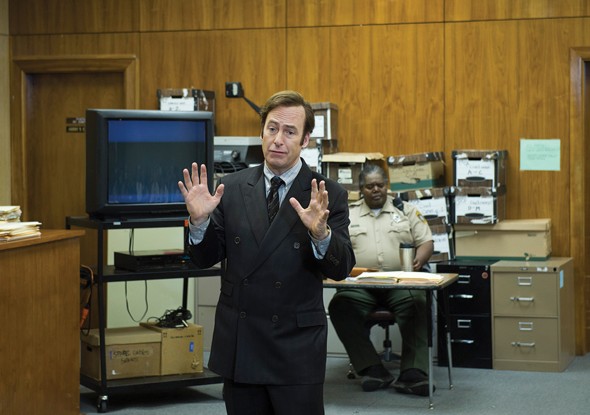 If you watched "Breaking Bad" (and let's be honest who didn't see "Breaking Bad" at some point) "Better Call Saul" would be great for you. The series premiere aired last Sunday on AMC with a record 4.4 million viewers. This makes it the biggest cable series premiere in history.
From the minds of Vince Gilligan (creator of "Breaking Bad") and Peter Gould, a veteran writer, who worked on all 5 seasons of "Breaking Bad," the show is about James McGill's transformation into the lawyer "Breaking Bad" fans know as Saul. Set in 2002, we get a view for what McGill's life was before the events of "Breaking Bad" and how he became the person fans learned to love.
The show stars Bob Odenkirk ("Fargo") who reprises the role of Saul. The first two episodes display Odenkirk's incredible acting skills, allowing viewers to get a feel for the character's personality almost immediately. We get a sense of who James is, what he's like and how he'll become who he is going to become.
Along with Odenkirk, we see the return of Jonathan Banks ("Horrible Bosses 2") and Raymond Cruz ("Major Crimes"). Banks does not stand out much in the first two episodes. He is mainly present for comedic events involving stickers. However, knowing who he is from "Breaking Bad," and knowing he has been cast as a main character, one can expect great things to come. Cruz gives a fantastic performance. He grabs viewers' attention at the end of the first episode and draws them to continue watching so they can see what happens.
The show's start was a bit slow, with nearly seven minutes of black and white shots with Odenkirk working at Cinnabon. This also aired after "The Walking Dead" episode "What Happened and What's Going On," so it may have been a part of AMC's weird theatrical episodes. Yet don't let this opening discourage you, once the show gets moving, you can see its brilliance.
The only negative thing to say about the show is that it is not as attention-grabbing as its predecessor. "Breaking Bad" was great at catching the viewers' interest from the very beginning of the series. Although great, "Better Call Saul" doesn't have this. The number of viewers that tuned into the second episode was basically half of those who watched the premiere. Although the show has already been picked up for a second season, as of right now, viewers have to wait for a moment to feel the show grabbing their attention.
Overall, the show is a must watch. The performances are phenomenal, the writing is fantastic and the program is shaping up to be another AMC great. You'll regret not watching "Better Call Saul" because the show is going to be incredible. You hate yourself if you miss a single second.