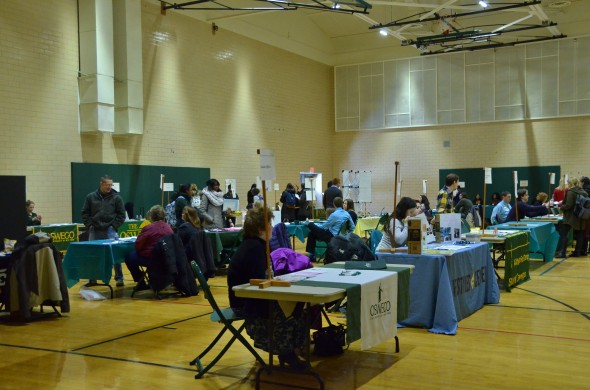 New employment opportunities became available to hundreds of Oswego State students at the Job-A-Rama event held in the Marano Campus Center on Wednesday.
Job-A-Rama, an event organized by the Career Services, was held in the Swetman Gymnasium for students seeking on-campus employment and service learning opportunities for this summer and upcoming fall semester. The 20 participating departments offered internships, work-study positions and leadership positions, as well as part-time on-campus employment and community service opportunities.
Participating departments included the Admissions Office, the Alumni Office, Campus Recreation, Campus Technology Services, the Fitness Centers, Intercollegiate Sports, The Lifestyles Center, Office of Learning Services, Residence Life and Housing.
The 5-year-old event was directed by Jackie Wallace, assistant director of Career Services. Wallace said that, on average, 400 to 500 students and 25 to 30 tables of employers attend Job-A-Rama each year. Job-A-Rama does not only assist students, but also departments looking to employ. Through career fairs on campus, Wallace said, students are able to gain experience and skill sets which are useable after they graduate.
Gary Morris, director of Career Services at Oswego State explained that Job-A-Rama is an opportunity for students to "make connections with our faculty and staff, enhancing their networking capabilities."
Wallace said Job-A-Rama is an opportunity for both students and employers alike. Faculty want great students to work with them whether they are conducting research or helping students improve their resumes.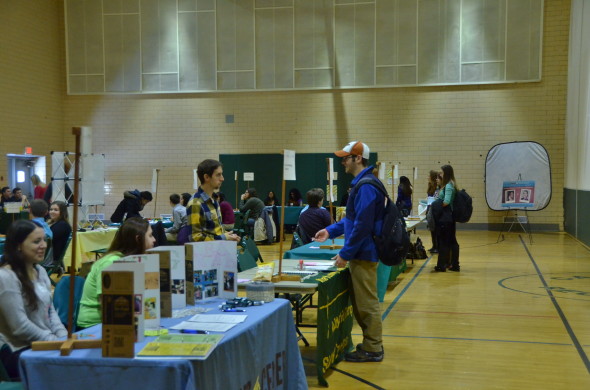 "It tends to be a win-win scenario for everyone involved," Wallace said.
Kendra Bowman, a senior and volunteer worker in the Resource Center at the Compass, helped people sign in at the front.
"Personally, I think it is those looking to get more involved on campus," Bowman said. "Even freshmen can get better campus involvement and experience through career fairs like Job-A-Rama."
Sophomore Rachel Bortin attended Job-A-Rama in order to "find more jobs available on campus."
"I'm interested in athletic jobs, such as working as a referee during recreational sports or working at hockey or basketball games," Bortin said. She would be working with the Division III Intercollegiate office and was hoping to be an usher or scoreboard and PA announcer.
Job-A-Rama is one of many events held by Career Services for students looking to further their professional careers. The next event held by Career Services is the Exploring Majors workshop on March 4.