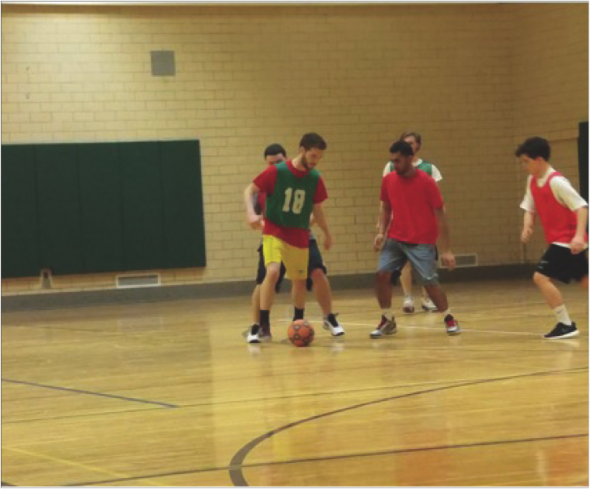 It was another exciting week in intramurals as the indoor soccer league started on Sunday.
An intense game played out in the Men's Recreational League between SAE and Zeecon and the Pinpoints. In the last minutes of the game, Zeecon and the Pinpoints pulled within one point of SAE, who was ahead the entire game. It looked like Zeecon and the Pinpoints might be on the verge of a comeback. However, SAE was quick to answer with two goals of its own. Despite SAE coming out on top by a final score of 6-3, the competition was tough and each team had a player earn a hat trick for the game, those being Casey Hogan from SAE and Kevin Shaw from Zeecon and the Pinpoints.
The other Men's Recreational was a nail-biter, with Versace just edging out the Amateur FC, 6-5.
The Men's Competitive game was an easy victory for We Always Finish, defeating Secret Fire, 10-5.
During CoRec Recreational there were two close games. Keating's Krew out-scored The Fat and the Furious, 4-3, while The Brody Bunch beat Balls Deep, 4-3.
In broomball this past week, Broom Goes the Dynamite edged out the Iceholes in overtime, 1-0. In another close game, Your M & M beat the Sons of Pitches in the final minutes of the game, 1-0. The Fresh Prince of Briere topped the Ice Cats, 4-0, all four goals being scored by Quentin Mariano.
Meanwhile, The Crimson Panthers ousted the Ballghazi in another landslide victory, winning 4-0, with Dylan Holden scoring all four of the team's goals.
The Boheim's Boogers dominated this past week in men's basketball, winning both of their games. They beat out the Premature Shooters on Wednesday, 58-44. On Thursday they took an early lead over Size Don't Matter and never gave it up, winning 48-34. Andrew Malaney and Matthew Placito came through big for The Boheim's Boogers, both of them consistently scoring throughout the game to keep their team on top.
In the rest of men's basketball this week, there were two blowouts, The Jellyfish dominated Ball is Life, 71-35, and The Dirty Flamingos topped the Ball Handlers, 67-32.
In a slightly closer game, Pippin Ain't Easy beat out the Purple Cobras, 57-43.  Below The Rim was able to cruise to a win over SpalshBros by a score of 56-37. Harlem Grounds beat Oswego State Soccer, 73-37 and Lee Hall Legends beat Let's Get Tropical, 81-46. While, in their earlier game in the week, Let's Get Tropical just beat Hold the Mayo, 50-44. Meanwhile in Co-Rec, The C Boys ousted The Ballers, 75-51, on Wednesday. In a series of close games on Thursday, The RSS won convincingly over The A Team, 44-3.