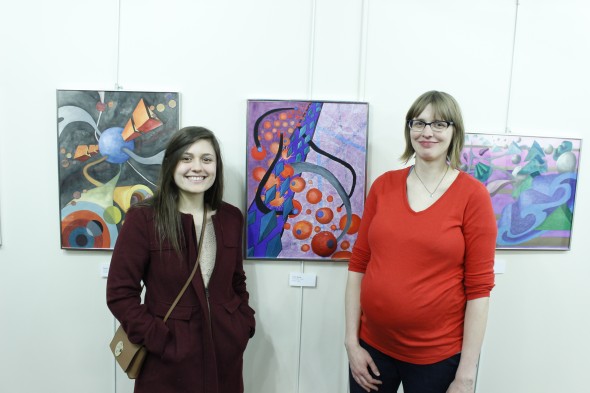 The "Fantastic Architecture" exhibit at 192 W. First St. on Friday Jan. 30 was the exciting debut for many Oswego State          art students.
The work this year featured a showcase of 16 pieces from last semester's Concepts of Design I class and was selected from the classrooms of Mary Pierce, Seely Cardone and Rick Metzgar.
"This is my first time being in a legit gallery," said Vanessa Minges, one of Metzgar's students "I've been in a lot of shows but they weren't this awesome."
The instructors undoubtedly love hearing such enthusiasm from students, and it was abundant at the gallery. The resources utilized ranged from colored pencils and acrylic paints, to styrofoam and tissue paper. However, the creativity was not just in the variety of supplies, but in the concepts as well.
"It was fun," studio major Emily Clarke said. "I'm a 3-D artist so I like to incorporate a 3-D element to my design in 2-D because it just makes it that much more powerful."
As with Clarke, many students chose to approach the project in portrait mode, using colors or shapes and lines to define the third dimension. One exception was the work of Gabrielle Darling, which used a combination of landscape orientation and highly contrasting colors to display aspects of floral and architectural design.
"This course is a foundation course for us," Metzgar said. "Everyone takes this course as part of our department."
Another student, Claire    Wadja wanted to do more than just create an illusion.
"I like to experiment with different things." Wadja said.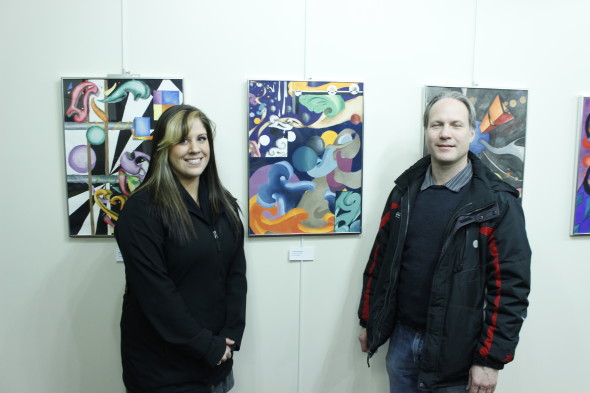 Wadja took a literal approach to the term "3-D." She used styrofoam to make her project actually jump out of the page and then relied on color and shape to keep everything together.
Each piece had some aspect that differentiated it from the rest. For some it was the aforementioned change in orientation, while others chose to demonstrate the largest dynamic color range possible. The lone unifying factor between all of the work was how different they were.
This was due, in large part, to the amount of creative mobility the instructors granted to students.
"It was fun working with Mary because she kind of let you go free, get your artistic license in there," Clarke said. "She left it open for the medium, so that was really fun to play with."
Observing the final products from the students was truly a sight to behold, the chance to see top abstraction pieces from Oswego's art department.
The exhibit will be on display until March 6 at 192 W. First Street.
It was fun working with Mary because she kind of let you go free, get your artistic license in there. She left it open for the medium, so that was really fun to play with." – Emily Clarke