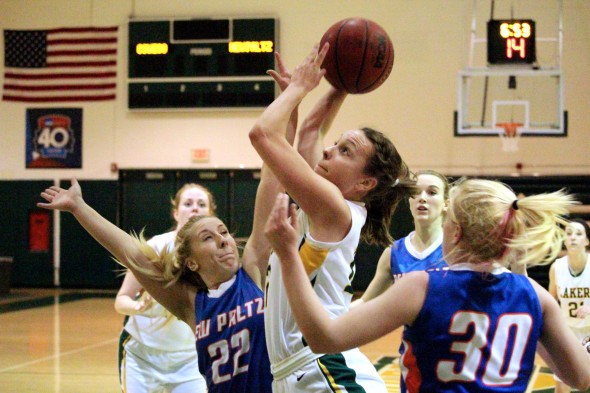 The Oswego State women's basketball team (7-14, 5-9 SUNYAC) cruised past the New Paltz Hawks (14-7, 10-4 SUNYAC) by a score of 72-49, avenging their seven-point loss against them just 11 days ago on Jan. 30.
Oswego junior forward Heather Hebert played aggressive down low on both sides of the ball the entire game. Her 16 points and spectacular 19 rebounds led the way for the Lakers' demolition of the Hawks. Hebert had her way on offense, adding five assists to her dominate performance, while connecting on more than one occasion upon being fouled, setting up for and-one opportunities.
"We just tried to stay calm on offense and confident with the ball and made smart passes," Hebert said. "We kept our hands up at all times and shifted as a whole. [We] made sure we boxed out and grabbed those rebounds."
Hebert is continuing an already successful season, averaging 12.7 points and 8.3 rebounds per game, leaving where she left off a season ago as a sophomore.
"She's got a motor that doesn't stop," coach Tracy Bruno said of Hebert. "I don't care if it's three minutes into the game, or 37 minutes into the game, she's playing at the same level of intensity at either time."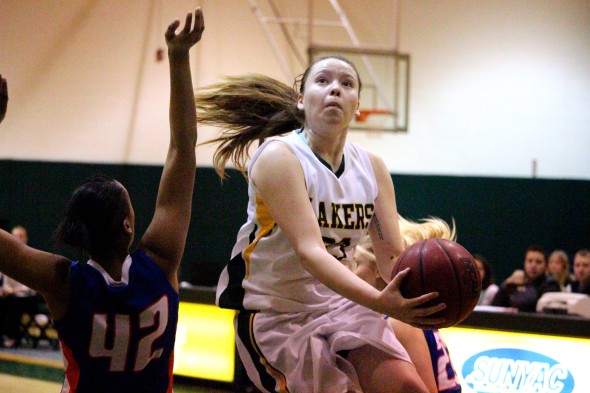 Freshman guard for the Lakers, Alisha Jacobs led all scorers with 19 points on 5-of-7 shooting in just 25 minutes. Her assertive play on offense by attacking the basket allowed her to get to the free throw line often, where she converted 7-of-10 shots.
"My coach said they couldn't guard me," Jacobs said. "I just kept going and getting fouls and going to the line."
New Paltz started the game defending in a full-court press and didn't let up for the rest of the contest. This failed to slow the Lakers down, as the score dictated, despite turning the ball over 15 times throughout the game for a few four-point swings here and there.
This statistic is still significantly lowered from Oswego and New Paltz's first meeting this season, where the Lakers coughed the ball up 28 times in the loss.
"If the statistics are accurate, that lead to 33 of their 57 points," Bruno said. "Our focus was…if we could fix [that]…we would have a real opportunity to win. Obviously, 33 of 57 points means they're not scoring a whole lot of points off our first-line defense."
Because of New Paltz's air-tight defense, the Hawks were prone to committing a high number of fouls. Their 13 first half fouls escalated to 24 by the end of the game, compared to Oswego's 12.
Though the Lakers shot only 61 percent from the line as a team, going 19-for-31, the points gained from the stripe would play a large role in the win.
While Oswego's offense was moving the ball around to compete with New Paltz's vigorous press, their 2-3 zone defense was forcing the Hawks to settle for tough shots. Shooting an abysmal 25 percent from the floor on 18-of-72, not much was going right for the Hawks on either side of the ball.
"I thought we were shifting really well," Bruno said. "We've gone to playing zone a little more down the stretch here, which has been really successful for us…I thought we did a good job of keeping them out of the middle and forcing them to shoot tough shots."
Oswego looks to capitalize on this victory when they play Postdam (1-19, 0-13 SUNYAC) this Friday at 7 p.m. at home in Max Ziel Gymnasium.