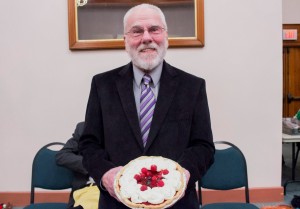 There are some people in life who can only be described by using their name. Jay Button is such a person. He is a mentor, a teacher, a friend and a confidant. All of these are accurate descriptors of aspects of Jay Button, but none of them quite encompass all that he is.
Jay Button is a force all his own. Jay Button is Jay Button, far from plain and far from simple.
After retiring from a decades-long teaching career at Oswego State in the spring of 1998, Button took some time to enjoy himself and headed out on a 23-day mountaineering expedition in Colorado.
"It was one of the best things I've ever done," Button said. "When I got back here though, I thought, 'Oh what'll I do? What'll I do?' Then I got an email from Rhonda Mandell and Kathy Evans and it said: 'We wonder if you would be interested in working with the first-year residential experience.'"
During his teaching career, Button worked with various students in the residence halls to give study advice and conduct fun exercises, an experience that made him a perfect candidate for the position.
"I would come over to a hall, and I would do something where people would have to do something in order to participate," Button said. "So I was designed for experiential learning, and I always got great reviews and they asked me to come again… People knew I enjoyed it and people knew students enjoyed having me come."
After some consideration, Button decided to accept an interview for the position. To familiarize himself with the program before the interview, he visited Johnson Hall, the all-freshman hall he would be working in if he got the position.
"I said, 'I want to hang out and see what is going on.' I did what I've done from the beginning ¬– hang out, talk to people, find out what was going on," Button said.
Armed with an understanding of the hall, Button went into the meeting.
"They gave me more information, answered my questions and asked me a lot of questions," Button said. "One of the things they said to me was, 'We would like you to advise the undeclared students.' I said 'Well I just retired after 19 years and I've been an adviser of academics for the entire time I've been here. I like it, I know how to do it, but I don't want to do it anymore. So that's a deal breaker.'"
The conversation continued for a while with both parties trying to decide how Button could best serve the first-year residential experience.
"Eventually Jean, who was the hall director of Johnson at the time, whom I visited with that morning, said, 'He can just do what he did this morning which is hang out and talk to people.' They said, 'That's great. We could probably figure something out; we can talk some more about it,'" Button said.
Within a week, Button was informed he got the job. However, the original plans for the position had shifted drastically to accommodate his unique style.
"The position was originally created when Rick [Kolenda] and Res Life thought of it when they came up with Johnson as it is now," said Kelly Giese, a former hall director of Johnson Hall and colleague of Button's. "The faculty master would bring in faculty members. That would be their role and major function. Jay doesn't really do that. He kind of got the opportunity to write his own position description. I don't think there is one actually written down. He just kind of does his thing, and it works out."
While just sitting around and talking to first-year students may not seem like a very meaningful job, Jay creates an impact felt throughout both the staff and residents of Johnson Hall.
"He has a way of listening and connecting with students and just making himself so approachable," Giese said. "He is not afraid to go walk up to somebody he doesn't know and say something ridiculous to make them laugh. It's a lot harder for me to have a relationship where a student can confide in me. I think Jay really does a good job, and that is his main purpose here. I think we found that out, especially when he was gone because he was sick."
Button was hospitalized over the summer for severe pain, but doctors could not find anything wrong with him. Even after conducting all sorts of tests, there was no real explanation for the way he felt.
"I was in the hospital for an entire week with pain," Button said. "Nobody knew where it came from. To this day, nobody knows where it came from, but I was in such pain that I didn't care anymore. I didn't care what happened, and then two things happened."
The first thing that happened was Button decided he was not going to let himself feel bad anymore: he willed himself to feel better. The next thing that happened was he returned to work.
"What I've always said – I'm half kidding – I suck the energy out of everybody here; they get older and I get younger. I really felt that way, to tell you the truth," Button said. "I don't want to live forever, and I know I'm not going to. I am going to do the best I can to be as healthy as I can for as long as I can. I want to be of use to others as long as I feel I am and if people are willing to have me come here, I will continue to do so. I've been told I have that opportunity, which makes me feel pretty good."
When it comes to replacing Button, if and when he steps down, Giese knows it will be impossible.
"I don't know that we could replace him as he is in this position," she said. "He has a way of listening and connecting with students and just making himself so approachable. He is Johnson Hall, I think."