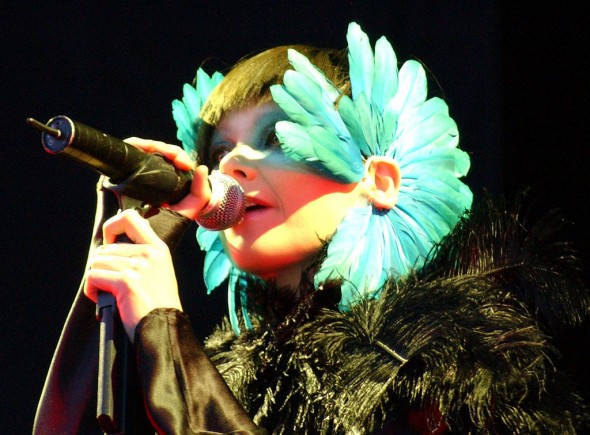 It could be said that no artist's body of work has been consistently marked by acclamation and applause more than Icelandic artist, Björk's.  With eight, full-length LPs under her belt and the most recent one's early release receiving promising remarks, Björk's career is one for the history books.
Titled "Vulnicura," Björk's latest installment is as much a piece of artwork as her previous endeavors.  With unique compositions and new age synthesis, the flow of the record is impeccable. Its ability to create an atmosphere that is both endearing and creatively absorbing is a clear and precise ability that only Björk seems able to master. It is one of her strongest releases to date and as a whole, it represents the months leading up to her breakup with artist Matthew Barney.
The lead track off of "Vulnicura" is "Stonemilker." Always odd and incredibly hard to decipher, Björk's style is most classically utilized here. Echoing and powerful, "Stonemilker" tells a story of heartache and the inability for two people to meet eye-to-eye emotionally. It's emotional and raw and through careful listening, one will be able to pick up on its beauty.
On "History of Touches," Björk showcases throbbing and pulsating beats, as she recounts moments of spiritual intimacy in the end of her relationship. Through hollow sounds and poignant lyrics, listeners will feel as though they are as much a part of the story as the person she sings about.
"Family" begins as one of Björk's darkest tracks. It's wiry, synthetic instrumentals and shadowy vocal strides are sure to consume those exposed to this intricate creation. Coming through the airwaves in pieces of a whole, each moment of this eight-minute track is as grasping as the next. It is one of the most serious tracks off of "Vulnicura" and a surefire favorite.
But, while "Family" is one of the best songs off of the album, the truly greatest is "Notget." With an opening most in line with a peculiar sideshow of melodies, "Notget" only continues on its journey in eccentricity. As it grows, this outlandish creation brings itself to its own end.
The final track off the album is "Quicksand." Written and composed solely by Björk, "Quicksand" shines with slithering and somehow danceable beats. It is by far the most pop-oriented song off "Vulnicura," but it still feels like regal art. Maybe it's mainstream to an extent, but for Björk, a little normalizing can be afforded, at least for a moment.
As otherworldly and extraterrestrial as albums go, Björk's "Vulnicura" takes the figurative cake. It is a piece of a revolutionary masterpiece performance art that has allowed her to succeed and stave off irrelevancy in a time saturated by single line lyrics and basic pop beats. She is both a creator and a visionary and what she provides to us is the means to listen to something we may not be meant to understand, but should still appreciate. "Vulnicura" is everything the pop world needs right now. Other "artists" should take note.