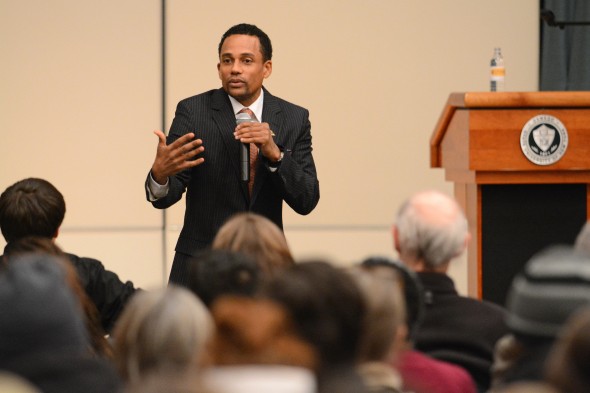 The Oswego State Division of Student Affairs and the Enrollment Management Committee commemorated the beginning of Black History Month on Jan. 30 with keynote speaker Hill Harper, a humanitarian, best-selling author and actor on "CSI: NY."
"We are gathered together because of Dr. King, we stand on his shoulders," Harper said. "We want to celebrate him but also remind all of us that he was [an] agitator. He shook things up to create positive change. The best way to remember his legacy is to live that way as well."
In part of the university's mission to spread social equity within the college community, the 26th annual Martin Luther King Jr. celebration has once again led students to a path of civil empowerment and communal inclusion.
"We need this now more than ever," Oswego State President Deborah Stanley said. "We have to remind ourselves of the values and principles of Martin Luther King constantly because our world demands it. We are still at a place where we are moving forward… hopefully we have moved light years ahead [but] the work is not done."
The evening ceremony featured the talents of the Oswego State choir, chanting the traditional South African folk song, "Tshotsholoza," which means "go forward" or "make way for the next man" in Swahili. The vocal group sang a repertoire of African-American anthems such as "We Shall Overcome" and  "Lift Every Voice." Christopher Collins-McNeil, director of civic engagement for the student association, followed this momentum of freedom with a reading of the biography of Martin Luther King Jr.
"A lot of systemic issues exist on a different level," Collins-McNeil said. "We are seeing issues on mass incarceration, stop and frisk. We are seeing issues that persist on a more nuanced and insidious level in our culture that stem from those issues not being addressed in the '50s and '60s."
Before intermission, orientation leader Garrison Kingston left the audience with a spirit of hope in his 2015 rendition of the Dr. Martin Luther King Jr. "I Have a Dream" speech.
"A lot of people say that as students, that we can't do anything, there is no limit to what you can do," said Michael Nedrick, an introductory speaker and president of the Sigma Omicron Alpha Phi Alpha fraternity. "I encourage people to use [their] gifts to give back to not only their community, but also donate to their future, so they can reap the benefits of what they planted at Oswego."
Tiraya Conyers, a preliminary speaker at the memorial event, explained that unity services help to inform students of the issues regarding the minority community.
"It is important to raise awareness because if you are not aware, often times you are oblivious to the issues that occur in society," Conyers said.
While Harper energized the crowd with the sustainability of physics, the main message of the former "CSI: NY" actor was that systemic issues remain unchanged by individuals who are silenced by injustice. Sophomore and broadcasting and international trade student Jasheah Howard agreed with Harper's statements. She said he is a role model for African-American youth.
"Hill Harper is an inspiration to many young black students," Howard said. "He has accomplished so much, not only is he an actor, he is also an activist. He has been through a lot in his life and that has made him who he is today. He is someone that we all can look up to."