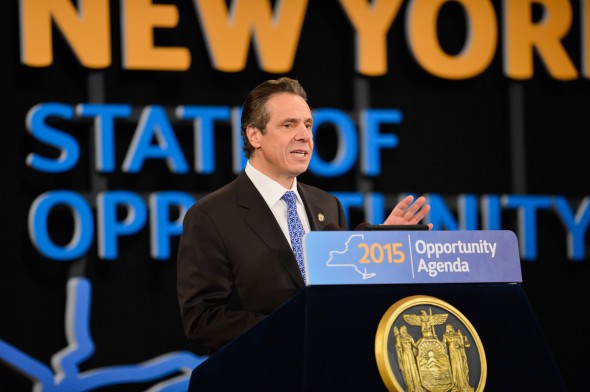 In his State of the State address on Jan. 21, Gov. Andrew Cuomo proposed the "Get on Your Feet Forgiveness Program" for college students in New York.
Cuomo's program would relieve the first two years of student loans for qualified college graduates, as part of his plan to revitalize New York's economy.
"Student loans are one of the greatest challenges that today's recent college graduates face when starting their careers – and we must do more to give them a full opportunity to succeed," Cuomo said. "By alleviating the weight of student loan debt, we can give our recent graduates a better shot at establishing themselves right here in the Empire State. I'm proud to include this item in my 2015 Opportunity Agenda as it represents another step forward in our goal of growing economic opportunity for New Yorkers."
The goal of the program is to assist recent graduates with student loan debt as they seek employment in New York. According to the governor's office, the program will cost $41.7 million for the state by 2020.
Oswego State 2014 graduate, Shannon Sampson, thinks the program is beneficial as she expected to get a job after graduation but currently holds a temporary position, which makes paying back student loans difficult.
"I believe many graduates, including myself, expect a decent paying job right out of college and for many of us, that doesn't happen," Sampson said.
"Any effort to reduce student debt is positive," said Oswego State Financial Aid Director Mark Humbert.
In 2013, the Institute for College Access and Success reported 60 percent of public and nonprofit college graduates took on debt.
"The average debt on federal student loans for [Oswego State] graduates is about $25,000," Humbert said.
In order to qualify for the program, students need to meet the following requirements. First, the program only applies to graduates of 2015 and later from New York state colleges. This includes graduates with two or four year degrees. Second, graduates must continue to live in New York after completing their degrees and earn less than $50,000 annually. The last requirement is graduates have to be enrolled in the "Pay as You Earn" program.
Under "Pay as You Earn," participants pay up to 10 percent of their discretionary income, which is income after taxes and charges. In addition, debt not paid after 20 years is forgiven. Cuomo's office estimates 7,100 people would benefit from the program within the first year. As more people join "Pay as You Earn," it is anticipated the program will benefit 24,000 graduates by 2020.
The requirements limit the number of graduates eligible for the program.
"This type of legislation will always have pros and cons depending on who benefits and who doesn't, but the intent is good and there can always be changes implemented once the program is up and running," said Nicholas Lyons, the college's vice president for Administration and Finance.
Lyons believes the program has the potential to benefit Oswego State graduates with their student debt.
Tyler Edic is a 2013 Oswego State graduate. Edic graduated with $27,000 in student loan debt. Six months after graduation, he began making payments on his loans.
"While it's not enjoyable making monthly $275 payments, I find them to be manageable," Edic said.
Even though Edic finds his payments to be manageable, he understands paying back student loans can be a challenge for graduates. In response to the program, Edic thinks it could be beneficial for people who qualify for the program and have difficulty paying back their loans.
There are other federal loan forgiveness programs. Humbert said the Office of Financial Aid is committed to minimizing student debt. Due to the nature of the "Pay as You Earn" program, students may pay back loans for a longer period of time since the payments are smaller. Humbert "cautions" students about spreading their loans out over more time as this may increase the total amount of loan repayment.
"I'm sure people will enjoy the benefits of the plan, but I don't think it will solve the student loan problem in New York State," Edic said.