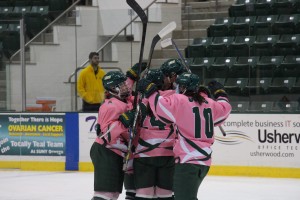 No. 9 Oswego State and Buffalo State take back to the ice on Saturday afternoon at the Marano Campus Center Arena for the finale of this weekend's Pink the Rink weekend series. Friday night, the Lakers narrowly defeated the Bengals, 3-2.
The Lakers were called for tripping with 1:17 remaining, giving the Bengals a man-up advantage for the remainder of the game. The Bengals also pulled their goalie to make it a five on three advantage, but the Lakers prevailed.
Kendall Applebaum had a pair of assists, and Olivia Ellis had three points for the Lakers in the victory. Senior Bridget Smith continued her strong senior campaign, saving 25 shots on the night.
With the win, the Lakers take a more commanding lead in the race for third place in the ECAC West. Oswego State is now guaranteed to hold the lead after the weekend, due to its three-point advantage over Buffalo State heading into Saturday's contest. Both teams trail nationally-ranked SUNY Plattsburgh and Elmira College, No. 1 and No. 2 respectively, in the conference standings.
The Lakers defense was able to hold the Bengals' leading goal scorer Kara Goodwin off the board, something teams have had trouble doing all year. Goodwin is second in the nation with 20 goals.
Oswego State also was also able to continue its long-sustained success against Buffalo State, and now have won 13 out of the last 14 meetings, with a goal differential edge of 43-12.
The Lakers will look to continue on their dominance against Buffalo State, and progress their recent power play success, something that they were very poor at in the first half of the season.
This is also, as previously mentioned, the weekend of Pink The Rink, the annual event that looks to raise money and awareness for fighting breast cancer. Fans are encouraged to wear pink to the game, and there will be merchandise available for sale.
After the weekend series wraps up, the Lakers will finish off the season with five more conference games, and two non-conference. With a win today, Oswego State could separate  even further from the bottom of the pack in its conference, hold onto its top 10 ranking in D3hockey.com's poll and potentially earn a spot in USCHO.com's poll as well.
Puck drop for Saturday's contest is at 3 p.m.