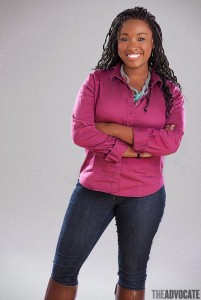 Oswego State graduate Michelle Garcia advised student writers on how to advertise their talents and market their work as part of Oswego State's Living Writers Series class.
Garcia graduated in 2006, majoring in journalism and minoring in women's studies and political science. She was the editor-in-chief of The Oswegonian, a member of the Shaun Cassidy Comedy Fan Club and was on the track team. When she graduated, Garcia studied screenwriting and producing at UCLA, improv at Upright Citizens Brigade in Los Angeles and sketch comedy at Improv Olympic. She currently lives in Santa Monica, Calif. and is the managing editor of The Advocate.com, an American LGBT interest magazine.
Garcia offered some advice to students who are enduring to enter the job market as writers and what they can do while they are in college to help them.
"I entered journalism," Garcia said. "That was scary enough. In 2006, journalism was slow. Newspapers were cutting back or slowing down. There were magazines that were folding. It was scary."
Garcia also said the industry is not going down necessarily, but is instead going through a transformation.
"A lot of websites have popped up since I graduated," Garcia said. "A lot of writers who would be working at newspapers and dailies 30 years ago are working for these websites."
Garcia started her career at Craigslist Inc. before becoming an editorial assistant at The Advocate.
Garcia said writers need to have a strong passion for what they do to be satisfied with their work, rather than the amount it says on their paychecks. She showed students a chart of average starting salaries for various writing-related majors, such as English and literature and journalism.
"This isn't why you write," Garcia said, pointing to the numbers. "Writing is about expression. That's why I'm a journalist. Everyone who is a writer needs a reason to write. Don't let this be that reason."
Keeping a list of potential companies, websites, or other writing outlets that students might want to work at was just one piece of advice Garcia gave to students while they got closer to graduation. Along with researching those jobs, Garcia advised students to "read everything." She said all writers should be curious about what's going on in the world around them and that's why they should read not only content they would like to write about someday, but content they don't necessarily read often, so they know how to write it if they ever have to.
Garcia urged student writers to reach out beyond the classroom to expand their writing and social skills, as well as get experience in other fields and activities.
"Find experiences just by experimenting," Garcia said. She gave an example of her own experience at Oswego State. An opportunity came up to go to Brussels, Belgium. She had never been outside of the U.S. before but said it was a great experience.
She also stressed the importance of internships. Internships give students the chance to see how the writing work force is done in the real world, as well as give students the opportunity to network with other professionals in the field and get published clips to include in their portfolio.
"Don't just be an intern. Be the best intern there. Freelance, pitch a story. Think of every internship as a job interview," Garcia said.
To get internships and jobs, Garcia suggested students create a professional image on the Internet. She told students to get a Twitter account, create a website to showcase written work, get campus media training and make a resume shine.
"Writing is about being an entrepreneur," Garcia said.
Garcia closed her discussion by reminding students that learning how to be a writer doesn't end with graduating college.
"Writing is a muscle," Garcia said. "You keep working it and you keep getting better at it literally until you die. My mom's a best-selling New York Times author and she still gets better. You will get better and you will thank yourselves later."