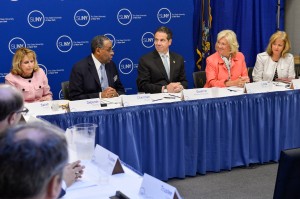 Gov. Andrew Cuomo announced Monday that the State University of New York has adopted a sexual assault prevention and response policy for all 64 SUNY campuses.
The policy was disseminated to each SUNY campus' president and chief of student affairs officers for implementation.
"Today, SUNY is taking a critical step toward combating the epidemic of sexual violence and misconduct on our college campuses," Cuomo said. "By implementing a uniform sexual assault prevention policy, we are better protecting our students and our communities and setting an example for other states and schools to follow. I applaud the SUNY Board and Chancellor Zimpher for their leadership on this issue and their continued commitment to fighting for New York's students."
The new policy is a result of a resolution passed in October by the SUNY Board of Trustees.
The key points of the new policy include a statute that all first-year and transfer SUNY students will be informed of the sexual assault policy, a uniform definition of consent, an amnesty policy to encourage reporting, comprehensive training for campus police and college administrators, a statewide public awareness campaign, uniform confidentiality and reporting protocols and uniform campus climate assessments.
The SUNY-wide policy also includes a Sexual Violence Victim/Survivor Bill of Rights that specifies victims' rights to report sexual assaults to the proper authorities.
"Sexual assault is everyone's problem," said Oswego State President Deborah Stanley. "This statewide effort to reduce the incidence of sexual violence, harassment and discrimination in our society is a landmark initiative that I sincerely hope is a harbinger of new prevailing attitudes – on our campus and throughout our culture. We have already seen increases in reporting of incidents in recent years with the increased attention to these issues under Title IX and the Violence Against Women Act, and we anticipate that the new policies announced this week will continue to help victims and survivors come forward. Revealing the true scope of the problem is an early step in the process of healing for both victims/survivors and our society. We must all work to build a culture of respect and shared responsibility."
Lisa Evaneski, Oswego State's associate dean of students and Title IX coordinator, was selected to be on SUNY Chancellor Nancy Zimpher's working group that drew up the new policy
"This semester, we will participate in a series of SUNY wide trainings with those that have responsibility to implement policy and ensure programmatic changes," Evaneski said. "We will be revising our policy to include the updated affirmative consent definition, amnesty policy and sexual violence response policy. Although we already have a lot of this in place at SUNY Oswego, we will use the new SUNY wide policy statements as a compliance checklist, replace or edit and in some cases rename a policy or procedure. For example, we already have a Good Samaritan policy for alcohol or other drug overdoses and we will be adding an amnesty policy that says we will not file charges against a survivor/victim if they had been using alcohol or drugs at the time of an assault. That has always been our practice, however it will specifically be directed at those types of cases and prevent a barrier to reporting."
Along with the policy, the governor also launched a new website that provides information about sexual assault prevention and response on college campuses that can be used by students, parents, administrators and law enforcement. This can be found at http://www.campuscrime.ny.gov/.